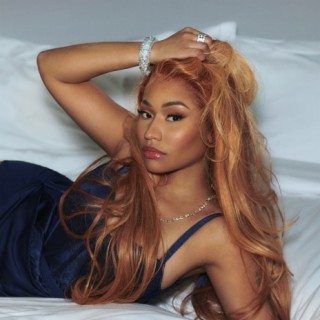 Nicki Minaj
Current #176

All Time #137

Nicki Minaj, original name Onika Tanya Maraj, (born December 8, 1982, St. James, Trinidad and Tobago), Trinidadian-born singer, songwriter, television personality, and actress who was known for her flowing quick-spoken rap style and for her provocative lyrics.

Nicki Minaj entered the music business as a backup singer for local aspiring rap singers in New York City. She included videos of her work on her Myspace page, which was seen by a local record label. Nicki Minaj eventually came to the attention of rapper Lil Wayne, and the two worked on some mixtapes (recordings), the first of which, Playtime Is Over, appeared in 2007. In 2009 she signed with Young Money Entertainment, the label founded by Wayne. Her first album for Young Money, Pink Friday (2010), made it to the top of the Billboard 200 chart. It featured sexually explicit lyrics—which were common in her recordings—and Minaj embraced the shock value of her work.

Nicki Minaj is one of the best selling female artists of all time with 100 million records sold worldwide. Her numerous accolades include eight American Music Awards, five MTV Video Music Awards, twelve BET Awards, and four Billboard Music Awards. Billboard ranked her the top female rapper of the 2010s, as well as ranking her seventh among the top female artists of the decade. In 2016, Time included Minaj on their annual list of the 100 most influential people in the world. Outside of music, Minaj's film career has included voice roles in the animated films Ice Age: Continental Drift (2012) and The Angry Birds Movie 2 (2019) as well as supporting roles in the comedy films The Other Woman (2014) and Barbershop: The Next Cut (2016).

May 14 2021 Nicki Minaj released Beam Me Up Scotty by Republic Records. The reissue debuted at number two on the Billboard 200, making it the highest charting reissued mixtape and the highest debuting female rap mixtape....more

Country/Region : Trinidad and Tobago
Listen to Nicki Minaj's new songs including "High School ft. Lil Wayne", and many more. Enjoy Nicki Minaj's latest songs and explore the Nicki Minaj's new music albums. If you want to download Nicki Minaj songs MP3, use the Boomplay App to download the Nicki Minaj songs for free. Discover Nicki Minaj's latest songs, popular songs, trending songs all on Boomplay.
Nicki Minaj, original name Onika Tanya Maraj, (born December 8, 1982, St. James, Trinidad and Tobago), Trinidadian-born singer, songwriter, television personality, and actress who was known for her flowing quick-spoken rap style and for her provocative lyrics.

Nicki Minaj entered the music business as a backup singer for local aspiring rap singers in New York City. She included videos of her work on her Myspace page, which was seen by a local record label. Nicki Minaj eventually came to the attention of rapper Lil Wayne, and the two worked on some mixtapes (recordings), the first of which, Playtime Is Over, appeared in 2007. In 2009 she signed with Young Money Entertainment, the label founded by Wayne. Her first album for Young Money, Pink Friday (2010), made it to the top of the Billboard 200 chart. It featured sexually explicit lyrics—which were common in her recordings—and Minaj embraced the shock value of her work.

Nicki Minaj is one of the best selling female artists of all time with 100 million records sold worldwide. Her numerous accolades include eight American Music Awards, five MTV Video Music Awards, twelve BET Awards, and four Billboard Music Awards. Billboard ranked her the top female rapper of the 2010s, as well as ranking her seventh among the top female artists of the decade. In 2016, Time included Minaj on their annual list of the 100 most influential people in the world. Outside of music, Minaj's film career has included voice roles in the animated films Ice Age: Continental Drift (2012) and The Angry Birds Movie 2 (2019) as well as supporting roles in the comedy films The Other Woman (2014) and Barbershop: The Next Cut (2016).

May 14 2021 Nicki Minaj released Beam Me Up Scotty by Republic Records. The reissue debuted at number two on the Billboard 200, making it the highest charting reissued mixtape and the highest debuting female rap mixtape.
FAQs about Nicki Minaj
Where is Nicki Minaj from?
She is from Trinidad and Tobago.
How to download songs of Nicki Minaj?
You can download songs of Nicki Minaj from Boomplay App for free.
Firstly, install Boomplay app on your mobile phone.
Secondly, navigate to the song you would like to download.
Thirdly, Tap on More > Download.