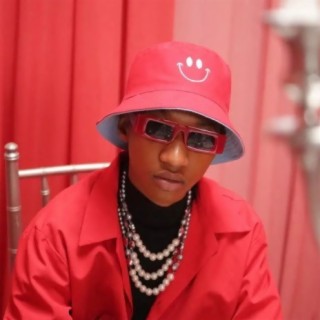 Trio Mio
Current #19.2k

All Time #15.6k

TJ Mario Kasela popularly known for his stage name Trio Mio was born in Nairobi's Embakasi region on October 22, 2004. He is the teenager who gave Kenyans the hit song, 'Cheza Kama Wewe' in 2020 amidst the global pandemic. He has since then released several songs that have made him a popular Gengetone musician in Kenya.

Many of Trio Mio's Songs became very popular and trendy on social media in line with a great number of streaming and downloads on Boomplay.

Career
When most people are asked about what they want to be growing up, they think of being doctors, pilots, surgeons and lawyers among others. However, this was not the case with TJ. While others would say this, he would simply say he wanted to be like the OG, Kaligraph Jones. He draws a lot of inspiration from Khaligraph and has quoted him as his biggest mentor.

He would always rap in front of his classmates and also write lyrics in his free time since he has to balance school and music. The more he performed the more his confidence grew. Moreover, his brother would rap along beats online with his friends and thus initiate an interest in him. Trio Mio began writing his own music and his brother gave him his stage name borrowed from his real name TJ Mario Kasela.

By grade 7, he was ready to release his first song but things did not go according to plan and those plans were put on hold. While he was in form 2, the pandemic hit and schools closed down. This gave him the chance to work on his craft and he finally managed to release a number of songs. In 2019 the young rapper released his first song 'Vile Inafaa'/Bazeng produced by JB. He blew the Kenyan airwaves massively when he released his song 'Cheza kama wewe' in 2020, which became an even bigger hit after he remixed the song with Mejja, Exray, and Nellythegoon.

His fans were awed with his masterful flow, beats and how he seamlessly managed to rap. Hence, he became a known sensation in the country as the Prince of Gengetone. Apart from the OG, he is also inspired by a number of other musicians and would love to do a collaboration with them. Sauti Sol, Nyashinski, Femi one and a few others are the musicians he'd love to collaborate with. His career has seen him write and release songs like Bazeng, Zooby Zoo, Vumilia, Son of the City, Ule Msee, Kanairo, Serereka, and Big Ting.

Over the span of his career, Mario Kasela has gotten to work with bigger artists in Kenya like his role model Kaligraph Jones, Mejja, Nelly the Goon, Exray, and Fena Gitu. The artist is primarily a Gengetone artist and works with rappers and other artists. Trio Mio's career has him work under the management of his mother and signed to Trouble Music, his family's record after failed experiences with a former record.

Achievements
Trio is one of the successful young artist in kenya of all time having a total of 13 videos on his You tube channel and Cheza Kama Wewe generating over 5.8 million views. He has a total of 127k subscribers and counting. Trio Mio also managed to bag the award for Breakthrough Artist of the Year during the Unkut Hennessy HipHop Awards in 2021.

Follow Boomplay and keep up-to-date with the latest songs of Trio Mio and information.

Trio Mio's Songs
• Cheza Kama Wewe
• Steppa
• Fine Settings
• Serereka
• Gengetone Cypher
• Niko Busy
• Big Ting
• Chonjo
• Madimanga
• Zooby Zoo
• N'mekapatia
• Character Development
• Vumilia
• Ule Msee
• Son of the City

Trio's Songs are included in Boomplay music playlists. Search, stream, and download Trio's Songs, his latest singles and albums in MP3 only on the Boomplay platform for free....more

Country : Kenya
Songs

(0)

Albums

(0)

Playlists

(18)
Listen to Trio Mio's new songs including and many more. Enjoy Trio Mio's latest songs and explore the Trio Mio's new music albums. If you want to download Trio Mio songs MP3, use the Boomplay App to download the Trio Mio songs for free. Discover Trio Mio's latest songs, popular songs, trending songs all on Boomplay.
TJ Mario Kasela popularly known for his stage name Trio Mio was born in Nairobi's Embakasi region on October 22, 2004. He is the teenager who gave Kenyans the hit song, 'Cheza Kama Wewe' in 2020 amidst the global pandemic. He has since then released several songs that have made him a popular Gengetone musician in Kenya.

Many of Trio Mio's Songs became very popular and trendy on social media in line with a great number of streaming and downloads on Boomplay.

Career
When most people are asked about what they want to be growing up, they think of being doctors, pilots, surgeons and lawyers among others. However, this was not the case with TJ. While others would say this, he would simply say he wanted to be like the OG, Kaligraph Jones. He draws a lot of inspiration from Khaligraph and has quoted him as his biggest mentor.

He would always rap in front of his classmates and also write lyrics in his free time since he has to balance school and music. The more he performed the more his confidence grew. Moreover, his brother would rap along beats online with his friends and thus initiate an interest in him. Trio Mio began writing his own music and his brother gave him his stage name borrowed from his real name TJ Mario Kasela.

By grade 7, he was ready to release his first song but things did not go according to plan and those plans were put on hold. While he was in form 2, the pandemic hit and schools closed down. This gave him the chance to work on his craft and he finally managed to release a number of songs. In 2019 the young rapper released his first song 'Vile Inafaa'/Bazeng produced by JB. He blew the Kenyan airwaves massively when he released his song 'Cheza kama wewe' in 2020, which became an even bigger hit after he remixed the song with Mejja, Exray, and Nellythegoon.

His fans were awed with his masterful flow, beats and how he seamlessly managed to rap. Hence, he became a known sensation in the country as the Prince of Gengetone. Apart from the OG, he is also inspired by a number of other musicians and would love to do a collaboration with them. Sauti Sol, Nyashinski, Femi one and a few others are the musicians he'd love to collaborate with. His career has seen him write and release songs like Bazeng, Zooby Zoo, Vumilia, Son of the City, Ule Msee, Kanairo, Serereka, and Big Ting.

Over the span of his career, Mario Kasela has gotten to work with bigger artists in Kenya like his role model Kaligraph Jones, Mejja, Nelly the Goon, Exray, and Fena Gitu. The artist is primarily a Gengetone artist and works with rappers and other artists. Trio Mio's career has him work under the management of his mother and signed to Trouble Music, his family's record after failed experiences with a former record.

Achievements
Trio is one of the successful young artist in kenya of all time having a total of 13 videos on his You tube channel and Cheza Kama Wewe generating over 5.8 million views. He has a total of 127k subscribers and counting. Trio Mio also managed to bag the award for Breakthrough Artist of the Year during the Unkut Hennessy HipHop Awards in 2021.

Follow Boomplay and keep up-to-date with the latest songs of Trio Mio and information.

Trio Mio's Songs
• Cheza Kama Wewe
• Steppa
• Fine Settings
• Serereka
• Gengetone Cypher
• Niko Busy
• Big Ting
• Chonjo
• Madimanga
• Zooby Zoo
• N'mekapatia
• Character Development
• Vumilia
• Ule Msee
• Son of the City

Trio's Songs are included in Boomplay music playlists. Search, stream, and download Trio's Songs, his latest singles and albums in MP3 only on the Boomplay platform for free.
New Comments(
75

)