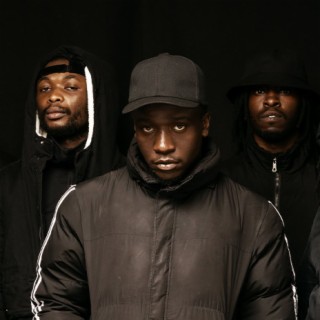 Wakadinali
Current #778

All Time #1,361

Wakadinali also known as Rong Rende is a Kenyan music group based in Nairobi's Eastland area. The group focuses on the Hip-Hop genre of music. Wakadinali is made of three youngsters namely; Scar, Domani and Sewersydaa. Scar and Domani are the main founders. The two schooled together and started in 2003 before they were later joined by Sewersydaa.

CAREER AND ACHIEVEMENTS
The group's musical journey started in 2003 thanks to Scar and Domani who rapped at tender ages. They struggled to make it big and fought stiff competition from renowned artists in the genre.

Their efforts went unnoticed for a long time, but this did not pull them down. The group continued producing songs, and eventually secured their places in the Kenyan Hip Hop music scene. At the moment, Wakadinali is one of the most followed music groups among the youth, as most resonate with their songs.

The group's hard work and determination have seen them work with the likes of; Khaligraph Jones, Abbas, Timmy Blanco, Twenty Eights, and Dyana Cods among others.

Follow Boomplay and keep up to date with the latest Wakadinali songs and information.

AWARDS
The group has been around for a couple of years, and their music is recommendable.
• In 2018, renowned music producer Tedd Josiah praised them and likened them to legendary Hip-Hop groups; Mau Mau and Kalama Shaka .
• In 2019 during the first Unkut HipHop awards, the group bagged a total of 7 awards including; best Rap Group 2019, Best Album, Song and Collabo of the Year....more

Country/Region : Kenya
Songs

(177)

Albums

(39)

Playlists

(42)
1

2

3

4

5

6

7

8

9

10

11

12

13

14

15

16

17

18

19

20

21

22

23

24

25

26

27

28

29

30

31

32

33

34

35

36

37

38

39

40

41

42

43

44

45

46

47

48

49

50

51

52

53

54

55

56

57

58

59

60

61

62

63

64

65

66

67

68

69

70

71

72

73

74

75

76

77

78

79

80

81

82

83

84

85

86

87

88

89

90

91

92

93

94

95

96

97

98

99

100
Listen to Wakadinali's new songs including "Avoid Those People ft. Boutross, Breeder Lw, Abbas, Elisha Elai & Dyana Cods", "Njege Ma Sanse", "Geri Inengi ft. SirBwoy, Sewersydaa & Scar Mkadinali" and many more. Enjoy Wakadinali's latest songs and explore the Wakadinali's new music albums. If you want to download Wakadinali songs MP3, use the Boomplay App to download the Wakadinali songs for free. Discover Wakadinali's latest songs, popular songs, trending songs all on Boomplay.
Wakadinali also known as Rong Rende is a Kenyan music group based in Nairobi's Eastland area. The group focuses on the Hip-Hop genre of music. Wakadinali is made of three youngsters namely; Scar, Domani and Sewersydaa. Scar and Domani are the main founders. The two schooled together and started in 2003 before they were later joined by Sewersydaa.

CAREER AND ACHIEVEMENTS
The group's musical journey started in 2003 thanks to Scar and Domani who rapped at tender ages. They struggled to make it big and fought stiff competition from renowned artists in the genre.

Their efforts went unnoticed for a long time, but this did not pull them down. The group continued producing songs, and eventually secured their places in the Kenyan Hip Hop music scene. At the moment, Wakadinali is one of the most followed music groups among the youth, as most resonate with their songs.

The group's hard work and determination have seen them work with the likes of; Khaligraph Jones, Abbas, Timmy Blanco, Twenty Eights, and Dyana Cods among others.

Follow Boomplay and keep up to date with the latest Wakadinali songs and information.

AWARDS
The group has been around for a couple of years, and their music is recommendable.
• In 2018, renowned music producer Tedd Josiah praised them and likened them to legendary Hip-Hop groups; Mau Mau and Kalama Shaka .
• In 2019 during the first Unkut HipHop awards, the group bagged a total of 7 awards including; best Rap Group 2019, Best Album, Song and Collabo of the Year.
New Comments(
136

)
FAQs about Wakadinali
Where is Wakadinali from?
They are from Kenya.
How to download songs of Wakadinali?
You can download songs of Wakadinali from Boomplay App for free.
Firstly, install Boomplay app on your mobile phone.
Secondly, navigate to the song you would like to download.
Thirdly, Tap on More > Download.