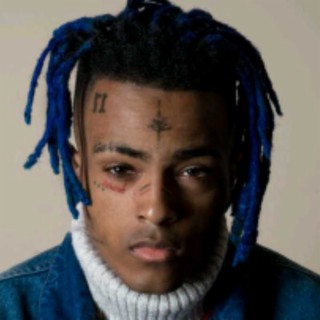 XXXTENTACION
Current #88

All Time #132

Jahseh Dwayne Ricardo Onfroy , known professionally as XXXTentacion and often referred to as X, was a Jamaican and American rapper,singer and songwriter. He was born on January 23, 1998 in Plantation, Florida, to Jamaican parents. XXXTentacion stated he also had Egyptian or Syrian, Indian and possibly Italian ancestry.

He built his career off of being labeled rap's most controversial man, XXXTentacion's interest in music initially started after his aunt persuaded him to begin attending school choir and later church choir, however he was soon kicked out after attacking another student. He was expelled from his middle school after a series of physical altercations. He began writing music after being released from a juvenile detention center for possession of drugs in 2012. While in prison he met Stokeley Goulbourne, better known as Ski Mask the Slump God, who is also a musician.

Following his release from the juvenile detention center, he and Ski Mask met up again to commit a string of home invasions. X ended up buying a Blue Snowball microphone and began recording music. He adopted the moniker XXXTentacion, and uploaded his first official song, called "Vice City", on SoundCloud. The word "tentación" in his stage name is the Spanish word for "temptation". His styles and techniques were unconventional in rap music such as distortion and heavy guitar-backed instrumentals, which is often called depressive and alienation-themed music.

XXXTentacion released his debut album, 17, on August 25, 2017 selling 86,000 album-equivalent units in its first week. This XXXTentacion's album was praised for its personal narratives and diverse musical style. 17 gave X's seven songs that debuted in the Billboard Hot 100. X released the A Ghetto Christmas Carol EP on SoundCloud.

On June 18, 2018, XXXtentacion was shot and killed in Miami. Since his death, his estate has released one posthomous album and he has featured on several other music of different artistes....more

Boom ID : 101351791 Country : United States Gender : Male
Songs

(0)

Albums

(0)

Playlists

(10)
Listen to XXXTENTACION's new songs including and many more. Enjoy XXXTENTACION's latest songs and explore the XXXTENTACION's new music albums. If you want to download XXXTENTACION songs MP3, use the Boomplay App to download the XXXTENTACION songs for free. Discover XXXTENTACION's latest songs, popular songs, trending songs all on Boomplay.
Jahseh Dwayne Ricardo Onfroy , known professionally as XXXTentacion and often referred to as X, was a Jamaican and American rapper,singer and songwriter. He was born on January 23, 1998 in Plantation, Florida, to Jamaican parents. XXXTentacion stated he also had Egyptian or Syrian, Indian and possibly Italian ancestry.

He built his career off of being labeled rap's most controversial man, XXXTentacion's interest in music initially started after his aunt persuaded him to begin attending school choir and later church choir, however he was soon kicked out after attacking another student. He was expelled from his middle school after a series of physical altercations. He began writing music after being released from a juvenile detention center for possession of drugs in 2012. While in prison he met Stokeley Goulbourne, better known as Ski Mask the Slump God, who is also a musician.

Following his release from the juvenile detention center, he and Ski Mask met up again to commit a string of home invasions. X ended up buying a Blue Snowball microphone and began recording music. He adopted the moniker XXXTentacion, and uploaded his first official song, called "Vice City", on SoundCloud. The word "tentación" in his stage name is the Spanish word for "temptation". His styles and techniques were unconventional in rap music such as distortion and heavy guitar-backed instrumentals, which is often called depressive and alienation-themed music.

XXXTentacion released his debut album, 17, on August 25, 2017 selling 86,000 album-equivalent units in its first week. This XXXTentacion's album was praised for its personal narratives and diverse musical style. 17 gave X's seven songs that debuted in the Billboard Hot 100. X released the A Ghetto Christmas Carol EP on SoundCloud.

On June 18, 2018, XXXtentacion was shot and killed in Miami. Since his death, his estate has released one posthomous album and he has featured on several other music of different artistes.