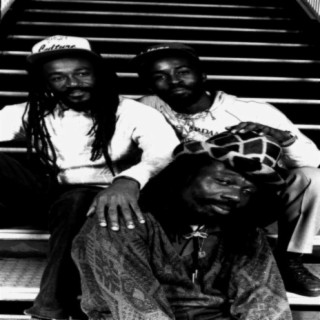 Culture
Current #651

All Time #806

Culture is a Jamaican roots reggae group founded in 1976. Many of Culture songs become very popular and trendy online with a great number of streaming and downloads on Boomplay. Originally they were known as the African Disciples. The one constant member until his death in 2006 was Joseph Hill.

The group was formed in 1976 as the vocal trio of Joseph Hill (formerly a percussionist in Studio One house band the Soul Defenders), his cousin Albert "Ralph" Walker, and Roy "Kenneth" Dayes, initially using the name The African Disciples.

Career
Roy Dayes also used the name "Kenneth Paley", which is the name that appears on the Culture records released by Virgin Records. The African Disciples soon changed their name to Culture, and auditioned successfully for the "Mighty Two": producer Joe Gibbs and engineer Errol Thompson. While at Gibbs' studio, they recorded a series of singles, starting with "See Dem a Come" and including "Two Sevens Clash" (which predicted the apocalypse on 7 July 1977), many of which ended up on their debut album Two Sevens Clash.

The song was sufficiently influential that many in Kingston stayed indoors on 7 July, fearing that the prophecy would come true. A second Gibbs-produced album, Baldhead Bridge, followed in 1978, by which time the group had moved on to record for producer Sonia Pottinger. The group entered into a long-running dispute with Gibbs over royalties to the first album.

In 1981 the three singers went their own ways. Hill carried on using the Culture name, and recorded the Lion Rock album, which was reissued in the United States by Heartbeat Records. Hill and his new band recorded a session for longtime supporter John Peel in December 1982, and the group went on to record further studio sessions for Peel in 1998 and 2002, and their performance at the Royal Festival Hall in July 1998 was broadcast on his show.

For their part, Walker and Dayes recorded a handful of songs on their own; a few of which turned up on an album titled Roots & Culture. Hill performed at the Reggae Sunsplash festival in 1985 and in 1986 the original line-up reformed to record two highly regarded albums – Culture in Culture and Culture at Work.

Follow Boomplay and keep up to date with the latest Culture songs and information.

Culture Albums
• Two Sevens Clash
• Baldhead Bridge
• Harder than the Rest
• Africa Stand Alone
• Cumbolo
• International Herb
• More Culture aka Innocent Blood
• Lion Rock
• Culture in Culture
• Culture at Work
• Nuff Crisis!

Culture songs are included in Boomplay music playlists. Search to stream and download Culture songs MP3/ single/ albums on the platform....more

Country/Region : Jamaica
Songs

(33)

Albums

(8)

Playlists

(14)
1

2

3

4

5

6

7

8

9

10

11

12

13

14

15

16

17

18

19

20

21

22

23

24

25

26

27

28

29

30

31

32

33
Listen to Culture's new songs including "2 Many Ls", "2 Real", "No Competition" and many more. Enjoy Culture's latest songs and explore the Culture's new music albums. If you want to download Culture songs MP3, use the Boomplay App to download the Culture songs for free. Discover Culture's latest songs, popular songs, trending songs all on Boomplay.
Culture is a Jamaican roots reggae group founded in 1976. Many of Culture songs become very popular and trendy online with a great number of streaming and downloads on Boomplay. Originally they were known as the African Disciples. The one constant member until his death in 2006 was Joseph Hill.

The group was formed in 1976 as the vocal trio of Joseph Hill (formerly a percussionist in Studio One house band the Soul Defenders), his cousin Albert "Ralph" Walker, and Roy "Kenneth" Dayes, initially using the name The African Disciples.

Career
Roy Dayes also used the name "Kenneth Paley", which is the name that appears on the Culture records released by Virgin Records. The African Disciples soon changed their name to Culture, and auditioned successfully for the "Mighty Two": producer Joe Gibbs and engineer Errol Thompson. While at Gibbs' studio, they recorded a series of singles, starting with "See Dem a Come" and including "Two Sevens Clash" (which predicted the apocalypse on 7 July 1977), many of which ended up on their debut album Two Sevens Clash.

The song was sufficiently influential that many in Kingston stayed indoors on 7 July, fearing that the prophecy would come true. A second Gibbs-produced album, Baldhead Bridge, followed in 1978, by which time the group had moved on to record for producer Sonia Pottinger. The group entered into a long-running dispute with Gibbs over royalties to the first album.

In 1981 the three singers went their own ways. Hill carried on using the Culture name, and recorded the Lion Rock album, which was reissued in the United States by Heartbeat Records. Hill and his new band recorded a session for longtime supporter John Peel in December 1982, and the group went on to record further studio sessions for Peel in 1998 and 2002, and their performance at the Royal Festival Hall in July 1998 was broadcast on his show.

For their part, Walker and Dayes recorded a handful of songs on their own; a few of which turned up on an album titled Roots & Culture. Hill performed at the Reggae Sunsplash festival in 1985 and in 1986 the original line-up reformed to record two highly regarded albums – Culture in Culture and Culture at Work.

Follow Boomplay and keep up to date with the latest Culture songs and information.

Culture Albums
• Two Sevens Clash
• Baldhead Bridge
• Harder than the Rest
• Africa Stand Alone
• Cumbolo
• International Herb
• More Culture aka Innocent Blood
• Lion Rock
• Culture in Culture
• Culture at Work
• Nuff Crisis!

Culture songs are included in Boomplay music playlists. Search to stream and download Culture songs MP3/ single/ albums on the platform.
New Comments(
35

)
FAQs about Culture
Where is Culture from?
They are from Jamaica.
What are the latest songs of Culture?
The latest songs of Culture are Friendly, Pure War and I'm Not Ashamed.
What are the best songs of Culture?
The best songs of Culture are Addis Ababa, Riverside and Humble African.
What are the best albums of Culture?
The best albums of Culture are Reggae Anthology: Natty Dread Taking Over, Trust Me and Culture On The Front Line.
How to download songs of Culture?
You can download songs of Culture from Boomplay App for free.
Firstly, install Boomplay app on your mobile phone.
Secondly, navigate to the song you would like to download.
Thirdly, Tap on More > Download.