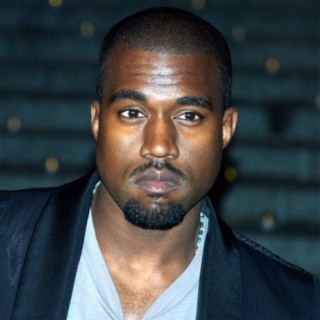 Kanye West
Current #898

All Time #490

Kanye West, (born June 8, 1977, Atlanta, Georgia, U.S, American producer, rapper, and fashion designer who parlayed his production success in the late 1990s and early 2000s into a career as a popular, critically acclaimed solo artist.

Kanye West freleased his debut solo album, The College Dropout (2004), it was massively successful: That latter cut won a Grammy Award for best rap song in 2005, and West also picked up awards that year for best rap album and best rhythm-and-blues song (as one of the songwriters of Alicia Keys's "You Don't Know My Name"). His second album, Late Registration (2005),with a number of hit singles, including "Diamonds from Sierra Leone" and "Gold Digger"—and earned West three more Grammy Awards.

Kanye west found his own record label GOOD Music. And release is third Studio Album, Graduation (2007), produced the hit singles "Good Life" and "Stronger" and garnered him four more Grammy Awards. In 2008 West released 808s and Heartbreak, an album that dwelled on feelings of personal loss and regret. In 2012 West presented Cruel Summer, a compilation album featuring him and some of the artists signed to his GOOD Music label. A year later, on Yeezus (2013), West's fashion work continued leading up to the release of his eighth studio album, The Life of Pablo (2016); in fact, he debuted tracks from the album at his showcase of YEEZY Season 3 at Madison Square Garden in New York.

In July 2020, less than four months before the election, West announced that he was running for president as a member of the Birthday Party. He did little campaigning, but he released a platform that notably called for reforming the police and legal system, reducing student debt, and having prayer in schools.

On March 7, 2021, Kanye West had once again begun working on his upcoming album amid his divorce with Kim Kardashian.

Kanye West is one of the most successful artists in Grammy Awards history. As of 2017 he has won a total of 21 Grammys....more

Country/Region : United States
Listen to Kanye West's new songs including "Good Life (Live)", "Flashing Lights (Live)", "Praise God (Mixed)" and many more. Enjoy Kanye West's latest songs and explore the Kanye West's new music albums. If you want to download Kanye West songs MP3, use the Boomplay App to download the Kanye West songs for free. Discover Kanye West's latest songs, popular songs, trending songs all on Boomplay.
Kanye West, (born June 8, 1977, Atlanta, Georgia, U.S, American producer, rapper, and fashion designer who parlayed his production success in the late 1990s and early 2000s into a career as a popular, critically acclaimed solo artist.

Kanye West freleased his debut solo album, The College Dropout (2004), it was massively successful: That latter cut won a Grammy Award for best rap song in 2005, and West also picked up awards that year for best rap album and best rhythm-and-blues song (as one of the songwriters of Alicia Keys's "You Don't Know My Name"). His second album, Late Registration (2005),with a number of hit singles, including "Diamonds from Sierra Leone" and "Gold Digger"—and earned West three more Grammy Awards.

Kanye west found his own record label GOOD Music. And release is third Studio Album, Graduation (2007), produced the hit singles "Good Life" and "Stronger" and garnered him four more Grammy Awards. In 2008 West released 808s and Heartbreak, an album that dwelled on feelings of personal loss and regret. In 2012 West presented Cruel Summer, a compilation album featuring him and some of the artists signed to his GOOD Music label. A year later, on Yeezus (2013), West's fashion work continued leading up to the release of his eighth studio album, The Life of Pablo (2016); in fact, he debuted tracks from the album at his showcase of YEEZY Season 3 at Madison Square Garden in New York.

In July 2020, less than four months before the election, West announced that he was running for president as a member of the Birthday Party. He did little campaigning, but he released a platform that notably called for reforming the police and legal system, reducing student debt, and having prayer in schools.

On March 7, 2021, Kanye West had once again begun working on his upcoming album amid his divorce with Kim Kardashian.

Kanye West is one of the most successful artists in Grammy Awards history. As of 2017 he has won a total of 21 Grammys.
New Comments(
88

)
FAQs about Kanye West
Where is Kanye West from?
He is from United States.
How to download songs of Kanye West?
You can download songs of Kanye West from Boomplay App for free.
Firstly, install Boomplay app on your mobile phone.
Secondly, navigate to the song you would like to download.
Thirdly, Tap on More > Download.