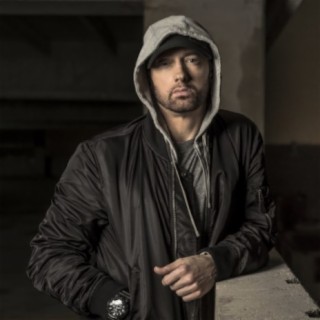 Eminem
Current #330

All Time #201

Eminem is an American rapper, record producer and actor known as one of the most controversial and best-selling artists of the early 21st century.

Being a rap fan for most of his life, Marshall Bruce Mathers III (born October 17, 1972), known professionally as Eminem, began rapping at the early age of 4. Rhyming words together, battling schoolmates in the lunchroom brought joy to what was otherwise a painful existence. At the age of 14, he began to get very serious about his rapping but it wasn't until he was 17 that he actually made a name for himself, becoming M&M, which he would later respell as "Eminem".

Eminem's global success and acclaimed works are widely regarded as having broken racial barriers for the acceptance of white rappers in popular music. He has been influential for many artists of various genres. After his debut album Infinite (1996) and the extended play Slim Shady EP (1997)

Eminem was the best-selling music artist in the United States of the 2000s and the best-selling male music artist in the United States of the 2010s, third overall. Billboard named him the "Artist of the Decade (2000–2009)". The Marshall Mathers LP, The Eminem Show, "Lose Yourself", "Love the Way You Lie" and "Not Afraid" have all been certified Diamond or higher by the Recording Industry Association of America (RIAA).Rolling Stone has included him in its lists of the 100 Greatest Artists of All Time and the 100 Greatest Songwriters of All Time. He has won numerous awards, including 15 Grammy Awards, eight American Music Awards, 17Billboard Music Awards, an Academy Award and an MTV Europe Music Global Icon Award. He has had ten number-one albums on the Billboard 200 which all consecutively debuted at number one on the chart, making him the first artist to achieve this.

Eminem's new album "Curtain Call 2" released on Aug 5, 2022. Start listening to Eminem's new music project "Curtain Call 2" now!...more

Country/Region : United States
Listen to Eminem's new songs including and many more. Enjoy Eminem's latest songs and explore the Eminem's new music albums. If you want to download Eminem songs MP3, use the Boomplay App to download the Eminem songs for free. Discover Eminem's latest songs, popular songs, trending songs all on Boomplay.
Eminem is an American rapper, record producer and actor known as one of the most controversial and best-selling artists of the early 21st century.

Being a rap fan for most of his life, Marshall Bruce Mathers III (born October 17, 1972), known professionally as Eminem, began rapping at the early age of 4. Rhyming words together, battling schoolmates in the lunchroom brought joy to what was otherwise a painful existence. At the age of 14, he began to get very serious about his rapping but it wasn't until he was 17 that he actually made a name for himself, becoming M&M, which he would later respell as "Eminem".

Eminem's global success and acclaimed works are widely regarded as having broken racial barriers for the acceptance of white rappers in popular music. He has been influential for many artists of various genres. After his debut album Infinite (1996) and the extended play Slim Shady EP (1997)

Eminem was the best-selling music artist in the United States of the 2000s and the best-selling male music artist in the United States of the 2010s, third overall. Billboard named him the "Artist of the Decade (2000–2009)". The Marshall Mathers LP, The Eminem Show, "Lose Yourself", "Love the Way You Lie" and "Not Afraid" have all been certified Diamond or higher by the Recording Industry Association of America (RIAA).Rolling Stone has included him in its lists of the 100 Greatest Artists of All Time and the 100 Greatest Songwriters of All Time. He has won numerous awards, including 15 Grammy Awards, eight American Music Awards, 17Billboard Music Awards, an Academy Award and an MTV Europe Music Global Icon Award. He has had ten number-one albums on the Billboard 200 which all consecutively debuted at number one on the chart, making him the first artist to achieve this.

Eminem's new album "Curtain Call 2" released on Aug 5, 2022. Start listening to Eminem's new music project "Curtain Call 2" now!
FAQs about Eminem
Where is Eminem from?
He is from United States.