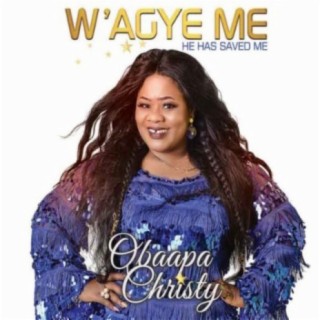 Obaapa Christy
Current #6,890

All Time #1,998

Obaapa Christy was born Christiana Adowa Twene formerly Christiana Love is a Ghanaian Gospel musician. Christy got her second "showbiz name", Obaapa from her new husband Nana Frankie. She was born on December 7, at New Suame a suburb of Kumasi in the Ashanti Region of Ghana to Akwesi Twene and Mary Amoah Twene.

The sensational gospel musician is the second of nine children born. Her dad Akwesi Twene was also a musician and part of the K.Gyasi Band as the lead vocalist.

Christiana Adwoa Twene, who is currently called "Rev. Obaapa Christy" is one of Ghana's finest gospel diva who has carved a niche for herself over the years.

The powerful gospel Obaapa had her basic education at her home town Anomaangye in the Ashanti region. From then she dropped out of school due to personal reasons.

Obaapa Christy Is An award winning gospel artist whose songs continue to inspire and heal souls he is a Ghana Female Singer who is so talented.

Many Obaapa Christy songs become very popular and trendy online with a great number of streaming and downloads on Boomplay.

Career
Obaapa Christy started with the " Halleluyah Voices", which was a vibrant Kumasi-based music group but one day approached by a famous Ghanaian musician called "Osuani Afrifa", who took her to another level of the music industry in the Nation of Ghana.

"Osuani Afrifa" recognized the favor of God on Christy and knew she could deliver, which therefore brought her to the limelight in the music industry with her hit album" Me ma mani so" Since then Obaapa has gained popularity with Ghanaians and keeps on releasing a back to back hit albums. Her songs include, "Onyame ba, Mete Ase, yadee ye ya, oko Yi, mesu afre Onyame, back to the sender, and more. Together, she has nine albums with each album containing nine songs.

Her hit album "hyebr3 sesafo" became a success reigning in many Gospel chats. Not long ago, she has released a new single titled Grace.

Follow Boomplay and keep up-to-date with the latest Obaapa Christy songs and information.

Achievement.
Obaapa has won many awards including: Best Album of the Year, Gospel Song of the year" and "Praises song of the year. She also had a national Honour conferred on her by the then President John Agyekum Kuffour.

Obaapa Christy has released many albums which includes
• Are You Ready? (2022)
• Onto Nko (Jazz Remix) (2021)
• The Glory (Eye Onoa) (2021)
• Yesom Nyame Otease (2020)
• Hallelujah Hosanna (2020)
• Mekamafo (2018)
• Awurade Akae Me (2018)
• Back to the Sender (2018)
• New Era (Woa Na W'aye) (2018)
• Moving Forward (2018)
• No Fears (2018)
• Holy Ghost (2018)

She also has so many songs which includes;
• The Glory (Eye Onoa)
• Menso Mene Hwan ft. Brother Sammy
• Ma Enye Yie
• Hyebre Sesafo
• W' agye Me
• Mmobrohunu Agya (Worship) ft. Brother Sammy
• W' asue Me
• Se W'amma
• Mapem (Remix)
• Mmobrohunu Agya ft. Brother Sammy
• Obegyewo

Click the link below to jump into one of her favorite playlist;
https://www.boomplaymusic.com/share/playlist/3697028

Obaapa Christy songs are included in Boomplay music playlists. Search to stream and download Obaapa Christy songs MP3/ single/ albums on the platform....more

Country/Region : Ghana
Songs

(0)

Albums

(0)

Playlists

(11)

Similar Artists

(10)
Listen to Obaapa Christy's new songs including and many more. Enjoy Obaapa Christy's latest songs and explore the Obaapa Christy's new music albums. If you want to download Obaapa Christy songs MP3, use the Boomplay App to download the Obaapa Christy songs for free. Discover Obaapa Christy's latest songs, popular songs, trending songs all on Boomplay.
Obaapa Christy was born Christiana Adowa Twene formerly Christiana Love is a Ghanaian Gospel musician. Christy got her second "showbiz name", Obaapa from her new husband Nana Frankie. She was born on December 7, at New Suame a suburb of Kumasi in the Ashanti Region of Ghana to Akwesi Twene and Mary Amoah Twene.

The sensational gospel musician is the second of nine children born. Her dad Akwesi Twene was also a musician and part of the K.Gyasi Band as the lead vocalist.

Christiana Adwoa Twene, who is currently called "Rev. Obaapa Christy" is one of Ghana's finest gospel diva who has carved a niche for herself over the years.

The powerful gospel Obaapa had her basic education at her home town Anomaangye in the Ashanti region. From then she dropped out of school due to personal reasons.

Obaapa Christy Is An award winning gospel artist whose songs continue to inspire and heal souls he is a Ghana Female Singer who is so talented.

Many Obaapa Christy songs become very popular and trendy online with a great number of streaming and downloads on Boomplay.

Career
Obaapa Christy started with the " Halleluyah Voices", which was a vibrant Kumasi-based music group but one day approached by a famous Ghanaian musician called "Osuani Afrifa", who took her to another level of the music industry in the Nation of Ghana.

"Osuani Afrifa" recognized the favor of God on Christy and knew she could deliver, which therefore brought her to the limelight in the music industry with her hit album" Me ma mani so" Since then Obaapa has gained popularity with Ghanaians and keeps on releasing a back to back hit albums. Her songs include, "Onyame ba, Mete Ase, yadee ye ya, oko Yi, mesu afre Onyame, back to the sender, and more. Together, she has nine albums with each album containing nine songs.

Her hit album "hyebr3 sesafo" became a success reigning in many Gospel chats. Not long ago, she has released a new single titled Grace.

Follow Boomplay and keep up-to-date with the latest Obaapa Christy songs and information.

Achievement.
Obaapa has won many awards including: Best Album of the Year, Gospel Song of the year" and "Praises song of the year. She also had a national Honour conferred on her by the then President John Agyekum Kuffour.

Obaapa Christy has released many albums which includes
• Are You Ready? (2022)
• Onto Nko (Jazz Remix) (2021)
• The Glory (Eye Onoa) (2021)
• Yesom Nyame Otease (2020)
• Hallelujah Hosanna (2020)
• Mekamafo (2018)
• Awurade Akae Me (2018)
• Back to the Sender (2018)
• New Era (Woa Na W'aye) (2018)
• Moving Forward (2018)
• No Fears (2018)
• Holy Ghost (2018)

She also has so many songs which includes;
• The Glory (Eye Onoa)
• Menso Mene Hwan ft. Brother Sammy
• Ma Enye Yie
• Hyebre Sesafo
• W' agye Me
• Mmobrohunu Agya (Worship) ft. Brother Sammy
• W' asue Me
• Se W'amma
• Mapem (Remix)
• Mmobrohunu Agya ft. Brother Sammy
• Obegyewo

Click the link below to jump into one of her favorite playlist;
https://www.boomplaymusic.com/share/playlist/3697028

Obaapa Christy songs are included in Boomplay music playlists. Search to stream and download Obaapa Christy songs MP3/ single/ albums on the platform.
New Comments(
51

)