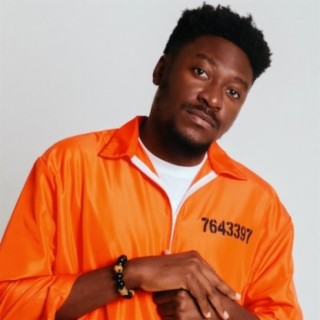 GuiltyBeatz
Current #8,946

All Time #2,720

Ronald Banful professionally known as GuiltyBeatz was born on January 17, 1990, in Palermo, Italy. He is a Ghanaian DJ and record producer. GuiltyBeatz first gained prominence as a music producer after his production on "Bad girl" by Jesse Jagz ft. Wizkid, "Sample You" by Mr. Eazi and his hit "Akwaaba" featuring Mr. Eazi, Pappy Kojo & Patapaa. Many of GuiltyBeatz Songs became very popular and trendy on social media in line with a great number of streaming and downloads on Boomplay.

Career
GuiltyBeatz was introduced to music at the age of 1, when he received his first piano. His interest for music was realized when he was a child and his passion has grown ever since. At the age of 12, GuiltyBeatz began to create his own personal beats with the "Music DJ" application on his Sony Ericsson phone. It was during this period that he became known for producing.

His career started off more or less as he created beats for rap battles in Junior High School. At age 17, GuiltyBeatz received a personal computer which enabled him to study and master beat making with Fruity Loops. He improved daily by recreating beats from hit songs in the American Music Industry.

Aside beats making, GuiltyBeatz is a talented piano player and he single-handedly learnt this skill. He achieved this by gathering inspiration from people around him. In April 2010, GuiltyBeatz was signed by the Ghanaian record label "Star Productions". He then began using Logic Pro for music production. Guilty had the opportunity to work with many Ghanaian artistes such as Sarkodie, R2Bees, Efya, DCryme, Atumpan, Stonebwoy, Pappy Kojo, Jeed Rogers, Chase, Mr Eazi, Bisa Kdei and many more.

He has also had the opportunity to work with talent artistes outside Ghana, such as Jesse Jagz, Wizkid, Wande Coal, Cabo Snoop (Angola), KaySwitch and Mr. Walz in Nigeria. He has stretched as far as the UK to work with Mr Silva, Sway, Tribal Magz and Moelogo....more

Country/Region : Ghana
Listen to GuiltyBeatz's new songs including "Pilolo ft. Mr Eazi & Kwesi Arthur", "Fire ft. King Promise & Joeboy", "No Love feat. Joeboy" and many more. Enjoy GuiltyBeatz's latest songs and explore the GuiltyBeatz's new music albums. If you want to download GuiltyBeatz songs MP3, use the Boomplay App to download the GuiltyBeatz songs for free. Discover GuiltyBeatz's latest songs, popular songs, trending songs all on Boomplay.
Ronald Banful professionally known as GuiltyBeatz was born on January 17, 1990, in Palermo, Italy. He is a Ghanaian DJ and record producer. GuiltyBeatz first gained prominence as a music producer after his production on "Bad girl" by Jesse Jagz ft. Wizkid, "Sample You" by Mr. Eazi and his hit "Akwaaba" featuring Mr. Eazi, Pappy Kojo & Patapaa. Many of GuiltyBeatz Songs became very popular and trendy on social media in line with a great number of streaming and downloads on Boomplay.

Career
GuiltyBeatz was introduced to music at the age of 1, when he received his first piano. His interest for music was realized when he was a child and his passion has grown ever since. At the age of 12, GuiltyBeatz began to create his own personal beats with the "Music DJ" application on his Sony Ericsson phone. It was during this period that he became known for producing.

His career started off more or less as he created beats for rap battles in Junior High School. At age 17, GuiltyBeatz received a personal computer which enabled him to study and master beat making with Fruity Loops. He improved daily by recreating beats from hit songs in the American Music Industry.

Aside beats making, GuiltyBeatz is a talented piano player and he single-handedly learnt this skill. He achieved this by gathering inspiration from people around him. In April 2010, GuiltyBeatz was signed by the Ghanaian record label "Star Productions". He then began using Logic Pro for music production. Guilty had the opportunity to work with many Ghanaian artistes such as Sarkodie, R2Bees, Efya, DCryme, Atumpan, Stonebwoy, Pappy Kojo, Jeed Rogers, Chase, Mr Eazi, Bisa Kdei and many more.

He has also had the opportunity to work with talent artistes outside Ghana, such as Jesse Jagz, Wizkid, Wande Coal, Cabo Snoop (Angola), KaySwitch and Mr. Walz in Nigeria. He has stretched as far as the UK to work with Mr Silva, Sway, Tribal Magz and Moelogo.
FAQs about GuiltyBeatz
Where is GuiltyBeatz from?
He is from Ghana.
What are the latest songs of GuiltyBeatz?
The latest songs of GuiltyBeatz are I'm Good ft. Hamzaa & Ms Banks, Little Bit (Soft Remix) ft. Joey B and Little Bit ft. Joey B.
What are the best songs of GuiltyBeatz?
The best songs of GuiltyBeatz are Pilolo ft. Mr Eazi & Kwesi Arthur, Fire ft. King Promise & Joeboy and Iyabo ft. Falz & Joey B.
What are the best albums of GuiltyBeatz?
The best albums of GuiltyBeatz are Different, Pilolo and Fire.
How to download songs of GuiltyBeatz?
You can download songs of GuiltyBeatz from Boomplay App for free.
Firstly, install Boomplay app on your mobile phone.
Secondly, navigate to the song you would like to download.
Thirdly, Tap on More > Download.