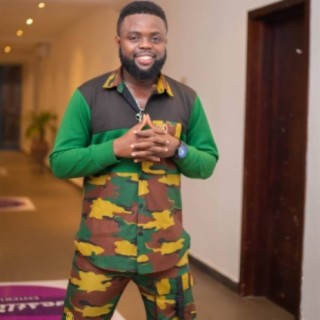 Nero X
Current #3,530

All Time #2,730

Joseph Nkrumah Buabeng known professionally as Nero X is a Ghanaian singer and songwriter. He is best known for his hit single "Osey". Many of Nero X's Songs became very popular and trendy on social media in line with a great number of streaming and downloads on Boomplay.

Career
Joseph Buabeng was born and raised in Lagos Town a suburb in the Western region of Ghana. Nero X attended Takoradi Secondary School and later attended Takoradi Technical University. He started his music journey in 2005 as a member of the group '2Unit' with fellow musician Ayesem.

They would later contest in the Nescafe African Revelations reality show that same year. In 2010 Nero X emerged the second runner up of 'Star Grab the Mic' organized by Empire Entertainment.

In 2013, he won in the maiden edition of Viasat 1 TV's Born Starz. Nero X released his first single 'Osey' in 2015 which topped major Ghanaian music charts. He will go on to release Otan, Nyame Dadaw, Nyimpa Nua among others. Nero X has worked with artistes such as Castro, Teephlow, Nana Quame, KK Fosu, Guru, Okyeame Kwame, FlowKing Stone, Tinny among many others.

Achievements
Nero has managed to bag himself some of the most worthy awards over the years like the 2018 RTC Western Music Awards for Highlife artiste of the year and the same award in 2017 for Most Popular song of the year. He also won the 2016 MTN 4stye Music Video Awards for Best Gospel Video.

He has also been nominated for various awards like the 2016 Vodafone Ghana Music Awards for Highlife Artiste of the Year and the 2019 RTC Western Music Awards for Best music video of the year, Urban gospel song of the year, Afropop song of the year, Most popular regional song, Highlife song of the year, Highlife artiste of the year and Artiste of the year.

Follow Boomplay and keep up-to-date with the latest songs of Nero X and information.

Nero X's Songs
• Yawa Dey
• Osey
• Winner
• Nyame Dadaw
• Se Asa
• Frema
• Jehovah
• Makoma
• Handkerchief
• Otan
• Yawa Go Dey Remix
• Be Thankful
• Forward Ever

Nero X's Songs are included in Boomplay music playlists. Search, stream, and download Nero X's Songs, her latest singles and albums in MP3 only on the Boomplay platform for free....more

Country : Ghana
Songs

(4)

Albums

(4)

Playlists

(12)
Listen to Nero X's new songs including "Yawa Dey", "Yawa Dey", "Hosanna" and many more. Enjoy Nero X's latest songs and explore the Nero X's new music albums. If you want to download Nero X songs MP3, use the Boomplay App to download the Nero X songs for free. Discover Nero X's latest songs, popular songs, trending songs all on Boomplay.
Joseph Nkrumah Buabeng known professionally as Nero X is a Ghanaian singer and songwriter. He is best known for his hit single "Osey". Many of Nero X's Songs became very popular and trendy on social media in line with a great number of streaming and downloads on Boomplay.

Career
Joseph Buabeng was born and raised in Lagos Town a suburb in the Western region of Ghana. Nero X attended Takoradi Secondary School and later attended Takoradi Technical University. He started his music journey in 2005 as a member of the group '2Unit' with fellow musician Ayesem.

They would later contest in the Nescafe African Revelations reality show that same year. In 2010 Nero X emerged the second runner up of 'Star Grab the Mic' organized by Empire Entertainment.

In 2013, he won in the maiden edition of Viasat 1 TV's Born Starz. Nero X released his first single 'Osey' in 2015 which topped major Ghanaian music charts. He will go on to release Otan, Nyame Dadaw, Nyimpa Nua among others. Nero X has worked with artistes such as Castro, Teephlow, Nana Quame, KK Fosu, Guru, Okyeame Kwame, FlowKing Stone, Tinny among many others.

Achievements
Nero has managed to bag himself some of the most worthy awards over the years like the 2018 RTC Western Music Awards for Highlife artiste of the year and the same award in 2017 for Most Popular song of the year. He also won the 2016 MTN 4stye Music Video Awards for Best Gospel Video.

He has also been nominated for various awards like the 2016 Vodafone Ghana Music Awards for Highlife Artiste of the Year and the 2019 RTC Western Music Awards for Best music video of the year, Urban gospel song of the year, Afropop song of the year, Most popular regional song, Highlife song of the year, Highlife artiste of the year and Artiste of the year.

Follow Boomplay and keep up-to-date with the latest songs of Nero X and information.

Nero X's Songs
• Yawa Dey
• Osey
• Winner
• Nyame Dadaw
• Se Asa
• Frema
• Jehovah
• Makoma
• Handkerchief
• Otan
• Yawa Go Dey Remix
• Be Thankful
• Forward Ever

Nero X's Songs are included in Boomplay music playlists. Search, stream, and download Nero X's Songs, her latest singles and albums in MP3 only on the Boomplay platform for free.
New Comments(
10

)