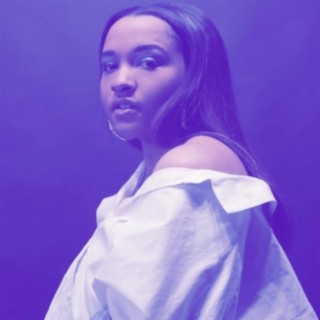 Alex Isley
Current #43.7k

All Time #14.7k

Hailing from Los Angeles, Alex comes from a musically-rich and versatile family. Her maternal grandmother was an opera singer, and began classically-training Alex at age 12, while her father, Ernie, and his brothers, are collectively the R&B/Funk pioneers, The Isley Brothers.
Along with being influenced by R&B and Classical music, Alex studied jazz theory and performance throughout high school and college. She earned her B.A. in Jazz Studies at UCLA. Since then, she has gone on to write and produce 5 original projects.
Alex has collaborated with an array of artists, from Scarface to Moses Sumney to Kendrick Lamar; she sang vocals on Lamar's 2016 Grammy-winning, "These Walls". She's also featured on PJ Morton's 'The Piano Album' (on 'How Deep Is Your Love' as a duet with Morton).
Most recently, Alex has collaborated with producer-engineer, Jack Dine, releasing a joint EP, 'Wilton', as well as the single, 'Gone'.

...more

Country/Region : United States
Songs

(11)

Albums

(5)

Playlists

(0)
1

2

3

4

5

6

7

8

9

10

11
Listen to Alex Isley's new songs including "Love Again ft. Jack Dine", "Still Wonder ft. Jack Dine & Robert Glasper", "Without ft. Jack Dine" and many more. Enjoy Alex Isley's latest songs and explore the Alex Isley's new music albums. If you want to download Alex Isley songs MP3, use the Boomplay App to download the Alex Isley songs for free. Discover Alex Isley's latest songs, popular songs, trending songs all on Boomplay.
Hailing from Los Angeles, Alex comes from a musically-rich and versatile family. Her maternal grandmother was an opera singer, and began classically-training Alex at age 12, while her father, Ernie, and his brothers, are collectively the R&B/Funk pioneers, The Isley Brothers.
Along with being influenced by R&B and Classical music, Alex studied jazz theory and performance throughout high school and college. She earned her B.A. in Jazz Studies at UCLA. Since then, she has gone on to write and produce 5 original projects.
Alex has collaborated with an array of artists, from Scarface to Moses Sumney to Kendrick Lamar; she sang vocals on Lamar's 2016 Grammy-winning, "These Walls". She's also featured on PJ Morton's 'The Piano Album' (on 'How Deep Is Your Love' as a duet with Morton).
Most recently, Alex has collaborated with producer-engineer, Jack Dine, releasing a joint EP, 'Wilton', as well as the single, 'Gone'.


New Comments(
0

)

What do you think of this artist?
FAQs about Alex Isley
Where is Alex Isley from?
She is from United States.
How to download songs of Alex Isley?
You can download songs of Alex Isley from Boomplay App for free.
Firstly, install Boomplay app on your mobile phone.
Secondly, navigate to the song you would like to download.
Thirdly, Tap on More > Download.