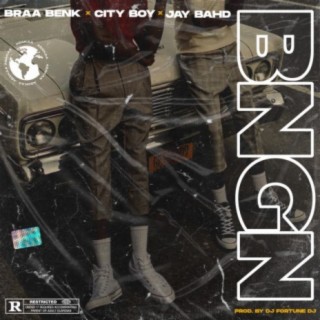 Braa Benk
Current #105.6k

All Time #35k

Braa Benk is a Hip Hop and Rap artist from Ghana. He was born and raised in Ghana and he is currently based in Ghana. Many of Braa Benk's Songs became very popular and trendy on social media in line with a great number of streaming and downloads on Boomplay.

Career
Braa Benk is an upcoming Hip Hop artist who started rapping at a tender age and now is proud to have 3 albums and 3 songs under his name. His taste in pop is one of a kind in the country and he is mentoring quite a number of young artists with the ability of getting into the rap game. His debut album "Banging" featured artists like City Boy and Jay Bahd and currently is the highest streamed album since its premier on Boomplay with over 538.5K streams on Boomplay.

His second Album "Banter" featured CHICOGOD and has over 72.8K Streams on Boomplay being the second most streamed album in his profile. His third Album "SZN" which he featured artists like Terry Carter has over 62.1K streams. He has also been featured in many Ghanaian rap singles and collabos with other artists.

Follow Boomplay and keep up-to-date with the latest songs of Braa Benk and information.

Braa Benks's Songs
• Banging
• SZN
• Banter

Braa Benk's Songs are included in Boomplay music playlists. Search, stream, and download Braa Benk's Songs, her latest singles and albums in MP3 only on the Boomplay platform for free....more

Country/Region : Ghana
Listen to Braa Benk's new songs including "HOLY WATER ft. Beeztrap KOTM & Skyface SDW 🅴", and many more. Enjoy Braa Benk's latest songs and explore the Braa Benk's new music albums. If you want to download Braa Benk songs MP3, use the Boomplay App to download the Braa Benk songs for free. Discover Braa Benk's latest songs, popular songs, trending songs all on Boomplay.
Braa Benk is a Hip Hop and Rap artist from Ghana. He was born and raised in Ghana and he is currently based in Ghana. Many of Braa Benk's Songs became very popular and trendy on social media in line with a great number of streaming and downloads on Boomplay.

Career
Braa Benk is an upcoming Hip Hop artist who started rapping at a tender age and now is proud to have 3 albums and 3 songs under his name. His taste in pop is one of a kind in the country and he is mentoring quite a number of young artists with the ability of getting into the rap game. His debut album "Banging" featured artists like City Boy and Jay Bahd and currently is the highest streamed album since its premier on Boomplay with over 538.5K streams on Boomplay.

His second Album "Banter" featured CHICOGOD and has over 72.8K Streams on Boomplay being the second most streamed album in his profile. His third Album "SZN" which he featured artists like Terry Carter has over 62.1K streams. He has also been featured in many Ghanaian rap singles and collabos with other artists.

Follow Boomplay and keep up-to-date with the latest songs of Braa Benk and information.

Braa Benks's Songs
• Banging
• SZN
• Banter

Braa Benk's Songs are included in Boomplay music playlists. Search, stream, and download Braa Benk's Songs, her latest singles and albums in MP3 only on the Boomplay platform for free.