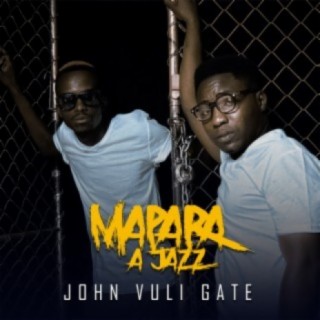 Mapara A Jazz
Current #2,877

All Time #1,910

Mapara A Jazz is a professional name for South African born singers and songwriters Man Malaya Wa Tshwenya and Leonard Sbechu Malatji. The duo became a name to reckon with their banging single, John Vuli Gate, which has gained ground locally and internationally.

Man Malaya Wa Tshwenya is 30 years old singer and songwriter who was born in 1992 in Pretoria while Leonard Sbechu Malatji is a 34 years old singer and songwriter born in 1988 in the same city as his colleague, South Africa.

The South African duo is fast garnering fans across every parastatal as their single, John Vuli Gate couple with the dance steps has been well received. Many Mapara A Jazz songs become very popular and trendy online with a great number of streaming and downloads on Boomplay.

CAREER AND ACHIEVEMENTS
Mapara A Jazz started off their career professionally as a duo in 2007. They had singles upon single which didn't see the light. In 2020, a line from the renowned Grammy award-winning South African movie, Tsotsi (2005) brought the duo to the spotlight. This catch the attention of the South African audience and outside as the single, John Vuli Gate became an instant hit.

The banging single had a video that saw them display the unique dance steps which have gone viral specifically in the South African vicinity. John Vuli Gate also highlighted South African stars, Ntosh Gazi and Colano.

To further expand the reach of the single, Mapara A Jazz came up with a dance challenge for the John Vuli Gate. The idea was expected to bring forth fewer audiences to add up to the already known. However, things turned around when the challenge received massive entrance from known figures and a vast of others.

The single became a win for the South African duo and the featured artists, Ntosh Gazi and Colano as their name became even more stamped and accepted in the music industry. The single has been smashing charts upon charts across all platforms....more

Country/Region : South Africa
Songs

(0)

Albums

(0)

Playlists

(2)
Listen to Mapara A Jazz's new songs including and many more. Enjoy Mapara A Jazz's latest songs and explore the Mapara A Jazz's new music albums. If you want to download Mapara A Jazz songs MP3, use the Boomplay App to download the Mapara A Jazz songs for free. Discover Mapara A Jazz's latest songs, popular songs, trending songs all on Boomplay.
Mapara A Jazz is a professional name for South African born singers and songwriters Man Malaya Wa Tshwenya and Leonard Sbechu Malatji. The duo became a name to reckon with their banging single, John Vuli Gate, which has gained ground locally and internationally.

Man Malaya Wa Tshwenya is 30 years old singer and songwriter who was born in 1992 in Pretoria while Leonard Sbechu Malatji is a 34 years old singer and songwriter born in 1988 in the same city as his colleague, South Africa.

The South African duo is fast garnering fans across every parastatal as their single, John Vuli Gate couple with the dance steps has been well received. Many Mapara A Jazz songs become very popular and trendy online with a great number of streaming and downloads on Boomplay.

CAREER AND ACHIEVEMENTS
Mapara A Jazz started off their career professionally as a duo in 2007. They had singles upon single which didn't see the light. In 2020, a line from the renowned Grammy award-winning South African movie, Tsotsi (2005) brought the duo to the spotlight. This catch the attention of the South African audience and outside as the single, John Vuli Gate became an instant hit.

The banging single had a video that saw them display the unique dance steps which have gone viral specifically in the South African vicinity. John Vuli Gate also highlighted South African stars, Ntosh Gazi and Colano.

To further expand the reach of the single, Mapara A Jazz came up with a dance challenge for the John Vuli Gate. The idea was expected to bring forth fewer audiences to add up to the already known. However, things turned around when the challenge received massive entrance from known figures and a vast of others.

The single became a win for the South African duo and the featured artists, Ntosh Gazi and Colano as their name became even more stamped and accepted in the music industry. The single has been smashing charts upon charts across all platforms.
New Comments(
7

)