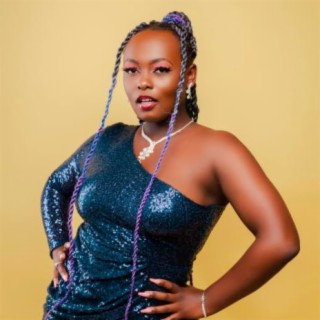 Maandy
Current #2,256

All Time #4,978

Amanda Wambui, popularly known as Maandy is a Kenyan rapper, singer and performing artiste based in Nairobi. She was born and raised in the Dagoretti area of Nairobi and her art and music is a true reflection of her background. Many of Maandy's Songs became very popular and trendy on social media in line with a great number of streaming and downloads on Boomplay.

Career
Maandy stepped into the Kenyan music scene in 2016, right after finishing high school. She started out as a disc jockey under the name DJ Maandy. After much pushing from her friends however, she decided to venture into music recording and performing. Maandy released her debut single called Cheff under Chuo Records. Her thrust into the public domain however came after featuring on Khaligraph Jones' #YesBanaFreestyle.

Her standout verse in the challenge made her known to Hip hop fans and subsequently earned a certain degree of fame. What is considered Maandy's breakout is Sirudi Home Remix - a bouncy Gengetone vibe single featuring Breeder LW and Ndovu Kuu. The remix was released in late 2021 to wide critical acclaim. The music video accompanying the track currently has nearly 2 million YouTube views, making it her most successful single yet.

Achievements
Maandy's successful run on the Kenyan music scene has seen her collaborate with a host of highly acclaimed Kenyan music acts including Khaligraph Jones, Fena Gitu, Breeder LW, Boutross and Boondocks Gang just to name a few.

Though having broken out not long ago, Maandy has amassed over 1.6 million total Boomplay streams. Maandy's first full-length release called Kabaya came out in 2019. The 8-track effort proved to be the perfect introduction of her artistry to the masses at large. Some of the songs off the album include: Wikipedia, Watiaji, Taste and Frisky, which is considered Maandy's debut studio album got released in 2021.

It is a 12-track effort with features from Breeder LW, Fena Gitu and Ndovu Kuu among others. Some of the songs off the album include: Money Man, One Day, Magizani and Uongo. Follow Boomplay and keep up-to-date with the latest songs of Maandy and information.

Maandy's Latest Songs
• SIRUDI HOME (REMIX) ft. BREEDER LW, NDOVU KUU
• Female Esir
• Hivi na Hivo
• Uko??!
• Pon It
• Sultan
• Sirudi Home
• Relax

Maandy's latest single; Forbidden Fruit was released in February 2022. Her music has been featured on Boomplay playlists such as Ssaru Vs. Maandy, 254 Bash, Hip Hop Nation and Hot Girls among others. Explore Boomplay and download Maandy's latest songs.

Maandy's Songs are included in Boomplay music playlists. Search, stream, and download Maandy's Songs, his latest singles and albums in MP3 only on the Boomplay platform for free....more

Country/Region : Kenya
Listen to Maandy's new songs including "BUBBLY BUBBLY (na niki)", "SIRUDI HOME (REMIX) ft. BREEDER LW, NDOVU KUU", "BTW ft. Exray Taniua & Trio Mio" and many more. Enjoy Maandy's latest songs and explore the Maandy's new music albums. If you want to download Maandy songs MP3, use the Boomplay App to download the Maandy songs for free. Discover Maandy's latest songs, popular songs, trending songs all on Boomplay.
Amanda Wambui, popularly known as Maandy is a Kenyan rapper, singer and performing artiste based in Nairobi. She was born and raised in the Dagoretti area of Nairobi and her art and music is a true reflection of her background. Many of Maandy's Songs became very popular and trendy on social media in line with a great number of streaming and downloads on Boomplay.

Career
Maandy stepped into the Kenyan music scene in 2016, right after finishing high school. She started out as a disc jockey under the name DJ Maandy. After much pushing from her friends however, she decided to venture into music recording and performing. Maandy released her debut single called Cheff under Chuo Records. Her thrust into the public domain however came after featuring on Khaligraph Jones' #YesBanaFreestyle.

Her standout verse in the challenge made her known to Hip hop fans and subsequently earned a certain degree of fame. What is considered Maandy's breakout is Sirudi Home Remix - a bouncy Gengetone vibe single featuring Breeder LW and Ndovu Kuu. The remix was released in late 2021 to wide critical acclaim. The music video accompanying the track currently has nearly 2 million YouTube views, making it her most successful single yet.

Achievements
Maandy's successful run on the Kenyan music scene has seen her collaborate with a host of highly acclaimed Kenyan music acts including Khaligraph Jones, Fena Gitu, Breeder LW, Boutross and Boondocks Gang just to name a few.

Though having broken out not long ago, Maandy has amassed over 1.6 million total Boomplay streams. Maandy's first full-length release called Kabaya came out in 2019. The 8-track effort proved to be the perfect introduction of her artistry to the masses at large. Some of the songs off the album include: Wikipedia, Watiaji, Taste and Frisky, which is considered Maandy's debut studio album got released in 2021.

It is a 12-track effort with features from Breeder LW, Fena Gitu and Ndovu Kuu among others. Some of the songs off the album include: Money Man, One Day, Magizani and Uongo. Follow Boomplay and keep up-to-date with the latest songs of Maandy and information.

Maandy's Latest Songs
• SIRUDI HOME (REMIX) ft. BREEDER LW, NDOVU KUU
• Female Esir
• Hivi na Hivo
• Uko??!
• Pon It
• Sultan
• Sirudi Home
• Relax

Maandy's latest single; Forbidden Fruit was released in February 2022. Her music has been featured on Boomplay playlists such as Ssaru Vs. Maandy, 254 Bash, Hip Hop Nation and Hot Girls among others. Explore Boomplay and download Maandy's latest songs.

Maandy's Songs are included in Boomplay music playlists. Search, stream, and download Maandy's Songs, his latest singles and albums in MP3 only on the Boomplay platform for free.
New Comments(
27

)
FAQs about Maandy
Where is Maandy from?
She is from Kenya.
How to download songs of Maandy?
You can download songs of Maandy from Boomplay App for free.
Firstly, install Boomplay app on your mobile phone.
Secondly, navigate to the song you would like to download.
Thirdly, Tap on More > Download.