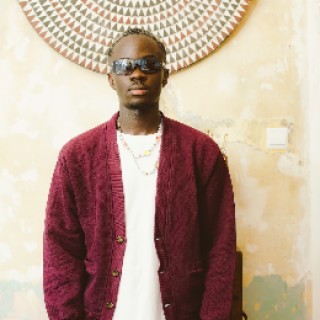 Yaw Tog
Current #4,715

All Time #2,293

Thorsten Owusu Gyimah (born 8 May 2003), popularly known as Yaw Tog, is a Ghanaian rapper who majors in drill music known in Ghana as Asakaa. He is best known for his viral song 'Sore' which featured O`Kenneth, City Boy, Reggie & Jay Bahd and also Kwesi Arthur and Stormzy on the remix. Many of Yaw Tog songs become very popular and trendy online with great number of streaming and downloads on Boomplay.

He was a student of Opoku Ware Senior High School. He wrote his final WASSCE paper on 7 October 2021. He performed at the 17th Ghana Party in the Park UK Concert.

Follow Boomplay and keep up to date with latest Yaw Tog songs and information.

Yaw Tog Songs
• Time EP
• Sore feat. O`Kenneth
• City Boy
• Reggie & Jay Bahd
• Sore Remix feat. Kwesi Arthur & Stormzy
• Y33gye
• Africa
• Empty
• Daben
• Mood
• Time
• Fake Ex
• Boyz
• Gold Friends
• Sei Mu

AWARDS
• 2021 3Music Awards - Breakthrough Artiste of the Year
• Viral Song of the Year - Sore
• Hiphop Song of the Year - Sore
• Global Music Awards Africa - Most Influential Ghanaian Act of the Year
• Vodafone Ghana Music Awards (VGMA) - Best New Artiste
• Best Hip-Pop Song of the Year - Sore
• Hiplife/Hiphop Artist of the Year

Yaw Tog songs are included in Boomplay music playlists. Search to stream and download Yaw Tog songs MP3/ single/ albums on the Boomplay....more

Country/Region : Ghana
Listen to Yaw Tog's new songs including "Sore ft. O'KENNETH,CITY BOY,REGGIE & JAY BAHD", "Empty", and many more. Enjoy Yaw Tog's latest songs and explore the Yaw Tog's new music albums. If you want to download Yaw Tog songs MP3, use the Boomplay App to download the Yaw Tog songs for free. Discover Yaw Tog's latest songs, popular songs, trending songs all on Boomplay.
Thorsten Owusu Gyimah (born 8 May 2003), popularly known as Yaw Tog, is a Ghanaian rapper who majors in drill music known in Ghana as Asakaa. He is best known for his viral song 'Sore' which featured O`Kenneth, City Boy, Reggie & Jay Bahd and also Kwesi Arthur and Stormzy on the remix. Many of Yaw Tog songs become very popular and trendy online with great number of streaming and downloads on Boomplay.

He was a student of Opoku Ware Senior High School. He wrote his final WASSCE paper on 7 October 2021. He performed at the 17th Ghana Party in the Park UK Concert.

Follow Boomplay and keep up to date with latest Yaw Tog songs and information.

Yaw Tog Songs
• Time EP
• Sore feat. O`Kenneth
• City Boy
• Reggie & Jay Bahd
• Sore Remix feat. Kwesi Arthur & Stormzy
• Y33gye
• Africa
• Empty
• Daben
• Mood
• Time
• Fake Ex
• Boyz
• Gold Friends
• Sei Mu

AWARDS
• 2021 3Music Awards - Breakthrough Artiste of the Year
• Viral Song of the Year - Sore
• Hiphop Song of the Year - Sore
• Global Music Awards Africa - Most Influential Ghanaian Act of the Year
• Vodafone Ghana Music Awards (VGMA) - Best New Artiste
• Best Hip-Pop Song of the Year - Sore
• Hiplife/Hiphop Artist of the Year

Yaw Tog songs are included in Boomplay music playlists. Search to stream and download Yaw Tog songs MP3/ single/ albums on the Boomplay.
New Comments(
298

)
FAQs about Yaw Tog
Where is Yaw Tog from?
He is from Ghana.
How to download songs of Yaw Tog?
You can download songs of Yaw Tog from Boomplay App for free.
Firstly, install Boomplay app on your mobile phone.
Secondly, navigate to the song you would like to download.
Thirdly, Tap on More > Download.