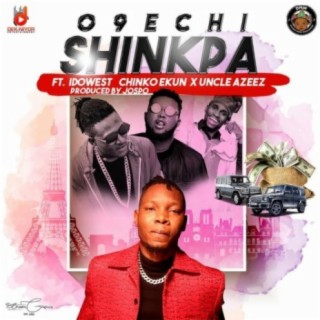 o9echi
Current #99k+

All Time #19k

O9echi is a critically acclaimed Nigerian- born and Dallas-based Rapper, Singer, Songwriter and Artist. He was nominated in 2019 for "Best Foreign Based Nigerian Artist" by Icegate Entertainment Awards. On the microphone his dexterity is next to none with his flawless flows and catchy phrases. O9echi was derived from his first name Ogechi. The 'G' was intentionally flipped to '9′ just for uniqueness since the name is very popular/common in Nigeria. Also, '9' denotes a "Goal getter' just like in Soccer/Football; He is a Goal getter.

He holds a Masters in Information Technology which He practices in the USA.

He does afro vibes with music, creating a vocal interplay between Deep and Light vocals. He calls it 'Afro Vibe'.

He has performed on stage with several popular Nigerian superstars like WizKid, DaVido, Runtown, 2baba (2face), A-Star, Tekno, Flavour, just to mention a few.

In 2019, He released MAADNESS featuring Slimcase and SHINKPA featuring Idowest x "Chinko Ekun" x Uncle Azeez. In 2020 He released PICOLO which garnered over 1Million views across streaming platforms.

His new single SUN MO is a SOFT vibe for the ladies filled with melodies, harmonies, rap and vibe all in one song. Sun Mo gives a certain 'feeling' to the listeners – warmth, affection, passionate vibes and leaves them feeling 'good' after hearing the song.
Sun Mo is a Yoruba word that means 'Come Closer'.

GO WATCH PICOLO MUSIC VIDEO...more

Country/Region : Nigeria
Songs

(0)

Albums

(0)

Playlists

(0)
Listen to o9echi's new songs including and many more. Enjoy o9echi's latest songs and explore the o9echi's new music albums. If you want to download o9echi songs MP3, use the Boomplay App to download the o9echi songs for free. Discover o9echi's latest songs, popular songs, trending songs all on Boomplay.
O9echi is a critically acclaimed Nigerian- born and Dallas-based Rapper, Singer, Songwriter and Artist. He was nominated in 2019 for "Best Foreign Based Nigerian Artist" by Icegate Entertainment Awards. On the microphone his dexterity is next to none with his flawless flows and catchy phrases. O9echi was derived from his first name Ogechi. The 'G' was intentionally flipped to '9′ just for uniqueness since the name is very popular/common in Nigeria. Also, '9' denotes a "Goal getter' just like in Soccer/Football; He is a Goal getter.

He holds a Masters in Information Technology which He practices in the USA.

He does afro vibes with music, creating a vocal interplay between Deep and Light vocals. He calls it 'Afro Vibe'.

He has performed on stage with several popular Nigerian superstars like WizKid, DaVido, Runtown, 2baba (2face), A-Star, Tekno, Flavour, just to mention a few.

In 2019, He released MAADNESS featuring Slimcase and SHINKPA featuring Idowest x "Chinko Ekun" x Uncle Azeez. In 2020 He released PICOLO which garnered over 1Million views across streaming platforms.

His new single SUN MO is a SOFT vibe for the ladies filled with melodies, harmonies, rap and vibe all in one song. Sun Mo gives a certain 'feeling' to the listeners – warmth, affection, passionate vibes and leaves them feeling 'good' after hearing the song.
Sun Mo is a Yoruba word that means 'Come Closer'.

GO WATCH PICOLO MUSIC VIDEO
New Comments(
0

)

What do you think of this artist?