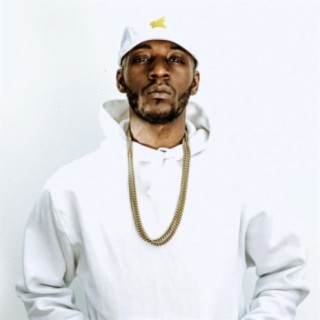 Jovi
Current #6,091

All Time #2,493

Ndukong Godlove Nfor (born 24 October 1983), known by his stage name Jovi, is a Cameroonian rapper, songwriter, sound engineer, entrepreneur, and record producer (under his producer pseudonym Le Monstre). Many of Jovi songs become very popular and trendy online with a great number of streaming and downloads on Boomplay.

Jovi graduated from the University of Yaoundé II (Soa), with a BA Hons in Economics and Business Management.

Career.
Cameroon's music industry has remained conventional for a very long time with genres like, Makossa and Bikutsi dominating the musical scene. Jovi's first single "Don 4 Kwat", followed by "Pitié", featuring Congolese musician Tabu Ley Rochereau, released under Mumak record label, which he co-founded, is part of a new wave of musical content in Cameroon.

"Don 4 Kwat" received heavy airplays on Trace Urban and Channel O, his second single, "Pitié" featuring Tabu Ley Rochereau, stayed on the charts for months on pan-African BBC's Destination Africa hosted by DJ Edu, staying in the top 5 at its peak. In January 2013, Jovi left Mumak record label to launch New Bell Music, with Rachel Burks. Both Jovi and Rachel are signed to their label New Bell Music.

Follow Boomplay and keep up-to-date with the latest Jovi songs and information.

Achievement.
In September 2014, Jovi released his video "Cash" (Mets l'argent à terre) to wide acclaim across Cameroon. In December 2014, Jovi released his video "Et P8 Koi," which became a hit across French-speaking West Africa, getting heavy rotation on Trace Urban, and debuting at No. 1 on Trace Urban's premiere episode of "Hip Hop 10 Made in Africa."

In 2015, Jovi was nominated for an MTV Africa Music Award (MAMA) for Best Francophone artist. On May 20, 2015, Jovi released his sophomore album, Mboko God, which was nominated for a 2016 Kora Award for Best Album. Jovi's music videos are played regularly on Trace Urban, and in 2015, Jovi was featured on Trace TV in "The 15 artists to follow in 2015," and "One of the 10 African Rappers You Should Definitely Know."

Under his pseudonym Le Monstre, Jovi produces his records and is renowned for his compelling fusion of traditional hip hop and classic Cameroon/African sounds and instruments with new contemporary sounds. Jovi's lyrics are in English, French, Cameroonian Pidgin English and francanglais (a fusion of French, English and Cameroonian Pidgin English).

Jovi also produces music for artists in New Bell Music as well as for international artists. Jovi co-wrote and co-produced Akon's song "Shine the Light," which Akon released as a video on January 26, 2016. Jovi has been regularly featured in the online music magazine OkayAfrica.

On February 29, 2016, Jovi was featured in an interview with The Fader, which featured the world-premiere of his single "Bad Influence." In a Vibe magazine article published on June 28, 2016, author Natelege Whaley states Jovi is one of the African artists "flipping trap and taking it to new heights sonically."

Jovi has one of the biggest fan base in Cameroon music known as MBOKOGANG

Jovi's third album, 16 Wives, was released on February 16, 2017. On June 30, 2017, Noisey (the music branch of Vice) named Jovi's 16 Wives as one of "The 30 Best Overlooked Albums of 2017 (So Far). Jovi released his sixth EP Yaje Vol. 1:

Black on August 27, 2017. Jovi is regularly featured in Apple Music Playlist and was interviewed on Beats 1 Radio's first African music show "A-List-African Music" on Dec. 16, 2018. On February 16th, 2019, Jovi released his 4th studio album God Don Kam.

Jovi Albums
• H.I.V (Humanity is Vanishing) [2012)
• Mboko God [2015]
• 16 Wives [2017]
• God Don Kam [2019]

Jovi Songs
• Kankwe Vol. 1 [2014]
• Kankwe Vol. 2 [2015]
• Raps 2 Riches [2015]
• Puta Madre [2015]
• Bad Music [2016]
• Yaje Vol. 1: Black
• God Di Kam
• Raps 2 Richs Vol.2
• YAJE Vol. 2: Sun Yellow
• Pressure [2021]

Jovi songs are included in Boomplay music playlists. Search to stream and download Jovi songs MP3/ single/ albums on the platform....more

Country/Region : Cameroon
Songs

(34)

Albums

(12)

Playlists

(1)
1

2

3

4

5

6

7

8

9

10

11

12

13

14

15

16

17

18

19

20

21

22

23

24

25

26

27

28

29

30

31

32

33

34
Listen to Jovi's new songs including "Back When", "Intro", "Very Badly" and many more. Enjoy Jovi's latest songs and explore the Jovi's new music albums. If you want to download Jovi songs MP3, use the Boomplay App to download the Jovi songs for free. Discover Jovi's latest songs, popular songs, trending songs all on Boomplay.
Ndukong Godlove Nfor (born 24 October 1983), known by his stage name Jovi, is a Cameroonian rapper, songwriter, sound engineer, entrepreneur, and record producer (under his producer pseudonym Le Monstre). Many of Jovi songs become very popular and trendy online with a great number of streaming and downloads on Boomplay.

Jovi graduated from the University of Yaoundé II (Soa), with a BA Hons in Economics and Business Management.

Career.
Cameroon's music industry has remained conventional for a very long time with genres like, Makossa and Bikutsi dominating the musical scene. Jovi's first single "Don 4 Kwat", followed by "Pitié", featuring Congolese musician Tabu Ley Rochereau, released under Mumak record label, which he co-founded, is part of a new wave of musical content in Cameroon.

"Don 4 Kwat" received heavy airplays on Trace Urban and Channel O, his second single, "Pitié" featuring Tabu Ley Rochereau, stayed on the charts for months on pan-African BBC's Destination Africa hosted by DJ Edu, staying in the top 5 at its peak. In January 2013, Jovi left Mumak record label to launch New Bell Music, with Rachel Burks. Both Jovi and Rachel are signed to their label New Bell Music.

Follow Boomplay and keep up-to-date with the latest Jovi songs and information.

Achievement.
In September 2014, Jovi released his video "Cash" (Mets l'argent à terre) to wide acclaim across Cameroon. In December 2014, Jovi released his video "Et P8 Koi," which became a hit across French-speaking West Africa, getting heavy rotation on Trace Urban, and debuting at No. 1 on Trace Urban's premiere episode of "Hip Hop 10 Made in Africa."

In 2015, Jovi was nominated for an MTV Africa Music Award (MAMA) for Best Francophone artist. On May 20, 2015, Jovi released his sophomore album, Mboko God, which was nominated for a 2016 Kora Award for Best Album. Jovi's music videos are played regularly on Trace Urban, and in 2015, Jovi was featured on Trace TV in "The 15 artists to follow in 2015," and "One of the 10 African Rappers You Should Definitely Know."

Under his pseudonym Le Monstre, Jovi produces his records and is renowned for his compelling fusion of traditional hip hop and classic Cameroon/African sounds and instruments with new contemporary sounds. Jovi's lyrics are in English, French, Cameroonian Pidgin English and francanglais (a fusion of French, English and Cameroonian Pidgin English).

Jovi also produces music for artists in New Bell Music as well as for international artists. Jovi co-wrote and co-produced Akon's song "Shine the Light," which Akon released as a video on January 26, 2016. Jovi has been regularly featured in the online music magazine OkayAfrica.

On February 29, 2016, Jovi was featured in an interview with The Fader, which featured the world-premiere of his single "Bad Influence." In a Vibe magazine article published on June 28, 2016, author Natelege Whaley states Jovi is one of the African artists "flipping trap and taking it to new heights sonically."

Jovi has one of the biggest fan base in Cameroon music known as MBOKOGANG

Jovi's third album, 16 Wives, was released on February 16, 2017. On June 30, 2017, Noisey (the music branch of Vice) named Jovi's 16 Wives as one of "The 30 Best Overlooked Albums of 2017 (So Far). Jovi released his sixth EP Yaje Vol. 1:

Black on August 27, 2017. Jovi is regularly featured in Apple Music Playlist and was interviewed on Beats 1 Radio's first African music show "A-List-African Music" on Dec. 16, 2018. On February 16th, 2019, Jovi released his 4th studio album God Don Kam.

Jovi Albums
• H.I.V (Humanity is Vanishing) [2012)
• Mboko God [2015]
• 16 Wives [2017]
• God Don Kam [2019]

Jovi Songs
• Kankwe Vol. 1 [2014]
• Kankwe Vol. 2 [2015]
• Raps 2 Riches [2015]
• Puta Madre [2015]
• Bad Music [2016]
• Yaje Vol. 1: Black
• God Di Kam
• Raps 2 Richs Vol.2
• YAJE Vol. 2: Sun Yellow
• Pressure [2021]

Jovi songs are included in Boomplay music playlists. Search to stream and download Jovi songs MP3/ single/ albums on the platform.
New Comments(
43

)
FAQs about Jovi
Where is Jovi from?
He is from Cameroon.
What are the latest songs of Jovi?
The latest songs of Jovi are Smart Suddenly, Christmas With U and High Risk Baby.
What are the best songs of Jovi?
The best songs of Jovi are Devil No Di Sleep, Man Pass Man, Pt. 4 and No Peace.
What are the best albums of Jovi?
The best albums of Jovi are God Don Kam, Young Vizu Anointed Mboko Supreme and 16 Wives.
How to download songs of Jovi?
You can download songs of Jovi from Boomplay App for free.
Firstly, install Boomplay app on your mobile phone.
Secondly, navigate to the song you would like to download.
Thirdly, Tap on More > Download.