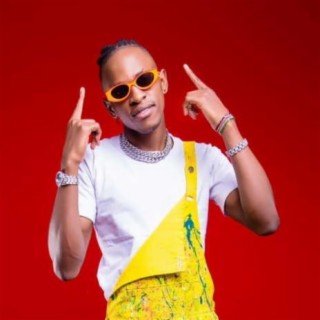 Iyanii
Current #2,818

All Time #3,379

Ian Oure popularly known for his stage name Iyanii is a very victorious upcoming artist based, born and raised in Kenya. He is a songwriter, recording and performing musician from Nairobi. Iyanii focuses on Urban Afro-pop but with an international vibe, meaning that his music is universal.

He is currently flying high with his 'Pombe' single which has opened up great opportunities on his music journey. Many of Iyanii's Songs became very popular and trendy on social media in line with a great number of streaming and downloads on Boomplay.

Career
Iyanii is a fast-rising Kenyan artist and all this musical journey of his never started at birth. It all started in 2009 when he decided to pursue music as a full-time career. Iyanii noted that he grew up surrounded by people in music at a Nairobi slum "Mathare." But he didn't pay attention to it until 2009.

After he decided to venture into the industry, he took several years before getting his breakthrough, According to him, his star started shining bright when he released his first song dubbed 'Bamba Pia' in 2018.

Iyanii said being brought up in the ghetto positively influenced his music. He noted that most people in his neighborhood ended up in crime related activities, but for him, he channeled his energy into music, and he's glad that it is paying off eventually.

Iyanii as a future successful artiste decided to take the industry in a storm with his genre in music focusing on Urban Afro-pop but with an international vibe, meaning that his music is universal and anyone can listen and enjoy it, even though they may not understand the language or the message but the vibe is a banger.

Achievements
The fast rising star Iyanii is over the moon with his career after he bagged two nominations at the Pulse music video awards 2021 for the Viewer's choice video of the year category award and the Breakthrough artist of the year category award.

Follow Boomplay and keep up-to-date with the latest songs of Iyanii and information.

Iyanii's Latest Songs
• Pombe
• Furaha
• Memories

Iyanii's Songs are included in Boomplay music playlists. Search, stream, and download Iyanii's Songs, his latest singles and albums in MP3 only on the Boomplay platform for free....more

Country : Kenya
Listen to Iyanii's new songs including "Pombe", "Furaha Remix ft. Arrow Bwoy, Nadia Mukami, Kristoff, Dogo Janja & Exray Taniua", "Furaha" and many more. Enjoy Iyanii's latest songs and explore the Iyanii's new music albums. If you want to download Iyanii songs MP3, use the Boomplay App to download the Iyanii songs for free. Discover Iyanii's latest songs, popular songs, trending songs all on Boomplay.
Ian Oure popularly known for his stage name Iyanii is a very victorious upcoming artist based, born and raised in Kenya. He is a songwriter, recording and performing musician from Nairobi. Iyanii focuses on Urban Afro-pop but with an international vibe, meaning that his music is universal.

He is currently flying high with his 'Pombe' single which has opened up great opportunities on his music journey. Many of Iyanii's Songs became very popular and trendy on social media in line with a great number of streaming and downloads on Boomplay.

Career
Iyanii is a fast-rising Kenyan artist and all this musical journey of his never started at birth. It all started in 2009 when he decided to pursue music as a full-time career. Iyanii noted that he grew up surrounded by people in music at a Nairobi slum "Mathare." But he didn't pay attention to it until 2009.

After he decided to venture into the industry, he took several years before getting his breakthrough, According to him, his star started shining bright when he released his first song dubbed 'Bamba Pia' in 2018.

Iyanii said being brought up in the ghetto positively influenced his music. He noted that most people in his neighborhood ended up in crime related activities, but for him, he channeled his energy into music, and he's glad that it is paying off eventually.

Iyanii as a future successful artiste decided to take the industry in a storm with his genre in music focusing on Urban Afro-pop but with an international vibe, meaning that his music is universal and anyone can listen and enjoy it, even though they may not understand the language or the message but the vibe is a banger.

Achievements
The fast rising star Iyanii is over the moon with his career after he bagged two nominations at the Pulse music video awards 2021 for the Viewer's choice video of the year category award and the Breakthrough artist of the year category award.

Follow Boomplay and keep up-to-date with the latest songs of Iyanii and information.

Iyanii's Latest Songs
• Pombe
• Furaha
• Memories

Iyanii's Songs are included in Boomplay music playlists. Search, stream, and download Iyanii's Songs, his latest singles and albums in MP3 only on the Boomplay platform for free.
New Comments(
9

)