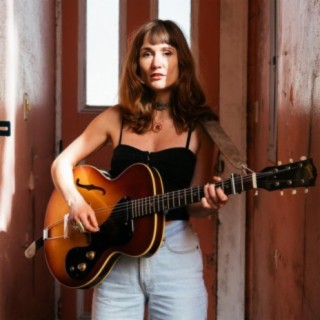 Esther Rose
Current #99k+

All Time #671.6k

You can think of Esther Rose's warm, hopeful country songs like points on a map. The New Orleans singer-songwriter takes pleasure in guiding you through colorful landmarks—especially those throughout her hometown—but she also makes time for smaller, quieter spots: say, the bar where a relationship turned sour, or the dreary high school where she and her sister begrudgingly drove each morning. Recorded direct-to-tape and accentuated with lap steel and fiddle, her songs pull you in like this; she wants you to see the scenery, learn the history, and feel at home before she sends you on your way.


With her two solo records—2017's This Time Last Night (Mashed Potato) and 2019's You Made It This Far (Father/Daughter)—Esther Rose is at the beginning of her own journey. Her vibrant, homespun music has earned comparisons to Hank Williams and Rilo Kiley, and, over the past year, she has toured with acts such as Nick Lowe & Los Straitjackets, The Cactus Blossoms, and Charley Crockett. Carving new ground while drawing on the tradition of classic folk music, she uses tender stories to depict deeper cosmic truths. And as she sings, she invites you to a world that feels familiar, magical, and entirely her own....more

Country/Region : United States
Songs

(18)

Albums

(5)

Playlists

(0)
1

2

3

4

5

6

7

8

9

10

11

12

13

14

15

16

17

18
Listen to Esther Rose's new songs including "The Desert", "Break It To Me", "Stay Open and Free" and many more. Enjoy Esther Rose's latest songs and explore the Esther Rose's new music albums. If you want to download Esther Rose songs MP3, use the Boomplay App to download the Esther Rose songs for free. Discover Esther Rose's latest songs, popular songs, trending songs all on Boomplay.
You can think of Esther Rose's warm, hopeful country songs like points on a map. The New Orleans singer-songwriter takes pleasure in guiding you through colorful landmarks—especially those throughout her hometown—but she also makes time for smaller, quieter spots: say, the bar where a relationship turned sour, or the dreary high school where she and her sister begrudgingly drove each morning. Recorded direct-to-tape and accentuated with lap steel and fiddle, her songs pull you in like this; she wants you to see the scenery, learn the history, and feel at home before she sends you on your way.


With her two solo records—2017's This Time Last Night (Mashed Potato) and 2019's You Made It This Far (Father/Daughter)—Esther Rose is at the beginning of her own journey. Her vibrant, homespun music has earned comparisons to Hank Williams and Rilo Kiley, and, over the past year, she has toured with acts such as Nick Lowe & Los Straitjackets, The Cactus Blossoms, and Charley Crockett. Carving new ground while drawing on the tradition of classic folk music, she uses tender stories to depict deeper cosmic truths. And as she sings, she invites you to a world that feels familiar, magical, and entirely her own.
New Comments(
0

)

What do you think of this artist?