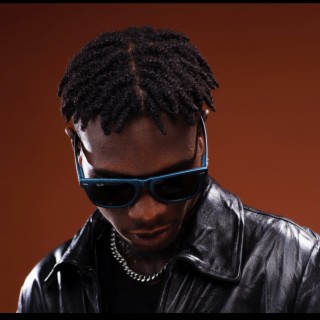 NAGYI
Current #107k

All Time #15k

Nagyi Amoah (born 27 February), known professionally as NAGYI, is a Ghanaian rapper, and songwriter. His genres range from Ghanaian Hip-Hop, RnB, Afro-beat and Trap music. Many of Nagyi songs become very popular and trendy online with a great number of streaming and downloads on Boomplay.

Nagyi was born and raised in Accra Ghana where he still resides. He is originally from Kumasi (Akyr3madi) in the Ashanti region where his family is from. He is the son of the Legendary Ghanaian high-life Musician and Producer "Charles Amoah".

Nagyi had his Secondary Education at Winneba Senior High school. He then went to Ghana Technology University College for a diploma certificate in Information Technology. He also enrolled in Valley View University for a full Bachelor's degree in Information Technology.

Career
Born and raised in a music family he has always loved music from childhood watching his father record music and performing at various concerts. He grew up on musical genres such as High-Life, Hip-Life, Hip-Hop, Reggae RnB and Dancehall to name a few and developed the skills to write, rap and sing at a young age. He enjoys performing on stage with his DJ or with a live band. He started recording his own music from 2011 and released two single EPs named "African Art" in 2011 and "Native Language" in 2013.

He also released a group project Ep named "Klan Business" with his own musical group called Klan B. He signed and managed a record and management label that he co-owns with his brother called "Ananse Live Inc". With his diverse rap styles, deep lyrics and artistry, Nagyi tells his story of society around us and motivates the youth. He believes African music is one of the best music in the world and wants his music to impact and shape the music culture into its best self.

He has developed his own style of music while being influenced by the likes of Jay z, Manifest, Sarkodie, Charles Amoah and many more.

Achievements
• Nagyi was nominated in the 2013 High-School Honours Awards for best Rap act
• He won Best Rap Act and best Rap group in Winneba Senior High School Awards
• He has performed at various recognized stages such as the National Theatre

Follow Boomplay and keep up to date with the latest Nagyi songs and information.

Nagyi Songs and Albums
• Rollie Gold
• RKWM
• Sika Duro
• Bon For Here
• Kwacha For My Mind
• Mary Jane
• Stuck In My Ways
• Sleep When I'm Rich (Album)

Nagyi songs are included in Boomplay music playlists. Search to stream and download Nagyi songs MP3/ single/ albums on the platform....more

Country/Region : Ghana
Songs

(13)

Albums

(7)

Playlists

(9)
1

2

3

4

5

6

7

8

9

10

11

12

13
Listen to NAGYI's new songs including "Ajei ft. $pacely 🅴", "Rollie Gold 🅴", "Mensah 🅴" and many more. Enjoy NAGYI's latest songs and explore the NAGYI's new music albums. If you want to download NAGYI songs MP3, use the Boomplay App to download the NAGYI songs for free. Discover NAGYI's latest songs, popular songs, trending songs all on Boomplay.
Nagyi Amoah (born 27 February), known professionally as NAGYI, is a Ghanaian rapper, and songwriter. His genres range from Ghanaian Hip-Hop, RnB, Afro-beat and Trap music. Many of Nagyi songs become very popular and trendy online with a great number of streaming and downloads on Boomplay.

Nagyi was born and raised in Accra Ghana where he still resides. He is originally from Kumasi (Akyr3madi) in the Ashanti region where his family is from. He is the son of the Legendary Ghanaian high-life Musician and Producer "Charles Amoah".

Nagyi had his Secondary Education at Winneba Senior High school. He then went to Ghana Technology University College for a diploma certificate in Information Technology. He also enrolled in Valley View University for a full Bachelor's degree in Information Technology.

Career
Born and raised in a music family he has always loved music from childhood watching his father record music and performing at various concerts. He grew up on musical genres such as High-Life, Hip-Life, Hip-Hop, Reggae RnB and Dancehall to name a few and developed the skills to write, rap and sing at a young age. He enjoys performing on stage with his DJ or with a live band. He started recording his own music from 2011 and released two single EPs named "African Art" in 2011 and "Native Language" in 2013.

He also released a group project Ep named "Klan Business" with his own musical group called Klan B. He signed and managed a record and management label that he co-owns with his brother called "Ananse Live Inc". With his diverse rap styles, deep lyrics and artistry, Nagyi tells his story of society around us and motivates the youth. He believes African music is one of the best music in the world and wants his music to impact and shape the music culture into its best self.

He has developed his own style of music while being influenced by the likes of Jay z, Manifest, Sarkodie, Charles Amoah and many more.

Achievements
• Nagyi was nominated in the 2013 High-School Honours Awards for best Rap act
• He won Best Rap Act and best Rap group in Winneba Senior High School Awards
• He has performed at various recognized stages such as the National Theatre

Follow Boomplay and keep up to date with the latest Nagyi songs and information.

Nagyi Songs and Albums
• Rollie Gold
• RKWM
• Sika Duro
• Bon For Here
• Kwacha For My Mind
• Mary Jane
• Stuck In My Ways
• Sleep When I'm Rich (Album)

Nagyi songs are included in Boomplay music playlists. Search to stream and download Nagyi songs MP3/ single/ albums on the platform.