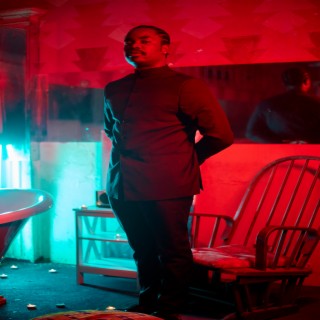 DarkoVibes
Current #4,764

All Time #4,077

Paul Nii Amu Andrew Darko (born 1995) known as Darkovibes, is a Ghanaian born singer songwriter. His music categorizes as experimental music where he blends highlife, hip hop and rap. Darkovibes is known for his 2016 single 'Mercy'. Many Darkovibes songs become very popular and trendy online with a great number of streaming and downloads on Boomplay.

CAREER AND ACHIEVEMENTS
He earned recognition as a nominee in the hip hop song of the year category at the Ghana Music Awards 2017 for his feature on Edem's hit 'Egboame' the Remix.

Darkovibes has collaborated with artists including Omar Sterling of R2bees, Joey B, Edem, Efya, Magnom, Vacs (Music Producer), Pheelz Mr. Producer from Nigeria, and Kuvie (Music Producer).

In 2016, he worked with MTN Ghana by writing and performing the theme song for the MTN Pulse Campaign. As a member of the creative collective, La Meme Gang, he has collaborated with all the other members, namely, Kiddblack, Nxwrth(no longer part),RJZ, $pacely and Kwaku BS(no longer part). La Meme Gang released their first collaborative studio tape, La Meme Tape, in 2017.

Follow Boomplay and keep up-to-date with the latest Darkovibes songs and information.

Darkovibes Songs
• Kpanlogo (2020)
• Bo Nor (2018)
• Shutdown (2017)
• Placebo (2017)
• Tomorrow (2017)
• Mercy (2016)
• Shuga (2016)
• Siamese (2016)
• Joey B- Darryl EP (2017)
• Magnom- We Speed (2017)
• La Meme Gang- La Meme Tape (2017)
• PAQ- The Afrobeat Tape (2017)
• Dblack- Hunger & Thirst (2018)
• EL- WAV (2018)
• KiDi - Bless Me (2019)
• Stonebwoy - Stay Woke (2018)
• Nxwrth - Sundress (2019)
• Ayat - Bangers (2018)
• Edem - Egboame (Remix) (2017)
• $pacely - Ikechukwu (2017)

Darkovibes songs are included in Boomplay music playlists. Search to stream and download Darkovibes songs MP3/ single/ albums on the platform....more

Country/Region : Ghana
Listen to DarkoVibes's new songs including "Bless Me ft KiDi", "Stay Woke", "Tomorrow" and many more. Enjoy DarkoVibes's latest songs and explore the DarkoVibes's new music albums. If you want to download DarkoVibes songs MP3, use the Boomplay App to download the DarkoVibes songs for free. Discover DarkoVibes's latest songs, popular songs, trending songs all on Boomplay.
Paul Nii Amu Andrew Darko (born 1995) known as Darkovibes, is a Ghanaian born singer songwriter. His music categorizes as experimental music where he blends highlife, hip hop and rap. Darkovibes is known for his 2016 single 'Mercy'. Many Darkovibes songs become very popular and trendy online with a great number of streaming and downloads on Boomplay.

CAREER AND ACHIEVEMENTS
He earned recognition as a nominee in the hip hop song of the year category at the Ghana Music Awards 2017 for his feature on Edem's hit 'Egboame' the Remix.

Darkovibes has collaborated with artists including Omar Sterling of R2bees, Joey B, Edem, Efya, Magnom, Vacs (Music Producer), Pheelz Mr. Producer from Nigeria, and Kuvie (Music Producer).

In 2016, he worked with MTN Ghana by writing and performing the theme song for the MTN Pulse Campaign. As a member of the creative collective, La Meme Gang, he has collaborated with all the other members, namely, Kiddblack, Nxwrth(no longer part),RJZ, $pacely and Kwaku BS(no longer part). La Meme Gang released their first collaborative studio tape, La Meme Tape, in 2017.

Follow Boomplay and keep up-to-date with the latest Darkovibes songs and information.

Darkovibes Songs
• Kpanlogo (2020)
• Bo Nor (2018)
• Shutdown (2017)
• Placebo (2017)
• Tomorrow (2017)
• Mercy (2016)
• Shuga (2016)
• Siamese (2016)
• Joey B- Darryl EP (2017)
• Magnom- We Speed (2017)
• La Meme Gang- La Meme Tape (2017)
• PAQ- The Afrobeat Tape (2017)
• Dblack- Hunger & Thirst (2018)
• EL- WAV (2018)
• KiDi - Bless Me (2019)
• Stonebwoy - Stay Woke (2018)
• Nxwrth - Sundress (2019)
• Ayat - Bangers (2018)
• Edem - Egboame (Remix) (2017)
• $pacely - Ikechukwu (2017)

Darkovibes songs are included in Boomplay music playlists. Search to stream and download Darkovibes songs MP3/ single/ albums on the platform.
New Comments(
74

)
FAQs about DarkoVibes
Where is DarkoVibes from?
He is from Ghana.
How to download songs of DarkoVibes?
You can download songs of DarkoVibes from Boomplay App for free.
Firstly, install Boomplay app on your mobile phone.
Secondly, navigate to the song you would like to download.
Thirdly, Tap on More > Download.