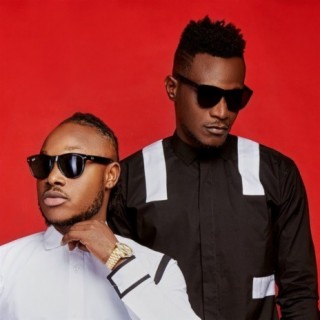 Keche
Current #3,503

All Time #2,423

Keche (often called the Skill Team) is a Ghanaian Vocal group formed in Tema, Accra in 2004. The group consists of Andrew Cudjoe (singer) and Joshua Ampah (rapper). The duo rose to fame with their debut Album Pressure (2008). The album had tracks like Omogemi and ring my bell which featured then rising star Sarkodie. After the mild success of their first album and a national tour, the duo released two hit singles; Sokode (2011) and Aluguntugui (2012) which topped local music charts. These hits propelled them to superstardom, with international tours and endorsements inundating their timeline. The success of the Aluguntugui single had rippling positive effects on the 'Pressure' album and also augmented the duo's status as kings of the Azonto genre (a unique brand of dance and music that originated from Ghana and went viral globally). A follow up track was released called body lotion (2013), which also peaked at number one on local charts. After a brief hiatus, the duo struck again with three singles; Diabetes, Hallelujah and Fine boy, with Diabetes topping local Ghanaian charts and Fine boy enjoying immense air play.

The sensational duo duly got recognition on the African continent when they were invited by the Former president of Liberia; President Ellen Sir leaf Johnson to perform at Liberia's Independence Day celebration. They have also performed across Africa, Europe and North America....more

Country : Ghana
Songs

(57)

Albums

(11)

Playlists

(42)
1

2

3

4

5

6

7

8

9

10

11

12

13

14

15

16

17

18

19

20

21

22

23

24

25

26

27

28

29

30

31

32

33

34

35

36

37

38

39

40

41

42

43

44

45

46

47

48

49

50

51

52

53

54

55

56

57
Listen to Keche's new songs including "Flavour", "Pressure", "Aluguntugui (Life Is Tasty)" and many more. Enjoy Keche's latest songs and explore the Keche's new music albums. If you want to download Keche songs MP3, use the Boomplay App to download the Keche songs for free. Discover Keche's latest songs, popular songs, trending songs all on Boomplay.
Keche (often called the Skill Team) is a Ghanaian Vocal group formed in Tema, Accra in 2004. The group consists of Andrew Cudjoe (singer) and Joshua Ampah (rapper). The duo rose to fame with their debut Album Pressure (2008). The album had tracks like Omogemi and ring my bell which featured then rising star Sarkodie. After the mild success of their first album and a national tour, the duo released two hit singles; Sokode (2011) and Aluguntugui (2012) which topped local music charts. These hits propelled them to superstardom, with international tours and endorsements inundating their timeline. The success of the Aluguntugui single had rippling positive effects on the 'Pressure' album and also augmented the duo's status as kings of the Azonto genre (a unique brand of dance and music that originated from Ghana and went viral globally). A follow up track was released called body lotion (2013), which also peaked at number one on local charts. After a brief hiatus, the duo struck again with three singles; Diabetes, Hallelujah and Fine boy, with Diabetes topping local Ghanaian charts and Fine boy enjoying immense air play.

The sensational duo duly got recognition on the African continent when they were invited by the Former president of Liberia; President Ellen Sir leaf Johnson to perform at Liberia's Independence Day celebration. They have also performed across Africa, Europe and North America.
New Comments(
25

)