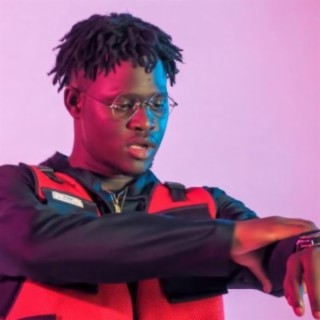 Karabalik Beatz
Current #15.8k

All Time #6,733

Cheikh Ahmadou Kara Diouf, better known by the nickname Karabalik Beatz, is a beatmaker who's currently part of the label REPTYLE MUSIC. Many of Karabalik Beatz songs, e.g. Fou Lerr Lako Tekk, become very popular and trendy online with a great number of streaming and downloads on Boomplay.

In this dynamic, he works in his cousin's mixtape BM Jaay named « CORBEILLE » then joins the label REPTYLE MUSIC in 2016. Since that first experience with beatmaking, Karabalik has been able to attract big names in Senegal's hip-hop industry like Dip Doundou Guiss, the band Akhlou Brick, Iss 814, Samba Peuzzi,M.A.S.S. and international ones like Barack Adama from Sexion d'Assaut, Gambian Gee, Jizzle ect.

In addition to beatmaking, Karabalik is also an outstanding mixing engineer and producer who managed many artist's projects (from Dip Doundou Guiss to Akbess and Kanyzii).

Follow Boomplay and keep up-to-date with the latest Karabalik Beatz songs and information.

In April 2020, he wore his producer's cap and released his first single " Bondit '' (VILLAIN) alongside BM Jaay and Samba Peuzzi, both popular rappers and part of REPTYLE MUSIC. His second single "Fou Lerr Lako Tekk '' (I KNOW WHAT I AM SAYING) in collaboration with all the rappers of REPTYLE MUSIC, is a fun and popular anthem that fits perfectly with the style of nowadays rappers.

That song is undeniably the jam of the summer and keeps on expanding on YouTube (close to 600 000 views in two weeks) as well as on streaming platforms. With that title, Karabalik put his stamp on the beat making scene and is undoubtedly the most popular beatmaker in the industry.

Karabalik Beatz songs are included in Boomplay music playlists. Search to stream and download Karabalik Beatz songs MP3/ single/ albums on the platform....more

Country/Region : Senegal
Songs

(0)

Albums

(0)

Playlists

(0)
Listen to Karabalik Beatz's new songs including and many more. Enjoy Karabalik Beatz's latest songs and explore the Karabalik Beatz's new music albums. If you want to download Karabalik Beatz songs MP3, use the Boomplay App to download the Karabalik Beatz songs for free. Discover Karabalik Beatz's latest songs, popular songs, trending songs all on Boomplay.
Cheikh Ahmadou Kara Diouf, better known by the nickname Karabalik Beatz, is a beatmaker who's currently part of the label REPTYLE MUSIC. Many of Karabalik Beatz songs, e.g. Fou Lerr Lako Tekk, become very popular and trendy online with a great number of streaming and downloads on Boomplay.

In this dynamic, he works in his cousin's mixtape BM Jaay named « CORBEILLE » then joins the label REPTYLE MUSIC in 2016. Since that first experience with beatmaking, Karabalik has been able to attract big names in Senegal's hip-hop industry like Dip Doundou Guiss, the band Akhlou Brick, Iss 814, Samba Peuzzi,M.A.S.S. and international ones like Barack Adama from Sexion d'Assaut, Gambian Gee, Jizzle ect.

In addition to beatmaking, Karabalik is also an outstanding mixing engineer and producer who managed many artist's projects (from Dip Doundou Guiss to Akbess and Kanyzii).

Follow Boomplay and keep up-to-date with the latest Karabalik Beatz songs and information.

In April 2020, he wore his producer's cap and released his first single " Bondit '' (VILLAIN) alongside BM Jaay and Samba Peuzzi, both popular rappers and part of REPTYLE MUSIC. His second single "Fou Lerr Lako Tekk '' (I KNOW WHAT I AM SAYING) in collaboration with all the rappers of REPTYLE MUSIC, is a fun and popular anthem that fits perfectly with the style of nowadays rappers.

That song is undeniably the jam of the summer and keeps on expanding on YouTube (close to 600 000 views in two weeks) as well as on streaming platforms. With that title, Karabalik put his stamp on the beat making scene and is undoubtedly the most popular beatmaker in the industry.

Karabalik Beatz songs are included in Boomplay music playlists. Search to stream and download Karabalik Beatz songs MP3/ single/ albums on the platform.