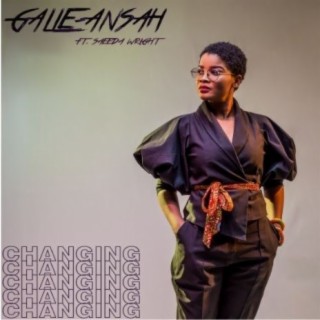 Galle-Ansah
Current #30.3k

All Time #619

GALLE-ANSAH Popularly known as Galle-Ansah is a Ghanaian Actress, Choreographer, Performer, Entrepreneur and an Activist. She was born on December 18. Many of Galle-Ansah Songs became very popular and trendy on social media in line with a great number of streaming and downloads on Boomplay.

Career
Galle begun appearing on television and films in 2009/2010 and first gained recognition for her lead role as ESAABA in Kwaw Ansah's GOOD OLD DAYS seasonal movies, for which she was nominated for the 2013/2014 AMAA award for best promising Actress.

After two years break to finish her IGCSE (O' & A'Levels), She landed a supporting role in the popular TV Series, YOLO, among others while pursuing her First Degree in Bachelor of Arts.

She`s decided to hold on a little with the class room and focus on building her Career in the arts (Music, Acting and Choreography, Entrepreneurship). Galle during her tertiary, founded her organization, Artmosphield. She intends using her platform and influence to push activism & Edutainment (Education through Entertainment) mostly in the areas of an all inclusion Agenda, especially focusing on people with special needs.

Currently, Galle has started a few projects such as DANCE WITH GALLE to give Dance lessons, offer dance therapy, and coach young actors, produce Movies/Films, empower people with special needs (Main focus on the Blind and the deaf). Her core values in line of work are humility, confidence, humor & hardworking.

She has Interest in travelling, eating and watching movies. Follow Boomplay and keep up-to-date with the latest songs of Galle-Ansah and information.

Follow Boomplay and keep up-to-date with the latest songs of Galle-Ansah and information.

Galle-Ansah's Songs
• Na So
• Changing

Galle-Ansah Songs are included in Boomplay music playlists. Search, stream, and download Galle-Ansah Songs, her latest singles and albums in MP3 only on the Boomplay platform for free....more

Country : Ghana
Listen to Galle-Ansah's new songs including "Changing ft. Saeeda Wright", and many more. Enjoy Galle-Ansah's latest songs and explore the Galle-Ansah's new music albums. If you want to download Galle-Ansah songs MP3, use the Boomplay App to download the Galle-Ansah songs for free. Discover Galle-Ansah's latest songs, popular songs, trending songs all on Boomplay.
GALLE-ANSAH Popularly known as Galle-Ansah is a Ghanaian Actress, Choreographer, Performer, Entrepreneur and an Activist. She was born on December 18. Many of Galle-Ansah Songs became very popular and trendy on social media in line with a great number of streaming and downloads on Boomplay.

Career
Galle begun appearing on television and films in 2009/2010 and first gained recognition for her lead role as ESAABA in Kwaw Ansah's GOOD OLD DAYS seasonal movies, for which she was nominated for the 2013/2014 AMAA award for best promising Actress.

After two years break to finish her IGCSE (O' & A'Levels), She landed a supporting role in the popular TV Series, YOLO, among others while pursuing her First Degree in Bachelor of Arts.

She`s decided to hold on a little with the class room and focus on building her Career in the arts (Music, Acting and Choreography, Entrepreneurship). Galle during her tertiary, founded her organization, Artmosphield. She intends using her platform and influence to push activism & Edutainment (Education through Entertainment) mostly in the areas of an all inclusion Agenda, especially focusing on people with special needs.

Currently, Galle has started a few projects such as DANCE WITH GALLE to give Dance lessons, offer dance therapy, and coach young actors, produce Movies/Films, empower people with special needs (Main focus on the Blind and the deaf). Her core values in line of work are humility, confidence, humor & hardworking.

She has Interest in travelling, eating and watching movies. Follow Boomplay and keep up-to-date with the latest songs of Galle-Ansah and information.

Follow Boomplay and keep up-to-date with the latest songs of Galle-Ansah and information.

Galle-Ansah's Songs
• Na So
• Changing

Galle-Ansah Songs are included in Boomplay music playlists. Search, stream, and download Galle-Ansah Songs, her latest singles and albums in MP3 only on the Boomplay platform for free.