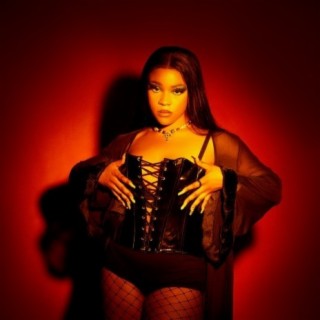 SGaWD
Current #33.3k

All Time #45.5k

Having a space to unburden yourself, an outlet where you can process your emotions, is essential when you're an artist whose head is constantly processing new ideas, concepts, sounds, doubts, and struggles. For rapper/singer/songwriter SGaWD, music is that space where she can be free to talk about things happening in her life in a way that conversation can't match. Stemming from a pivotal moment recording music for the first time in high school, that feeling of being able to express yourself exactly in the way you want put her on a path to becoming a rising star among a new generation of Nigerian musicians.

While pursuing a career in maritime law and international arbitration, her passion for music quietly bubbled under the surface. She had been working in Miami with a Fortune 500 company but decided to move back to Nigeria in 2020. When the pandemic brought everything to a screeching halt, she had the time and space to focus on her craft and never looked back. Off the release of just a few singles and a handful of features, she has already positioned herself as the leader among a new wave of artists taking familiar genres and creating something entirely new. Whether it is her sultry, heartfelt R&B or blistering rap flows, she draws upon her own experiences to create music designed to empower young women everywhere.

By the end of last year she was selected as one of Native Mag's Top 10 Best New Artists of 2020, and has been profiled by Harmattan Rain, Femme Mag, Drummr Africa and more. SGaWD is here to remove the traditional notion of what a Nigerian woman needs to be as an artist. Her lack of belief in a comfort zone, and determination to make her voice heard, is the reason why her Siren stans are already so fiercely devoted to her, and why she will be a force to be reckoned with in the near future....more

Country/Region : Nigeria
Songs

(1)

Albums

(1)

Playlists

(0)
Listen to SGaWD's new songs including "Feel Right feat Mafeni & DOZ", and many more. Enjoy SGaWD's latest songs and explore the SGaWD's new music albums. If you want to download SGaWD songs MP3, use the Boomplay App to download the SGaWD songs for free. Discover SGaWD's latest songs, popular songs, trending songs all on Boomplay.
Having a space to unburden yourself, an outlet where you can process your emotions, is essential when you're an artist whose head is constantly processing new ideas, concepts, sounds, doubts, and struggles. For rapper/singer/songwriter SGaWD, music is that space where she can be free to talk about things happening in her life in a way that conversation can't match. Stemming from a pivotal moment recording music for the first time in high school, that feeling of being able to express yourself exactly in the way you want put her on a path to becoming a rising star among a new generation of Nigerian musicians.

While pursuing a career in maritime law and international arbitration, her passion for music quietly bubbled under the surface. She had been working in Miami with a Fortune 500 company but decided to move back to Nigeria in 2020. When the pandemic brought everything to a screeching halt, she had the time and space to focus on her craft and never looked back. Off the release of just a few singles and a handful of features, she has already positioned herself as the leader among a new wave of artists taking familiar genres and creating something entirely new. Whether it is her sultry, heartfelt R&B or blistering rap flows, she draws upon her own experiences to create music designed to empower young women everywhere.

By the end of last year she was selected as one of Native Mag's Top 10 Best New Artists of 2020, and has been profiled by Harmattan Rain, Femme Mag, Drummr Africa and more. SGaWD is here to remove the traditional notion of what a Nigerian woman needs to be as an artist. Her lack of belief in a comfort zone, and determination to make her voice heard, is the reason why her Siren stans are already so fiercely devoted to her, and why she will be a force to be reckoned with in the near future.
New Comments(
0

)

What do you think of this artist?