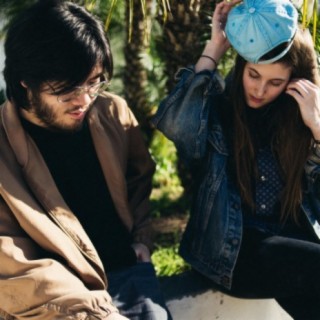 SALES
Current #17.5k

All Time #16.6k

An indie pop duo from Orlando, Florida, Sales create low-key but engaging music that marries a lo-fi sensibility to a spare but evocative melodic approach. Sales comprise Lauren Morgan, who sings lead and plays guitar, and Jordan Shih, who plays guitar and programs their drum machines and other electronics. Morgan and Shih were longtime friends who had been working on songs together since they were in high school (they first met when they took the same Latin class), but it wasn't until 2013 that Sales began to take shape. Both Morgan and Shih had completed college and were working uninspiring day jobs -- Lauren managing a shabby apartment building and Jordan working at a call center for a large communications company. As they dealt with the discouraging realities of adulthood, Morgan and Shih started writing and recording songs again as therapy. Adopting the handle Sales (Morgan's parents were both successful sales representatives), they released their debut track, "Renee," as a digital single. Later in 2013, Sales reissued "Renee" on a vinyl 7" single, with "Tonka Time" on the flipside. In 2014, Sales dropped two more digital singles, "Chinese New Year" and "Vow," as well as a six-song package titled Sales EP (available on CD, vinyl, and cassette as well as digitally) that collected most of their music up to that time. Positive press and word of mouth helped Sales win a loyal following in their hometown, and the duo started touring outside the Sunshine State, with Joy Cyr helping them fill out their sound at live gigs. In April 2016, Sales delivered their first full-length album, Sales LP, which included 15 songs as well as original artwork from collage artist Alana Questell. In 2018, they delivered the full-length Forever & Ever, featuring the single "Your Own." ~ Mark Deming

...more

Country/Region : United States
Songs

(4)

Albums

(3)

Playlists

(0)
Listen to SALES's new songs including "Don't Let Go (Extended Mix)", "Higher", "Don't Let Go" and many more. Enjoy SALES's latest songs and explore the SALES's new music albums. If you want to download SALES songs MP3, use the Boomplay App to download the SALES songs for free. Discover SALES's latest songs, popular songs, trending songs all on Boomplay.
An indie pop duo from Orlando, Florida, Sales create low-key but engaging music that marries a lo-fi sensibility to a spare but evocative melodic approach. Sales comprise Lauren Morgan, who sings lead and plays guitar, and Jordan Shih, who plays guitar and programs their drum machines and other electronics. Morgan and Shih were longtime friends who had been working on songs together since they were in high school (they first met when they took the same Latin class), but it wasn't until 2013 that Sales began to take shape. Both Morgan and Shih had completed college and were working uninspiring day jobs -- Lauren managing a shabby apartment building and Jordan working at a call center for a large communications company. As they dealt with the discouraging realities of adulthood, Morgan and Shih started writing and recording songs again as therapy. Adopting the handle Sales (Morgan's parents were both successful sales representatives), they released their debut track, "Renee," as a digital single. Later in 2013, Sales reissued "Renee" on a vinyl 7" single, with "Tonka Time" on the flipside. In 2014, Sales dropped two more digital singles, "Chinese New Year" and "Vow," as well as a six-song package titled Sales EP (available on CD, vinyl, and cassette as well as digitally) that collected most of their music up to that time. Positive press and word of mouth helped Sales win a loyal following in their hometown, and the duo started touring outside the Sunshine State, with Joy Cyr helping them fill out their sound at live gigs. In April 2016, Sales delivered their first full-length album, Sales LP, which included 15 songs as well as original artwork from collage artist Alana Questell. In 2018, they delivered the full-length Forever & Ever, featuring the single "Your Own." ~ Mark Deming
New Comments(
0

)

What do you think of this artist?