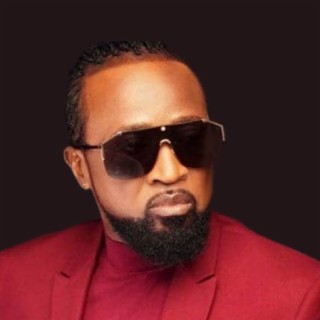 Werrason
Current #335

All Time #499

Werrason, real name Noël Ngiama Makanda, was born December 25, 1965 in Moliambo, a small village in Bandundu province in the Western Democratic Republic of Congo, Kwilu District is a musician from the Democratic Republic of Congo and also leader of the band Wenge Maison Mère (WMM). Many of Werrason songs become very popular and trendy online with a great number of streaming and downloads on Boomplay.

Career
By age eight, Werrason was singing at his local church, the Protestant Church of CBZO (Communauté Batiste du Zaire Ouest-Batism community of Western Zaire), Kinshasa. He loved martial arts and was a martial arts champion by age of 12. In 1981, in between his studies (for a degree in Accountancy), Werrason and his college friends Didier Masela, Aimé Buanga, Alain Mwanga among others created an innovative musical band "Wenge Musica 4x4 B.C.B.G Tout-Terrain".

Their band Wenge Musica 4x4 B.C.B.G Tout-Terrain split in December 1997. Werrason and his two friends Adolphe Dominguez and Didier Masela, created Wenge Musica Maison Mère (WMMM)", with its headquarters at Zamba Playa in Kinshasa, D.R.Congo, with Werrason as head. With most band members gone with JB Mpiana Werrason and his two friends, had to build Maison Mère from scratch, with assistance from a number of people especially Sankara de Kunta and Zachary Babaswe.

Werrason went round the country recruiting several young talented musicians and also taking back some old colleagues from JB Mpiana's band. Werrason's original band members were Didier Masela, Adolphe Dominguez, Ferre Gola, Baby Ndombe, Seseli Adjani, JDT Mulopwe, Celeo Scram, Bill Kalondji, Serge Mabiala, Didier Lacoste, Lay Chou, Michael Shendu, guitarists Flam Kapaya (solo), Japonaise Maladi (rhythm), Christian Mwepu (bass), drummers Papay Kakol and Ali Mbonda.

His first album, Force d'Intervention Rapide (Rapid Intervention Force) was released end of 1998. His song "Chantal Switzerland" was voted Song of the Year, while his animator Bill 'Clinton' Kalondji was voted the best animator. His second album Solola Bien of 1999 took the African music scene by storm. Solola Bien was rewarded with the Golden Record in France. In the same year, his band Wenge Maison Mère was voted the Best Congolese Group, with Werrason as the Artist of the Year.

In June 2001, Werrason released his first solo album Kibuisa Mpimpa, a double CD with 17 titles. This was work that had taken him 5 years of preparation, 4 months of studio work, and over 2000 hours of compositions and philosophical reflection back to his roots. Kibuisa Mpimpa was described as "culturally revolutionary" by observers of African music.

This album won him two Kora Awards in South Africa including Best Artist in Africa and Best Album in Central Africa. Later that year Werrason gave one of his very best performances at a double concert (two days) at "the Zenith de Paris," one of the largest concert halls in France, with a seating capacity of well over 20,000. He also toured extensively major European cities like London, Amsterdam, Brussels, Dublin, Rome and Stockholm.

Through his musical innovations, Werrason attracts a new public to embrace the black cultural awareness without being militant. The United Nations have awarded him with the title of Universal Ambassador of Peace. In 2001, Werrason was received in audience by Pope John Paul II. Since then, he dedicates part of his time to all the UNESCO campaigns against AIDS and all sorts of discriminations, and in campaigns against early marriages and promoting education for the girl child.

During his world tour he shared performances with great African artists among them Manu Dibango who invited him in his concert at the Paris Olympia. Others were Passi,Doc Gynéco, Benji and Akil who asked him to take part in their musical projects. Werrason also collaborated with international artists like Shaggy. In

Follow Boomplay and keep up to date with the latest Werrason songs and information.

Werrason Songs
• 1997: Force d'Intervention Rapide
• 1999: Solola bien
• 2000: Terrain Eza Mine
• 2001: Kibuisa Mpimpa
• 2002: A la queue leu leu (Koyimbi ko)
• 2003: Tindika Lokito
• 2004: Alerte Generale
• 2005: Temoignage de Miracle
• 2006: Sous-Sol
• 2008: Temps Present/Mayi ya sika
• 2009: Techno Malewa
• 2011: Techno Malewa suite et fin
• 2013: Satelitte +2
• 2015: Fleche Ingeta
• 2015: Sans Poteau

ACHIEVEMENTS
• KORA MUSIC AWARDS, SOUTH AFRICA
• Best Artist Central Africa (2001)
• Overall Best Male Artist (2001)
• Finalist Best Arrangement (2002)
• Best Artist Central Africa (2004)
• Overall Best Male Artist (2004)
• Nominated Best Artist (2005)
• Won best African Artist at NAFCA in United States (2014)
• Won Kunde Awards as best African artist (2015)

Werrason songs are included in Boomplay music playlists. Search to stream and download Werrason songs MP3/ single/ albums on the platform....more

Country/Region : Democratic Republic of the Congo
Listen to Werrason's new songs including "Vita Imana", "Papson", "Koffi Ayiana" and many more. Enjoy Werrason's latest songs and explore the Werrason's new music albums. If you want to download Werrason songs MP3, use the Boomplay App to download the Werrason songs for free. Discover Werrason's latest songs, popular songs, trending songs all on Boomplay.
Werrason, real name Noël Ngiama Makanda, was born December 25, 1965 in Moliambo, a small village in Bandundu province in the Western Democratic Republic of Congo, Kwilu District is a musician from the Democratic Republic of Congo and also leader of the band Wenge Maison Mère (WMM). Many of Werrason songs become very popular and trendy online with a great number of streaming and downloads on Boomplay.

Career
By age eight, Werrason was singing at his local church, the Protestant Church of CBZO (Communauté Batiste du Zaire Ouest-Batism community of Western Zaire), Kinshasa. He loved martial arts and was a martial arts champion by age of 12. In 1981, in between his studies (for a degree in Accountancy), Werrason and his college friends Didier Masela, Aimé Buanga, Alain Mwanga among others created an innovative musical band "Wenge Musica 4x4 B.C.B.G Tout-Terrain".

Their band Wenge Musica 4x4 B.C.B.G Tout-Terrain split in December 1997. Werrason and his two friends Adolphe Dominguez and Didier Masela, created Wenge Musica Maison Mère (WMMM)", with its headquarters at Zamba Playa in Kinshasa, D.R.Congo, with Werrason as head. With most band members gone with JB Mpiana Werrason and his two friends, had to build Maison Mère from scratch, with assistance from a number of people especially Sankara de Kunta and Zachary Babaswe.

Werrason went round the country recruiting several young talented musicians and also taking back some old colleagues from JB Mpiana's band. Werrason's original band members were Didier Masela, Adolphe Dominguez, Ferre Gola, Baby Ndombe, Seseli Adjani, JDT Mulopwe, Celeo Scram, Bill Kalondji, Serge Mabiala, Didier Lacoste, Lay Chou, Michael Shendu, guitarists Flam Kapaya (solo), Japonaise Maladi (rhythm), Christian Mwepu (bass), drummers Papay Kakol and Ali Mbonda.

His first album, Force d'Intervention Rapide (Rapid Intervention Force) was released end of 1998. His song "Chantal Switzerland" was voted Song of the Year, while his animator Bill 'Clinton' Kalondji was voted the best animator. His second album Solola Bien of 1999 took the African music scene by storm. Solola Bien was rewarded with the Golden Record in France. In the same year, his band Wenge Maison Mère was voted the Best Congolese Group, with Werrason as the Artist of the Year.

In June 2001, Werrason released his first solo album Kibuisa Mpimpa, a double CD with 17 titles. This was work that had taken him 5 years of preparation, 4 months of studio work, and over 2000 hours of compositions and philosophical reflection back to his roots. Kibuisa Mpimpa was described as "culturally revolutionary" by observers of African music.

This album won him two Kora Awards in South Africa including Best Artist in Africa and Best Album in Central Africa. Later that year Werrason gave one of his very best performances at a double concert (two days) at "the Zenith de Paris," one of the largest concert halls in France, with a seating capacity of well over 20,000. He also toured extensively major European cities like London, Amsterdam, Brussels, Dublin, Rome and Stockholm.

Through his musical innovations, Werrason attracts a new public to embrace the black cultural awareness without being militant. The United Nations have awarded him with the title of Universal Ambassador of Peace. In 2001, Werrason was received in audience by Pope John Paul II. Since then, he dedicates part of his time to all the UNESCO campaigns against AIDS and all sorts of discriminations, and in campaigns against early marriages and promoting education for the girl child.

During his world tour he shared performances with great African artists among them Manu Dibango who invited him in his concert at the Paris Olympia. Others were Passi,Doc Gynéco, Benji and Akil who asked him to take part in their musical projects. Werrason also collaborated with international artists like Shaggy. In

Follow Boomplay and keep up to date with the latest Werrason songs and information.

Werrason Songs
• 1997: Force d'Intervention Rapide
• 1999: Solola bien
• 2000: Terrain Eza Mine
• 2001: Kibuisa Mpimpa
• 2002: A la queue leu leu (Koyimbi ko)
• 2003: Tindika Lokito
• 2004: Alerte Generale
• 2005: Temoignage de Miracle
• 2006: Sous-Sol
• 2008: Temps Present/Mayi ya sika
• 2009: Techno Malewa
• 2011: Techno Malewa suite et fin
• 2013: Satelitte +2
• 2015: Fleche Ingeta
• 2015: Sans Poteau

ACHIEVEMENTS
• KORA MUSIC AWARDS, SOUTH AFRICA
• Best Artist Central Africa (2001)
• Overall Best Male Artist (2001)
• Finalist Best Arrangement (2002)
• Best Artist Central Africa (2004)
• Overall Best Male Artist (2004)
• Nominated Best Artist (2005)
• Won best African Artist at NAFCA in United States (2014)
• Won Kunde Awards as best African artist (2015)

Werrason songs are included in Boomplay music playlists. Search to stream and download Werrason songs MP3/ single/ albums on the platform.
New Comments(
20

)
FAQs about Werrason
Where is Werrason from?
He is from Democratic Republic of the Congo.
What are the latest songs of Werrason?
The latest songs of Werrason are Chetani, J'en ai assez and Nostalgie.
What are the best songs of Werrason?
The best songs of Werrason are Formidable ft. Jamaïc, Protéger base and Ça sonne.
What are the best albums of Werrason?
The best albums of Werrason are Formidable, Témoignage, vol. 1 and Techno malewa, vol. 1 : sans cesse.
How to download songs of Werrason?
You can download songs of Werrason from Boomplay App for free.
Firstly, install Boomplay app on your mobile phone.
Secondly, navigate to the song you would like to download.
Thirdly, Tap on More > Download.