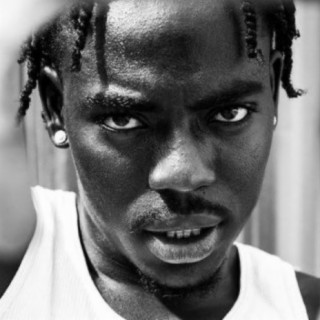 Twitch 4EVA
Current #38.8k

All Time #19.1k

Twitch 4EVA was born Prince Andor but he goes by the stage name Twitch 4eva. The name was given to him by the cousin who was inspired by the movie character. Many of Twitch 4EVA songs become very popular and trendy online with a great number of streaming and downloads on Boomplay.

Career
Twitch's music career was inspired by the mom who used to sit him down and teach him the essentials of choral music. From this training he ended up becoming the choirmaster during his primary schooling years.

Follow Boomplay and keep up to date with the latest Twitch 4EVA songs and information.

Achievement.
Twitch 4EVA big break came when he released the hit single "Take Your Sometin" featuring Kwesi Arthur in 2018. The song opened the way for more collaborations for the young artist.

He has graced Sarkodie's Rapperholic concert stage with his performance and Kwesi Arthur's One Cedi & A Dream homecoming concert.

Twitch 4EVA is signed to the Ground Up record label.

Twitch 4EVA Songs
Twitch 4EVA has released quite a number of songs which includes;
• Take Your Sometin
• Baby
• Distance
• Dada
• Chaskele

Twitch 4EVA songs are included in Boomplay music playlists. Search to stream and download Twitch 4EVA songs MP3/ single/ albums on the platform....more

Country/Region : Ghana
Listen to Twitch 4EVA's new songs including "Not Tonight (Dub Mix) ft. Yovan", "Not Tonight (Original Mix) ft. Yovan", "Not Tonight (Death By Analog Remix) ft. Yovan" and many more. Enjoy Twitch 4EVA's latest songs and explore the Twitch 4EVA's new music albums. If you want to download Twitch 4EVA songs MP3, use the Boomplay App to download the Twitch 4EVA songs for free. Discover Twitch 4EVA's latest songs, popular songs, trending songs all on Boomplay.
Twitch 4EVA was born Prince Andor but he goes by the stage name Twitch 4eva. The name was given to him by the cousin who was inspired by the movie character. Many of Twitch 4EVA songs become very popular and trendy online with a great number of streaming and downloads on Boomplay.

Career
Twitch's music career was inspired by the mom who used to sit him down and teach him the essentials of choral music. From this training he ended up becoming the choirmaster during his primary schooling years.

Follow Boomplay and keep up to date with the latest Twitch 4EVA songs and information.

Achievement.
Twitch 4EVA big break came when he released the hit single "Take Your Sometin" featuring Kwesi Arthur in 2018. The song opened the way for more collaborations for the young artist.

He has graced Sarkodie's Rapperholic concert stage with his performance and Kwesi Arthur's One Cedi & A Dream homecoming concert.

Twitch 4EVA is signed to the Ground Up record label.

Twitch 4EVA Songs
Twitch 4EVA has released quite a number of songs which includes;
• Take Your Sometin
• Baby
• Distance
• Dada
• Chaskele

Twitch 4EVA songs are included in Boomplay music playlists. Search to stream and download Twitch 4EVA songs MP3/ single/ albums on the platform.
New Comments(
13

)
FAQs about Twitch 4EVA
Where is Twitch 4EVA from?
He is from Ghana.
How to download songs of Twitch 4EVA?
You can download songs of Twitch 4EVA from Boomplay App for free.
Firstly, install Boomplay app on your mobile phone.
Secondly, navigate to the song you would like to download.
Thirdly, Tap on More > Download.