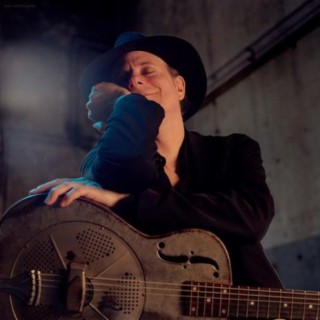 Gary Lucas
Current #99k+

All Time #99k+

Gary Lucas has been called "one of the best guitarists in America" by Rolling Stone and "one of the 100 grreatst living guitarists" by Classic Rock. A prolific Grammy-nominated recording artist, songwriter, and composer, Gary has released over 35 albums to date in a variety of genres. He tours the world relentlessly and has performed to date in over 40 countries, His collaborators include Leonard Bernstein, Captain Beefheart ,Jeff Buckley, Patti Smith, Lou Reed, Bryan Ferry, Nick Cave, and manyv others.This year he's performed solo at the UN before the General Assembly for International Holocaust Remembrance Day; premiered his 11th live film score for Orson Welles' silent film "Too Much Johnson"; produced an album for UK singer/songwriter Ed Laurie; and been profiled on National Public Radio's "All Things Considered". Last year he released 3 acclaimed albums, this year Gary plans to release at least 4 new albums.

...more

Boom ID : 101467704 Country : United States Gender : Male
Songs

(0)

Albums

(0)

Playlists

(0)
Listen to Gary Lucas's new songs including and many more. Enjoy Gary Lucas's latest songs and explore the Gary Lucas's new music albums. If you want to download Gary Lucas songs MP3, use the Boomplay App to download the Gary Lucas songs for free. Discover Gary Lucas's latest songs, popular songs, trending songs all on Boomplay.
Gary Lucas has been called "one of the best guitarists in America" by Rolling Stone and "one of the 100 grreatst living guitarists" by Classic Rock. A prolific Grammy-nominated recording artist, songwriter, and composer, Gary has released over 35 albums to date in a variety of genres. He tours the world relentlessly and has performed to date in over 40 countries, His collaborators include Leonard Bernstein, Captain Beefheart ,Jeff Buckley, Patti Smith, Lou Reed, Bryan Ferry, Nick Cave, and manyv others.This year he's performed solo at the UN before the General Assembly for International Holocaust Remembrance Day; premiered his 11th live film score for Orson Welles' silent film "Too Much Johnson"; produced an album for UK singer/songwriter Ed Laurie; and been profiled on National Public Radio's "All Things Considered". Last year he released 3 acclaimed albums, this year Gary plans to release at least 4 new albums.
New Comments(
0

)

What do you think of this artist?