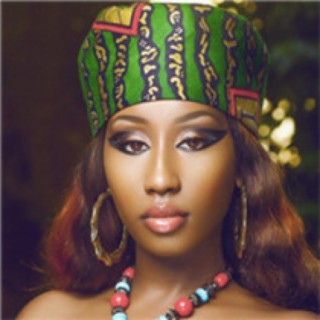 Victoria Kimani
Current #8,988

All Time #1,908

Victoria Kimani is a Kenyan singer, songwriter, actress and an entertainer born on the 28th July 1985 in Los Angeles, California, U.S. She has been in the music industry since 2009 and managed to be signed as the first female artiste to a Nigerian record label called Chocolate City.

Many of Victoria's Songs became very popular and trendy on social media in line with a great number of streaming and downloads on Boomplay.

She has received recognition all over the world and released her first debut album in 2016.

Career
She began singing at the age of 9 and at 16, she began performing alongside other church choir members and also wrote songs for others.

She returned to Kenya for studies and decided to drop school to focus full time on music and thats when she landed a contract with Chocolate City after performing a remix of Ice Prince's hit single "Oleku" in 2010 and things got great that she released her first single under the label "Mtoto" in March 2013 and video was shot in Los Angeles.

She decided to go solo after her contract with Chocolate City expired and its working great on her.

Achievements
Victoria's musical career has been an intriguing journey with more winnings after winnings. She joined Chocolate City as the first female artiste to be signed under the label. She released a series of hit songs under the same label including "Mtoto," and several mixtapes like "Oya," "Heaven," "Hate Me" among others.

In 2014, she released a single "Show" featuring Diamond Platnumz and Ommy Dimpoz.

In Jan 21, 2016, she released another single "All The Way" featuring Khuli Chana. She also released an album "Safari" in Dec 2017 which featured many top African artistes including Sarkodie.

Her favorite song is "Long Distance" featuring KiDi and she got over 2M hits on Boomplay, check her out. Follow Boomplay and keep up-to-date with the latest songs of Victoria Kimani and information.

Follow Boomplay and keep up-to-date with the latest songs of Elani and information.

Victoria Kimani's songs
• Show
• Long distance ft KiDi
• Prokoto
• Oya
• China Love
• All the way
• Two of Dem
• Swalala
• Gimme Money

Among many more bangers. Her net worth and salary is approximated to be $1.5 Million and has over the years managed to generate a total of 2M streams in all her songs on Boomplay.

Stream and Download her songs for free on Boomplay. Victoria Kimani's Songs are included in Boomplay music playlists. Search, stream, and download Victoria Kimani's Songs, his latest singles and albums in MP3 only on the Boomplay platform for free....more

Country/Region : Kenya
Listen to Victoria Kimani's new songs including "My Money", "Brenda Fassie", "BAD MANNERS ft. VICTORIA KIMANI" and many more. Enjoy Victoria Kimani's latest songs and explore the Victoria Kimani's new music albums. If you want to download Victoria Kimani songs MP3, use the Boomplay App to download the Victoria Kimani songs for free. Discover Victoria Kimani's latest songs, popular songs, trending songs all on Boomplay.
Victoria Kimani Biography
Victoria Kimani is a Kenyan singer, songwriter, actress and an entertainer born on the 28th July 1985 in Los Angeles, California, U.S. She has been in the music industry since 2009 and managed to be signed as the first female artiste to a Nigerian record label called Chocolate City.

Many of Victoria's Songs became very popular and trendy on social media in line with a great number of streaming and downloads on Boomplay.

She has received recognition all over the world and released her first debut album in 2016.

Career
She began singing at the age of 9 and at 16, she began performing alongside other church choir members and also wrote songs for others.

She returned to Kenya for studies and decided to drop school to focus full time on music and thats when she landed a contract with Chocolate City after performing a remix of Ice Prince's hit single "Oleku" in 2010 and things got great that she released her first single under the label "Mtoto" in March 2013 and video was shot in Los Angeles.

She decided to go solo after her contract with Chocolate City expired and its working great on her.

Achievements
Victoria's musical career has been an intriguing journey with more winnings after winnings. She joined Chocolate City as the first female artiste to be signed under the label. She released a series of hit songs under the same label including "Mtoto," and several mixtapes like "Oya," "Heaven," "Hate Me" among others.

In 2014, she released a single "Show" featuring Diamond Platnumz and Ommy Dimpoz.

In Jan 21, 2016, she released another single "All The Way" featuring Khuli Chana. She also released an album "Safari" in Dec 2017 which featured many top African artistes including Sarkodie.

Her favorite song is "Long Distance" featuring KiDi and she got over 2M hits on Boomplay, check her out. Follow Boomplay and keep up-to-date with the latest songs of Victoria Kimani and information.

Follow Boomplay and keep up-to-date with the latest songs of Elani and information.

Victoria Kimani's songs
• Show
• Long distance ft KiDi
• Prokoto
• Oya
• China Love
• All the way
• Two of Dem
• Swalala
• Gimme Money

Among many more bangers. Her net worth and salary is approximated to be $1.5 Million and has over the years managed to generate a total of 2M streams in all her songs on Boomplay.

Stream and Download her songs for free on Boomplay. Victoria Kimani's Songs are included in Boomplay music playlists. Search, stream, and download Victoria Kimani's Songs, his latest singles and albums in MP3 only on the Boomplay platform for free.
FAQs about Victoria Kimani
Where is Victoria Kimani from?
She is from Kenya.
How to download songs of Victoria Kimani?
You can download songs of Victoria Kimani from Boomplay App for free.
Firstly, install Boomplay app on your mobile phone.
Secondly, navigate to the song you would like to download.
Thirdly, Tap on More > Download.