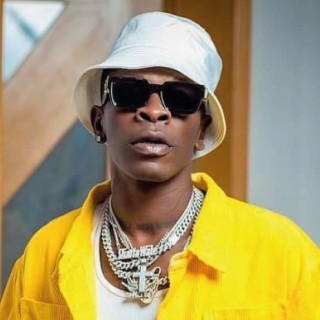 Shatta Wale
Current #175

All Time #138

Charles Nii Armah Mensah Jr. was born in Accra, Ghana at the Police Hospital on 17 October 1984 to Charles Nii Armah Mensah Snr and Elsie Evelyn Avemegah. His father is a politician, businessman and legal practitioner. Shatta Wale attended Seven Great Princes Academy at Dansoman, a suburb in Accra, where he demonstrated an affinity for arts and acted in a popular drama series, By the Fireside, at the National Theatre of Ghana.

Many of Shatta Wale songs become very popular and trendy online with great number of streaming and downloads on Boomplay.

CAREER AND ACHIEVEMENTS
In 2019 he also had a collaboration with Beyoncé titled "Already" on her album The Lion King: The Gift which was nominated at the Grammy Awards.

In 2021, he was nominated for two awards and won the 'Best Virtual Entertainer of the Year' Award at the International Reggae and World Music Awards (IRAWMA).

He was the first Ghanaian to organize a digital concert on YouTube which was dubbed the Faith Concert. The concert was organized to bring hope to Ghanaians and his global audience at large during the fight against COVID-19 pandemic.

He was selected by The Ministry of Communications, Ghana, alongside Highlife musician Kuami Eugene as the headline artistes for the COVID-19 app virtual launch concert held on Monday April 13, 2020. On Saturday 17 October 2020, he threw a massive birthday party, which saw attendance by family and friends at his East Legon residence to mark his 36th birthday.

Follow Boomplay and keep up to date with latest Shatta Wale songs and information.

Shatta Wale Songs
• 1 Don
• BORN CREY
• We no deh fall
• Dancehall Dweet
• Best Life
• Cartier Party
• Ragga Ragga
• LIKE SUMMER
• DONT START
• Your Rights
• Nintendo
• Be Afraid
• Sex Life
• More Loving
• Favor of God
• Blow Up
• Hajia Bintu
• Choppings Gi Dem
• Winning Formula
• Dream

Shatta Wale songs are included in Boomplay music playlists. Search to stream and download Shatta Wale songs MP3/ single/ albums on the Boomplay....more

Country/Region : Ghana
Songs

(109)

Albums

(80)

Playlists

(159)
1

2

3

4

5

6

7

8

9

10

11

12

13

14

15

16

17

18

19

20

21

22

23

24

25

26

27

28

29

30

31

32

33

34

35

36

37

38

39

40

41

42

43

44

45

46

47

48

49

50

51

52

53

54

55

56

57

58

59

60

61

62

63

64

65

66

67

68

69

70

71

72

73

74

75

76

77

78

79

80

81

82

83

84

85

86

87

88

89

90

91

92

93

94

95

96

97

98

99

100
Listen to Shatta Wale's new songs including "ON GOD", "JJC", "Incoming ft. Tekno" and many more. Enjoy Shatta Wale's latest songs and explore the Shatta Wale's new music albums. If you want to download Shatta Wale songs MP3, use the Boomplay App to download the Shatta Wale songs for free. Discover Shatta Wale's latest songs, popular songs, trending songs all on Boomplay.
Charles Nii Armah Mensah Jr. was born in Accra, Ghana at the Police Hospital on 17 October 1984 to Charles Nii Armah Mensah Snr and Elsie Evelyn Avemegah. His father is a politician, businessman and legal practitioner. Shatta Wale attended Seven Great Princes Academy at Dansoman, a suburb in Accra, where he demonstrated an affinity for arts and acted in a popular drama series, By the Fireside, at the National Theatre of Ghana.

Many of Shatta Wale songs become very popular and trendy online with great number of streaming and downloads on Boomplay.

CAREER AND ACHIEVEMENTS
In 2019 he also had a collaboration with Beyoncé titled "Already" on her album The Lion King: The Gift which was nominated at the Grammy Awards.

In 2021, he was nominated for two awards and won the 'Best Virtual Entertainer of the Year' Award at the International Reggae and World Music Awards (IRAWMA).

He was the first Ghanaian to organize a digital concert on YouTube which was dubbed the Faith Concert. The concert was organized to bring hope to Ghanaians and his global audience at large during the fight against COVID-19 pandemic.

He was selected by The Ministry of Communications, Ghana, alongside Highlife musician Kuami Eugene as the headline artistes for the COVID-19 app virtual launch concert held on Monday April 13, 2020. On Saturday 17 October 2020, he threw a massive birthday party, which saw attendance by family and friends at his East Legon residence to mark his 36th birthday.

Follow Boomplay and keep up to date with latest Shatta Wale songs and information.

Shatta Wale Songs
• 1 Don
• BORN CREY
• We no deh fall
• Dancehall Dweet
• Best Life
• Cartier Party
• Ragga Ragga
• LIKE SUMMER
• DONT START
• Your Rights
• Nintendo
• Be Afraid
• Sex Life
• More Loving
• Favor of God
• Blow Up
• Hajia Bintu
• Choppings Gi Dem
• Winning Formula
• Dream

Shatta Wale songs are included in Boomplay music playlists. Search to stream and download Shatta Wale songs MP3/ single/ albums on the Boomplay.
FAQs about Shatta Wale
Where is Shatta Wale from?
He is from Ghana.
How to download songs of Shatta Wale?
You can download songs of Shatta Wale from Boomplay App for free.
Firstly, install Boomplay app on your mobile phone.
Secondly, navigate to the song you would like to download.
Thirdly, Tap on More > Download.