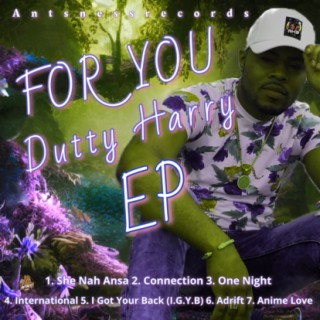 Dutty Harry
Current #146

All Time #392

Alex Andrew Harris better known as "Dutty Harry" (born July 14, 1990) in Kingston Jamaica. Dutty Harry is a young, talented and independent Reggae/Dancehall artist, rapper, singer-songwriter, producer/engineer and videographer who also explore many different genre of music.


Dutty Harry to date has ten (10) tracks out officially racking up a total of over 4.2 million streams and counting cumulatively, on major streaming platforms like Spotify, AppleMusic, Boomplay, YouTube and SoundCloud just to name a few. Songs include; "Adrift", "Fuk Fame" ft. Rikko Genius, "Mop", "Captivate", "One Night", "The Struggles", "I Got Your Back (I.G.Y.B)" and more. Dutty Harry is always learning, writing, recording and producing new music.


Dutty Harry began writing songs at the age of 13 and performed them via lyrical battles against other artist/schoolmates while attending High School, earning popularity amongst his peers. Dutty Harry migrated to the United States a few years after high school, where he became more inclined with his musical artistry crafting and writing more lyrics. Expanding his knowledge and growing his fanbase.


Follow Dutty Harry on his musical journey. Dutty Harry can be found on all media platforms. See links below: . 1❤️ share good music with your friends and family don't forget to hit the follow button.!
IG: @realduttyharry
TikTok: @realduttyharry
#musiclovers #newmusic
Contact: [email protected]
smart link https://ditto.fm/adrift-dutty-harry...more

Country/Region : Jamaica
Songs

(10)

Albums

(9)

Playlists

(0)
Listen to Dutty Harry's new songs including "Adrift", "Mop", "Captivate (Mastered)" and many more. Enjoy Dutty Harry's latest songs and explore the Dutty Harry's new music albums. If you want to download Dutty Harry songs MP3, use the Boomplay App to download the Dutty Harry songs for free. Discover Dutty Harry's latest songs, popular songs, trending songs all on Boomplay.
Alex Andrew Harris better known as "Dutty Harry" (born July 14, 1990) in Kingston Jamaica. Dutty Harry is a young, talented and independent Reggae/Dancehall artist, rapper, singer-songwriter, producer/engineer and videographer who also explore many different genre of music.
Dutty Harry to date has ten (10) tracks out officially racking up a total of over 4.2 million streams and counting cumulatively, on major streaming platforms like Spotify, AppleMusic, Boomplay, YouTube and SoundCloud just to name a few. Songs include; "Adrift", "Fuk Fame" ft. Rikko Genius, "Mop", "Captivate", "One Night", "The Struggles", "I Got Your Back (I.G.Y.B)" and more. Dutty Harry is always learning, writing, recording and producing new music. 

Dutty Harry began writing songs at the age of 13 and performed them via lyrical battles against other artist/schoolmates while attending High School, earning popularity amongst his peers. Dutty Harry migrated to the United States a few years after high school, where he became more inclined with his musical artistry crafting and writing more lyrics. Expanding his knowledge and growing his fanbase. 

Follow Dutty Harry on his musical journey. Dutty Harry can be found on all media platforms. See links below: . 1❤️ share good music with your friends and family don't forget to hit the follow button.!
IG: @realduttyharry
TikTok: @realduttyharry
#musiclovers #newmusic
Contact:
[email protected]
smart link https://ditto.fm/adrift-dutty-harry
New Comments(
76

)
FAQs about Dutty Harry
Where is Dutty Harry from?
He is from Jamaica.
How to download songs of Dutty Harry?
You can download songs of Dutty Harry from Boomplay App for free.
Firstly, install Boomplay app on your mobile phone.
Secondly, navigate to the song you would like to download.
Thirdly, Tap on More > Download.