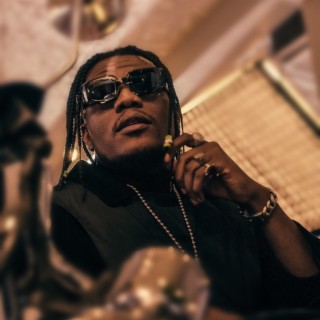 Pheelz
Current #256

All Time #36

Pheelz whose real name is Philip Kayode Moses is a Nigerian singer, songwriter and music producer born on June 5, 1994. Pheelz songs, e.g. Gobe (ft. Olamide & Naira Marley), become very popular and trendy online with a great number of streaming and downloads on Boomplay.

Pheelz was born and raised in Ojo, a local government area in Lagos State.

He attended ideal comprehensive high school.

Career
Pheelz started having passion for music at the age of 10 where he learned to play musical instruments in the Church.

He had developed his talent while surrounding himself with like minds and positive influence.

It's not surprising that he is a talented singer and has shown that in the release of some of his singles such as Honey, Hustle, Gobe, Rep Adugbo and so on.

He had worked under the Nigerian veteran music producer, I.D Cabasa in Coded Tunes, the record label where he met Olamide.

Pheelz mr producer as fondly called, finally came to limelight as a record producer in 2012 after producing Olamide's hit single "First of all" off his YBNL album.

He was also known for producing most of the songs on Olamide's "Baddest Guy Ever Liveth" album.

Pheelz realized he needs to step up his game most especially when there are already many of emerging talents like Cracker Mallo, Speroach beatz, Fresh VDM, Killertunes, Krizbeatz, Masterkraft, Young john and many others.

He brought out a new 'Slogan', 'Signature' and 'new intro' which he called "Ridimahkool" as pronounced at the beginning and end of the song.

He is also credited with other notable albums such as Olamide "Street OT" and "Eyan Mayweather", M.I "The Chairman", Seyi Shay "Seyi or Shay", Fireboy DML "Laughter, Tears and Goosebumps" and so on.

He has produced top charting singles such as Teni "Billionaire", Fireboy DML "Party Scatter", Tiwa Savage "49-99", Kizz daniel & Adekunle Gold "Jore", Lil Kesh "Shoki", Olamide "Durosoke" and many others.

Follow Boomplay and keep up-to-date with the latest Pheelz songs and information. Pheelz songs are included in Boomplay music playlists. Search to stream and download Pheelz songs MP3/ single/ albums on the platform....more

Country/Region : Nigeria
Songs

(13)

Albums

(0)

Playlists

(9)

Videos and More
1

2

3

4

5

6

7

8

9

10

11

12

13
Listen to Pheelz's new songs including "Electricity (Mixed) ft. Davido", "Finesse (Mixed) ft. Buju", "Finesse ft. French Montana" and many more. Enjoy Pheelz's latest songs and explore the Pheelz's new music albums. If you want to download Pheelz songs MP3, use the Boomplay App to download the Pheelz songs for free. Discover Pheelz's latest songs, popular songs, trending songs all on Boomplay.
Pheelz whose real name is Philip Kayode Moses is a Nigerian singer, songwriter and music producer born on June 5, 1994. Pheelz songs, e.g. Gobe (ft. Olamide & Naira Marley), become very popular and trendy online with a great number of streaming and downloads on Boomplay.

Pheelz was born and raised in Ojo, a local government area in Lagos State.

He attended ideal comprehensive high school.

Career
Pheelz started having passion for music at the age of 10 where he learned to play musical instruments in the Church.

He had developed his talent while surrounding himself with like minds and positive influence.

It's not surprising that he is a talented singer and has shown that in the release of some of his singles such as Honey, Hustle, Gobe, Rep Adugbo and so on.

He had worked under the Nigerian veteran music producer, I.D Cabasa in Coded Tunes, the record label where he met Olamide.

Pheelz mr producer as fondly called, finally came to limelight as a record producer in 2012 after producing Olamide's hit single "First of all" off his YBNL album.

He was also known for producing most of the songs on Olamide's "Baddest Guy Ever Liveth" album.

Pheelz realized he needs to step up his game most especially when there are already many of emerging talents like Cracker Mallo, Speroach beatz, Fresh VDM, Killertunes, Krizbeatz, Masterkraft, Young john and many others.

He brought out a new 'Slogan', 'Signature' and 'new intro' which he called "Ridimahkool" as pronounced at the beginning and end of the song.

He is also credited with other notable albums such as Olamide "Street OT" and "Eyan Mayweather", M.I "The Chairman", Seyi Shay "Seyi or Shay", Fireboy DML "Laughter, Tears and Goosebumps" and so on.

He has produced top charting singles such as Teni "Billionaire", Fireboy DML "Party Scatter", Tiwa Savage "49-99", Kizz daniel & Adekunle Gold "Jore", Lil Kesh "Shoki", Olamide "Durosoke" and many others.

Follow Boomplay and keep up-to-date with the latest Pheelz songs and information. Pheelz songs are included in Boomplay music playlists. Search to stream and download Pheelz songs MP3/ single/ albums on the platform.
New Comments(
48

)
FAQs about Pheelz
Where is Pheelz from?
He is from Nigeria.
How to download songs of Pheelz?
You can download songs of Pheelz from Boomplay App for free.
Firstly, install Boomplay app on your mobile phone.
Secondly, navigate to the song you would like to download.
Thirdly, Tap on More > Download.