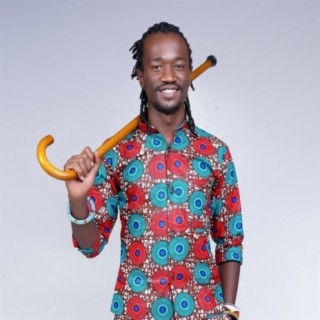 Benzema
Current #13.4k

All Time #4,623

Benzema David popularly known by his fans and many by his stage name Alejandro is a Kenyan rapper/artist from Ochungulo family which is one of the best music crew in Kenya that pioneered Gengeton wave. He was born and raised in Kenya and is currently based in Kenya. He does Rap, Afropop, Genge and Gengeton. Many of Benzema's Songs became very popular and trendy on social media in line with a great number of streaming and downloads on Boomplay.

Career
Benzema made his debut in Show Biz as a member of the legendary House DJ group 'Lectronica Circle' back in 2012 alongside Sineti. No EDM event would happen without them being the main headliners. His 5 year career in the EDM scene came to a halt in 2017, when he decided to re-brand and focus on what Kenyans would relate to 'Music'.

This spurred the growth of Gengetone over his time in the industry. Benzema ended up teaming up with Dmore on the jam 'Ochungulo' which birthed the group 'Ochungulo Family' after 'NellyTheGoon' joined the team forming one crazy hot group which brings out the best in whatever they do 'music'.

In late 2019, Benzema decided its time to make a name for himself & started doing collaborations with different artists e.g Woyez, DJ Nephus, Naiboi, Sauti Sol, Notiflow and many more. Benzema is one of the biggest acts out of the new school artists this generation has ever seen.

Achievements
Gengetone musician Benzema and rapper Notiflow bagged their PMV award under the 'best breakthrough video' category.

Follow Boomplay and keep up-to-date with the latest songs of Benzema and information.

Benzema's Songs
• Foto Moto ft Noti flow
• Bypass ft savara
• Ngwatiology
• Kasoro
• Haga Ya Karao ft Kahu$h
• Utawezana Remix ft Ssaru
• Najikakamua ft Adasa
• Class 2
• Kasheshe uongo
• Pepeta ft Rekles.

Benzema's Songs are included in Boomplay music playlists. Search, stream, and download Benzema's Songs, his latest singles and albums in MP3 only on the Boomplay platform for free....more

Country/Region : Kenya
Songs

(23)

Albums

(17)

Playlists

(31)
1

2

3

4

5

6

7

8

9

10

11

12

13

14

15

16

17

18

19

20

21

22

23
Listen to Benzema's new songs including "Potential ft. Kushman & Jimito Baaba", "Pepeta ft. Rekles", "Freshy ft. H_art The Band" and many more. Enjoy Benzema's latest songs and explore the Benzema's new music albums. If you want to download Benzema songs MP3, use the Boomplay App to download the Benzema songs for free. Discover Benzema's latest songs, popular songs, trending songs all on Boomplay.
Benzema David popularly known by his fans and many by his stage name Alejandro is a Kenyan rapper/artist from Ochungulo family which is one of the best music crew in Kenya that pioneered Gengeton wave. He was born and raised in Kenya and is currently based in Kenya. He does Rap, Afropop, Genge and Gengeton. Many of Benzema's Songs became very popular and trendy on social media in line with a great number of streaming and downloads on Boomplay.

Career
Benzema made his debut in Show Biz as a member of the legendary House DJ group 'Lectronica Circle' back in 2012 alongside Sineti. No EDM event would happen without them being the main headliners. His 5 year career in the EDM scene came to a halt in 2017, when he decided to re-brand and focus on what Kenyans would relate to 'Music'.

This spurred the growth of Gengetone over his time in the industry. Benzema ended up teaming up with Dmore on the jam 'Ochungulo' which birthed the group 'Ochungulo Family' after 'NellyTheGoon' joined the team forming one crazy hot group which brings out the best in whatever they do 'music'.

In late 2019, Benzema decided its time to make a name for himself & started doing collaborations with different artists e.g Woyez, DJ Nephus, Naiboi, Sauti Sol, Notiflow and many more. Benzema is one of the biggest acts out of the new school artists this generation has ever seen.

Achievements
Gengetone musician Benzema and rapper Notiflow bagged their PMV award under the 'best breakthrough video' category.

Follow Boomplay and keep up-to-date with the latest songs of Benzema and information.

Benzema's Songs
• Foto Moto ft Noti flow
• Bypass ft savara
• Ngwatiology
• Kasoro
• Haga Ya Karao ft Kahu$h
• Utawezana Remix ft Ssaru
• Najikakamua ft Adasa
• Class 2
• Kasheshe uongo
• Pepeta ft Rekles.

Benzema's Songs are included in Boomplay music playlists. Search, stream, and download Benzema's Songs, his latest singles and albums in MP3 only on the Boomplay platform for free.
New Comments(
32

)
FAQs about Benzema
Where is Benzema from?
He is from Kenya.
What are the latest songs of Benzema?
The latest songs of Benzema are Mini Short Skirt Top ft. Cedo & Sir Lewel, Catch Feelings ft. Dj Curtright and NiDip ft. Brandy Maina.
What are the best songs of Benzema?
The best songs of Benzema are Pepeta ft. Rekles, Potential ft. Kushman & Jimito Baaba and Freshy ft. H_art The Band.
What are the best albums of Benzema?
The best albums of Benzema are Pepeta, Potential and Full Vaibu.
How to download songs of Benzema?
You can download songs of Benzema from Boomplay App for free.
Firstly, install Boomplay app on your mobile phone.
Secondly, navigate to the song you would like to download.
Thirdly, Tap on More > Download.