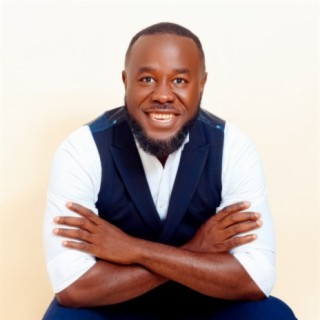 Dr TJ
Current #4,881

All Time #3,120

Dr Tj is a US-Based Nigerian born medical doctor and recording artiste.

Many Dr Tj songs, like Water Into Wine, become very popular and trendy online with a great number of streaming and downloads on Boomplay.

Career
Dr Tj is not relenting in churning out great songs that will edify the body of Christ across the globe. Since his entrance with 'Baba' there's been no looking back.

He released his debut album sound of victory December 2020.

Speaking about the project, Dr Tj said its very obvious the world all over has experienced a shake that has changed the tide and how people relate regardless of the uncertainties that have beclouded the world we are rising with a shout in "Sounds of Victory"

Sounds of Victory comprised of songs inspired by the Holy Spirit to help us build an intimacy with God, express His love and sing of his uncountable blessings.

The album has features like Moses Bliss, Neon Adejo, Paul Praize, IBK, Philadelphia Kes, Faith Brodrick, Teslim Dee, Victoria Israel, Abovo and awesome musicians and singers.

All tracks were produced by Joewyte except Odiro onye Dika Gi which was co-produced by John Onofe and the project was mastered by three mix engineers, Musicmagnate, SokayMix and Frost Magnetic.

Follow Boomplay and keep up-to-date with the latest Dr Tj songs and information.

Dr Tj songs are included in Boomplay music playlists. Search to stream and download Dr Tj songs MP3/ single/ albums on the platform....more

Country/Region : Nigeria
Listen to Dr TJ's new songs including "You Found Me", "Testimony", "Water Into Wine" and many more. Enjoy Dr TJ's latest songs and explore the Dr TJ's new music albums. If you want to download Dr TJ songs MP3, use the Boomplay App to download the Dr TJ songs for free. Discover Dr TJ's latest songs, popular songs, trending songs all on Boomplay.
Dr Tj is a US-Based Nigerian born medical doctor and recording artiste.

Many Dr Tj songs, like Water Into Wine, become very popular and trendy online with a great number of streaming and downloads on Boomplay.

Career
Dr Tj is not relenting in churning out great songs that will edify the body of Christ across the globe. Since his entrance with 'Baba' there's been no looking back.

He released his debut album sound of victory December 2020.

Speaking about the project, Dr Tj said its very obvious the world all over has experienced a shake that has changed the tide and how people relate regardless of the uncertainties that have beclouded the world we are rising with a shout in "Sounds of Victory"

Sounds of Victory comprised of songs inspired by the Holy Spirit to help us build an intimacy with God, express His love and sing of his uncountable blessings.

The album has features like Moses Bliss, Neon Adejo, Paul Praize, IBK, Philadelphia Kes, Faith Brodrick, Teslim Dee, Victoria Israel, Abovo and awesome musicians and singers.

All tracks were produced by Joewyte except Odiro onye Dika Gi which was co-produced by John Onofe and the project was mastered by three mix engineers, Musicmagnate, SokayMix and Frost Magnetic.

Follow Boomplay and keep up-to-date with the latest Dr Tj songs and information.

Dr Tj songs are included in Boomplay music playlists. Search to stream and download Dr Tj songs MP3/ single/ albums on the platform.
New Comments(
8

)
FAQs about Dr TJ
Where is Dr TJ from?
He is from Nigeria.
How to download songs of Dr TJ?
You can download songs of Dr TJ from Boomplay App for free.
Firstly, install Boomplay app on your mobile phone.
Secondly, navigate to the song you would like to download.
Thirdly, Tap on More > Download.