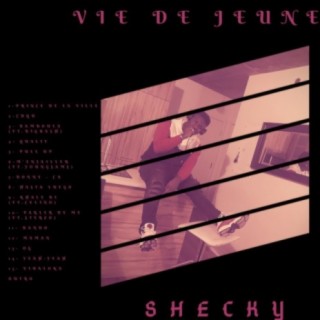 Shecky
Current #70.3k

All Time #16.4k

Shecky de son vrai nom Thierno Diop est un rappeur d'origine sénégalaise né en 1995. A travers sa musique, on ressent une envie de danser mais il peut nous surprendre avec des titres comme "coup de cœur" où il peut raconter sa vie et instruire ses auditeurs. Depuis l'âge de 15ans, il a commencé à étudier à la musique. En 2014, après de son bac S, il décida alors de migrer vers le Canada. C'est en 2018 qu'il lance sa carrière musicale d'où la sortie de sa première mixtape «Vie de Jeune». Tout de même, Shecky continue sa route et multiplie ses apparitions sur les grosses chaînes montréalaises de rap tels que Onzmtl, DMS… Le 9 juillet, Il nous sort un hit «Deux fois» totalisant 224.000 vues en 1 mois. Cependant, le public lui réclamait plus qu'un autre son, d'où son idée d'offrir un EP: «ZIK2k20». Il est aujourd'hui l'un des rappeurs les plus prometteurs de la scène montréalaise de par ses qualités et mélodies musicales. Shecky n'a qu'une seule vision: atteindre l'international. Il ne cesse de le dire depuis ses débuts: "si ce n'est pas l'international je ne veux pas percer dans la musique". En tout cas, le talent y est. L'avenir nous en dira plus ....

...more

Country/Region : United States
Songs

(13)

Albums

(5)

Playlists

(0)
1

2

3

4

5

6

7

8

9

10

11

12

13
Listen to Shecky's new songs including "Vybe ft. dip doundou guiss", "Mamita", "N'dass ft. Black K" and many more. Enjoy Shecky's latest songs and explore the Shecky's new music albums. If you want to download Shecky songs MP3, use the Boomplay App to download the Shecky songs for free. Discover Shecky's latest songs, popular songs, trending songs all on Boomplay.
Shecky de son vrai nom Thierno Diop est un rappeur d'origine sénégalaise né en 1995. A travers sa musique, on ressent une envie de danser mais il peut nous surprendre avec des titres comme "coup de cœur" où il peut raconter sa vie et instruire ses auditeurs. Depuis l'âge de 15ans, il a commencé à étudier à la musique. En 2014, après de son bac S, il décida alors de migrer vers le Canada. C'est en 2018 qu'il lance sa carrière musicale d'où la sortie de sa première mixtape «Vie de Jeune». Tout de même, Shecky continue sa route et multiplie ses apparitions sur les grosses chaînes montréalaises de rap tels que Onzmtl, DMS… Le 9 juillet, Il nous sort un hit «Deux fois» totalisant 224.000 vues en 1 mois. Cependant, le public lui réclamait plus qu'un autre son, d'où son idée d'offrir un EP: «ZIK2k20». Il est aujourd'hui l'un des rappeurs les plus prometteurs de la scène montréalaise de par ses qualités et mélodies musicales. Shecky n'a qu'une seule vision: atteindre l'international. Il ne cesse de le dire depuis ses débuts: "si ce n'est pas l'international je ne veux pas percer dans la musique". En tout cas, le talent y est. L'avenir nous en dira plus ....
New Comments(
0

)

What do you think of this artist?
FAQs about Shecky
Where is Shecky from?
He is from United States.
What are the latest songs of Shecky?
The latest songs of Shecky are Mamita, Mariama and Comme ça.
What are the best songs of Shecky?
The best songs of Shecky are Vybe ft. dip doundou guiss, Billet and N'dass ft. Black K.
What are the best albums of Shecky?
The best albums of Shecky are Vybe, Billet and Zik2k20.
How to download songs of Shecky?
You can download songs of Shecky from Boomplay App for free.
Firstly, install Boomplay app on your mobile phone.
Secondly, navigate to the song you would like to download.
Thirdly, Tap on More > Download.