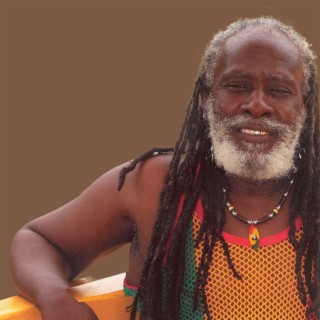 Burning Spear
Current #1,212

All Time #777

Winston Rodney was born on March 1, 1945, in Saint Ann's Bay, Saint Anns in Jamaica. Many of Burning Spear songs become very popular and trendy online with a great number of streaming and downloads on Boomplay.

He gained interest in music at a very young age. Growing up, he listened to jazz, R&B, and soul music, transmitted by US radio stations whose frequencies reached Jamaica. Artists like Curtis Mayfield and James Brown are the American artists whose works strongly influenced Rodney.

In Jamaica, political activist Marcus Garvey influenced his line of thinking. Through Garvey, he developed a sense of Pan-Africanism and being independent. Burning Spear became a protégé of Bob Marley.

Career
Rodney began his professional music career in 1969. On the advice of Bob Marley, he contacted Coxsone Dodd's Studio One label. Marley was also recording working with the label at the time. Along with bass singer Rupert Willington, he created the group Burning Spear. The two, therefore, auditioned for Dodd and eventually led to the release of their first single "Door Peep," in 1969. Subsequently, tenor Delroy Hinds joined the group.

Now three, the group released several singles and two albums. In 1975, they left Dodd and began recording for Jack Ruby. Their new association came with Ruby gave birth to the hit single, "Marcus Garvey." They soon followed it with another hit "Slavery Days." that same year, they release the third album "Marcus Garvey."

The album became an instant hit earning them a contract with Island Records. However, Island unilaterally decided to alter the speed of some songs on the album. Unsatisfied with the decision, Rodney started the Burning Music label. Subsequently, they release the albums Garvey's Ghost and the Main in the Hills for Island Records.

In 1976, Rodney broke away from the rest of the group members. He, therefore, adopted the group name Burning Spear for his solo career. Following the breakaway, he released the album Dry and Heavy, 1977. He went on to perform at the Rainbow Theatre, London using members of Aswad as backing band. The live recording of the show became his next album "Live!".

The following year, he released the studio album "Social Living" with backing from Aswad. The album also featured Rico Rodriguez and Sly Dunbar. Burning Spear made an acting debut in the film, Rockers, as Jah no Dead. The appearance increased his followings and raised his profile. He left Islands record in 1980 to begin the Burning Music Production Company associated with EMI. His debut release on the label was Hail H.I.M., which he recorded at Marley's Tuff Gong studio.

Burning Spear signed with Heartbeat Records in 1982. His about a decade association with the label saw the release of several albums. His album Resistance, 1985, earned a nomination at the Grammy Awards. Following his brief departure from Heartbeat, he re-joined Island where he released to albums.

Subsequently, he returned to the Heartbeat. The label released albums including The World Should Know (1993), and Rasta Business (1995). Others include The World Should Know (1993), Rasta Business (1995), and Appointment with His Majesty (1997).

Follow Boomplay and keep up-to-date with the latest Burning Spear songs and information.

Achievement
In 1999, he released Calling Rastafari, which won him a Grammy Award in 2000. His 2008 album Jah is Real won him the second Grammy Award in 2009. In all, he has received 12 Grammy Award nominations.

Burning Spear songs are included in Boomplay music playlists. Search to stream and download Burning Spear songs MP3/ single/ albums on the platform....more

Country/Region : Jamaica
Songs

(0)

Albums

(0)

Playlists

(15)
Listen to Burning Spear's new songs including and many more. Enjoy Burning Spear's latest songs and explore the Burning Spear's new music albums. If you want to download Burning Spear songs MP3, use the Boomplay App to download the Burning Spear songs for free. Discover Burning Spear's latest songs, popular songs, trending songs all on Boomplay.
Winston Rodney was born on March 1, 1945, in Saint Ann's Bay, Saint Anns in Jamaica. Many of Burning Spear songs become very popular and trendy online with a great number of streaming and downloads on Boomplay.

He gained interest in music at a very young age. Growing up, he listened to jazz, R&B, and soul music, transmitted by US radio stations whose frequencies reached Jamaica. Artists like Curtis Mayfield and James Brown are the American artists whose works strongly influenced Rodney.

In Jamaica, political activist Marcus Garvey influenced his line of thinking. Through Garvey, he developed a sense of Pan-Africanism and being independent. Burning Spear became a protégé of Bob Marley.

Career
Rodney began his professional music career in 1969. On the advice of Bob Marley, he contacted Coxsone Dodd's Studio One label. Marley was also recording working with the label at the time. Along with bass singer Rupert Willington, he created the group Burning Spear. The two, therefore, auditioned for Dodd and eventually led to the release of their first single "Door Peep," in 1969. Subsequently, tenor Delroy Hinds joined the group.

Now three, the group released several singles and two albums. In 1975, they left Dodd and began recording for Jack Ruby. Their new association came with Ruby gave birth to the hit single, "Marcus Garvey." They soon followed it with another hit "Slavery Days." that same year, they release the third album "Marcus Garvey."

The album became an instant hit earning them a contract with Island Records. However, Island unilaterally decided to alter the speed of some songs on the album. Unsatisfied with the decision, Rodney started the Burning Music label. Subsequently, they release the albums Garvey's Ghost and the Main in the Hills for Island Records.

In 1976, Rodney broke away from the rest of the group members. He, therefore, adopted the group name Burning Spear for his solo career. Following the breakaway, he released the album Dry and Heavy, 1977. He went on to perform at the Rainbow Theatre, London using members of Aswad as backing band. The live recording of the show became his next album "Live!".

The following year, he released the studio album "Social Living" with backing from Aswad. The album also featured Rico Rodriguez and Sly Dunbar. Burning Spear made an acting debut in the film, Rockers, as Jah no Dead. The appearance increased his followings and raised his profile. He left Islands record in 1980 to begin the Burning Music Production Company associated with EMI. His debut release on the label was Hail H.I.M., which he recorded at Marley's Tuff Gong studio.

Burning Spear signed with Heartbeat Records in 1982. His about a decade association with the label saw the release of several albums. His album Resistance, 1985, earned a nomination at the Grammy Awards. Following his brief departure from Heartbeat, he re-joined Island where he released to albums.

Subsequently, he returned to the Heartbeat. The label released albums including The World Should Know (1993), and Rasta Business (1995). Others include The World Should Know (1993), Rasta Business (1995), and Appointment with His Majesty (1997).

Follow Boomplay and keep up-to-date with the latest Burning Spear songs and information.

Achievement
In 1999, he released Calling Rastafari, which won him a Grammy Award in 2000. His 2008 album Jah is Real won him the second Grammy Award in 2009. In all, he has received 12 Grammy Award nominations.

Burning Spear songs are included in Boomplay music playlists. Search to stream and download Burning Spear songs MP3/ single/ albums on the platform.
New Comments(
39

)