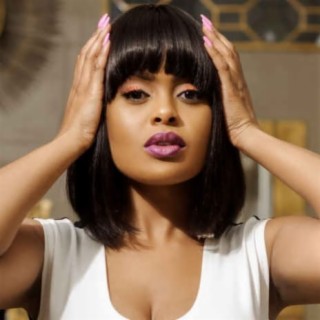 Avril
Current #9,007

All Time #2,195

Judith Nyambura Mwangi, popularly known by the stage name Avril, is a Kenyan singer, songwriter and actress. She was born and raised in Nakuru - one of the major towns in Kenya. Her birth date is 30th April 1986. Many of Avril's Songs became very popular and trendy on social media in line with a great number of streaming and downloads on Boomplay.

Career
Avril launched her music career around 2006 while a student at the University of Nairobi. Her debut single entitled Mama, came in 2009 under the Ogopa Deejays record label. What is however taken as Avril's breakout is her feature on Marya's 2010 single called Chokoza.

The song became a straight hit, thrusting both Marya and Avril into the limelight. Since her debut, Avril has been able to maintain her relevance in the music industry by releasing a number of critically acclaimed singles.

Achievements
Avril's excellence throughout her music career has seen her earn a number of awards including: Kisima Music Award for Best Boomba Artist (2012) and Pulse Music Video Awards for Best Female Artist of the Year (2015). Avril's latest full-length album - Spirit - was released in 2021.

It is a 13-track effort that features some of the best acts in the game including Khaligraph Jones, Mbithi and Savara. Some of the songs off the album include Spirit, Just Go and Gikemo among others.

The project currently has a total of over 600K Boomplay streams. Besides music, Avril has also starred in a couple of TV shows and films including 2012's Shuga: Love, Sex and Money. Follow Boomplay and keep up-to-date with the latest songs of Avril and information.

Avril's Latest songs
• Kitu Kimoja
• Hakuna Yule
• Nikimuona
• Hello Baby
• In Love
• Kitoko (feat. L Rice)

Throughout her career, she has been able to collaborate with a number of African superstars such as AY, M.I, Khaligraph Jones and Ommy Dimpoz. Avril's music has been featured on Boomplay playlists such as Play: Avril, Quarantei and Afro Feelings. Explore Boomplay and download Avril's latest songs for free.

Avril's Songs are included in Boomplay music playlists. Search, stream, and download Avril's Songs, his latest singles and albums in MP3 only on the Boomplay platform for free....more

Country/Region : Kenya
Listen to Avril's new songs including "Hello Baby ft. Ommy Dimpoz", "In Love", "Kitoko( Beautyful) Radio Version" and many more. Enjoy Avril's latest songs and explore the Avril's new music albums. If you want to download Avril songs MP3, use the Boomplay App to download the Avril songs for free. Discover Avril's latest songs, popular songs, trending songs all on Boomplay.
Judith Nyambura Mwangi, popularly known by the stage name Avril, is a Kenyan singer, songwriter and actress. She was born and raised in Nakuru - one of the major towns in Kenya. Her birth date is 30th April 1986. Many of Avril's Songs became very popular and trendy on social media in line with a great number of streaming and downloads on Boomplay.

Career
Avril launched her music career around 2006 while a student at the University of Nairobi. Her debut single entitled Mama, came in 2009 under the Ogopa Deejays record label. What is however taken as Avril's breakout is her feature on Marya's 2010 single called Chokoza.

The song became a straight hit, thrusting both Marya and Avril into the limelight. Since her debut, Avril has been able to maintain her relevance in the music industry by releasing a number of critically acclaimed singles.

Achievements
Avril's excellence throughout her music career has seen her earn a number of awards including: Kisima Music Award for Best Boomba Artist (2012) and Pulse Music Video Awards for Best Female Artist of the Year (2015). Avril's latest full-length album - Spirit - was released in 2021.

It is a 13-track effort that features some of the best acts in the game including Khaligraph Jones, Mbithi and Savara. Some of the songs off the album include Spirit, Just Go and Gikemo among others.

The project currently has a total of over 600K Boomplay streams. Besides music, Avril has also starred in a couple of TV shows and films including 2012's Shuga: Love, Sex and Money. Follow Boomplay and keep up-to-date with the latest songs of Avril and information.

Avril's Latest songs
• Kitu Kimoja
• Hakuna Yule
• Nikimuona
• Hello Baby
• In Love
• Kitoko (feat. L Rice)

Throughout her career, she has been able to collaborate with a number of African superstars such as AY, M.I, Khaligraph Jones and Ommy Dimpoz. Avril's music has been featured on Boomplay playlists such as Play: Avril, Quarantei and Afro Feelings. Explore Boomplay and download Avril's latest songs for free.

Avril's Songs are included in Boomplay music playlists. Search, stream, and download Avril's Songs, his latest singles and albums in MP3 only on the Boomplay platform for free.
New Comments(
264

)
FAQs about Avril
Where is Avril from?
She is from Kenya.
How to download songs of Avril?
You can download songs of Avril from Boomplay App for free.
Firstly, install Boomplay app on your mobile phone.
Secondly, navigate to the song you would like to download.
Thirdly, Tap on More > Download.