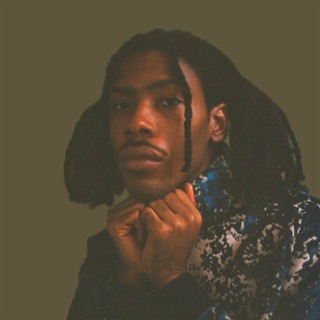 Cruel Santino
Current #17.1k

All Time #10.6k

Osayaba Andrew Ize-Iyamu, better known by his stage name Cruel Santino formally known as Ozzy B or Santi, is a Nigerian alternative singer-songwriter, rapper, creative director, filmmaker, and Music video director. Many Cruel Santino songs become very popular and trendy online with a great number of streaming and downloads on Boomplay.

Osayaba Andrew Ize-Iyamu was born on 3 June 1992, in Lagos, and raised in Ikeja to Nigerian parents.

Career
Before he graduated from high school, he was a teenage drama coordinator in high school. After graduation, he participated in city-wide attention as a freestyle-rap prodigy. His father was responsible for his music education, while growing-up.

He is a member of Monster Boy collective, with music producers Genio Bambino, and GMK. He is signed to Interscope Records, and Love Renaissance. He came into the music scene with a critically acclaimed studio album Mandy & The Jungle, which introduced the alté scene into the mainstream with his track "Rapid Fire", released in 2018.

Achievement
Santino is known for blending and fusing a variety of sounds, from R&B, soul and rap to Afrobeats and indie music, in creating Alté. On 11 June 2019, Toye Sokunbi of The Fader, named him as the vision of Afropop's future. Cruel Santino, is known for his ragga-influenced delivery, hair style and fashion sense.

On 31 May 2019, in an interview with Clash magazine, Osayaba Andrew Ize-Iyamu described himself as "being involved in all genres, definitely a unique individual. Taking inspiration for his name from Santigold. Inspired by the likes of Beenie Man, and Young Thug, as well as being shaped by indie and hip-hop music, has helped him evolve as an artist."

In 2011, he was rated as one of the best rappers in Nigeria, by Nigerian Afro-pop singer Wizkid. He also starred in Nokia advert with Nigerian rappers Muna, and Phenom.

Follow Boomplay and keep up-to-date with the latest Cruel Santino songs and information.

Cruel Santino Songs and Albums
• Rapid Fire
• Jungle Fever
• Gangsta Fear
• Mandy & the jungle (Album)
• Suzie's funeral (Album)

Cruel Santino songs are included in Boomplay music playlists. Search to stream and download Cruel Santino songs MP3/ single/ albums on the platform....more

Country/Region : Nigeria
Songs

(0)

Albums

(0)

Playlists

(3)
Listen to Cruel Santino's new songs including and many more. Enjoy Cruel Santino's latest songs and explore the Cruel Santino's new music albums. If you want to download Cruel Santino songs MP3, use the Boomplay App to download the Cruel Santino songs for free. Discover Cruel Santino's latest songs, popular songs, trending songs all on Boomplay.
Osayaba Andrew Ize-Iyamu, better known by his stage name Cruel Santino formally known as Ozzy B or Santi, is a Nigerian alternative singer-songwriter, rapper, creative director, filmmaker, and Music video director. Many Cruel Santino songs become very popular and trendy online with a great number of streaming and downloads on Boomplay.

Osayaba Andrew Ize-Iyamu was born on 3 June 1992, in Lagos, and raised in Ikeja to Nigerian parents.

Career
Before he graduated from high school, he was a teenage drama coordinator in high school. After graduation, he participated in city-wide attention as a freestyle-rap prodigy. His father was responsible for his music education, while growing-up.

He is a member of Monster Boy collective, with music producers Genio Bambino, and GMK. He is signed to Interscope Records, and Love Renaissance. He came into the music scene with a critically acclaimed studio album Mandy & The Jungle, which introduced the alté scene into the mainstream with his track "Rapid Fire", released in 2018.

Achievement
Santino is known for blending and fusing a variety of sounds, from R&B, soul and rap to Afrobeats and indie music, in creating Alté. On 11 June 2019, Toye Sokunbi of The Fader, named him as the vision of Afropop's future. Cruel Santino, is known for his ragga-influenced delivery, hair style and fashion sense.

On 31 May 2019, in an interview with Clash magazine, Osayaba Andrew Ize-Iyamu described himself as "being involved in all genres, definitely a unique individual. Taking inspiration for his name from Santigold. Inspired by the likes of Beenie Man, and Young Thug, as well as being shaped by indie and hip-hop music, has helped him evolve as an artist."

In 2011, he was rated as one of the best rappers in Nigeria, by Nigerian Afro-pop singer Wizkid. He also starred in Nokia advert with Nigerian rappers Muna, and Phenom.

Follow Boomplay and keep up-to-date with the latest Cruel Santino songs and information.

Cruel Santino Songs and Albums
• Rapid Fire
• Jungle Fever
• Gangsta Fear
• Mandy & the jungle (Album)
• Suzie's funeral (Album)

Cruel Santino songs are included in Boomplay music playlists. Search to stream and download Cruel Santino songs MP3/ single/ albums on the platform.
New Comments(
1

)