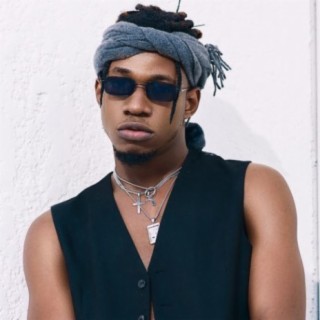 King Perryy
Current #2,680

All Time #2,095

Christened Anthony Offiah but became industry next big thing with King Perryy is a 27 years old Nigerian singer and songwriter.

King Perryy is an indigene of Ezeagu, Enugu State Nigeria. He was born on April 28, 1994. He was not born in his hometown but in Port Harcourt, Rivers State, Nigeria, and he is signed under Dem Mama Records (DM Records) by Timaya.

He had most of growing up in the south-eastern part of Nigeria and had his primary and secondary school education in that region. King Perryy later had his degree in Project Management at the Federal University Of Technology, Owerri, Imo State.

Many King Perryy songs become very popular and trendy online with a great number of streaming and downloads on Boomplay.

Career
King Perryy who is an Afro Dance-All Reggae Artist started singing in his school days. With the help of listening to stars artists like Bob Marley, Sean Paul, Westlife, Alex Zitto, and others, King Perryy was able to creatively craft out his own sound which is Afro Dancehall.

King Perryy took up music as a profession in 2014 when he released "Walakolombo:" a song which production was credited to Silktunez, guitar by Fiokee but mixed and mastered by SWAPS.

Timaya's manager after seeing the gifted singer King Perryy immediately introduced him to Timaya who made him seal a deal with DM Records.

The DM Records frontline act King Perryy marked himself among the top rising stars with a massive evaluated net worth of $150,000.

Follow Boomplay and keep up-to-date with the latest King Perryy songs and information.

King Perryy Songs
• Yawa
• Continental Boy
• Citizen Of The Worth (Album)
• African Boy
• Let Me Love You (featuring Oxlade)
• Big Man Cruise (featuring Mayorkun)
• Get Money (featuring Timaya)
• Waist (featuring Kizz Daniel)
• YKTFV (featuring PsychoYP)
• Kom Kom
• My Darlina
• Murder (featuring Teni)
• Man On Duty
• Jojo
• My Girl

King Perryy songs are included in Boomplay music playlists. Search to stream and download King Perryy songs MP3/ single/ albums on the platform....more

Country/Region : Nigeria
Songs

(17)

Albums

(8)

Playlists

(0)
1

2

3

4

5

6

7

8

9

10

11

12

13

14

15

16

17
Listen to King Perryy's new songs including "Go German ft. Bella Shmurda & BackRoad Gee 🅴", "Turkey Nla", "Jojo ft. Soft & Terry" and many more. Enjoy King Perryy's latest songs and explore the King Perryy's new music albums. If you want to download King Perryy songs MP3, use the Boomplay App to download the King Perryy songs for free. Discover King Perryy's latest songs, popular songs, trending songs all on Boomplay.
Christened Anthony Offiah but became industry next big thing with King Perryy is a 27 years old Nigerian singer and songwriter.

King Perryy is an indigene of Ezeagu, Enugu State Nigeria. He was born on April 28, 1994. He was not born in his hometown but in Port Harcourt, Rivers State, Nigeria, and he is signed under Dem Mama Records (DM Records) by Timaya.

He had most of growing up in the south-eastern part of Nigeria and had his primary and secondary school education in that region. King Perryy later had his degree in Project Management at the Federal University Of Technology, Owerri, Imo State.

Many King Perryy songs become very popular and trendy online with a great number of streaming and downloads on Boomplay.

Career
King Perryy who is an Afro Dance-All Reggae Artist started singing in his school days. With the help of listening to stars artists like Bob Marley, Sean Paul, Westlife, Alex Zitto, and others, King Perryy was able to creatively craft out his own sound which is Afro Dancehall.

King Perryy took up music as a profession in 2014 when he released "Walakolombo:" a song which production was credited to Silktunez, guitar by Fiokee but mixed and mastered by SWAPS.

Timaya's manager after seeing the gifted singer King Perryy immediately introduced him to Timaya who made him seal a deal with DM Records.

The DM Records frontline act King Perryy marked himself among the top rising stars with a massive evaluated net worth of $150,000.

Follow Boomplay and keep up-to-date with the latest King Perryy songs and information.

King Perryy Songs
• Yawa
• Continental Boy
• Citizen Of The Worth (Album)
• African Boy
• Let Me Love You (featuring Oxlade)
• Big Man Cruise (featuring Mayorkun)
• Get Money (featuring Timaya)
• Waist (featuring Kizz Daniel)
• YKTFV (featuring PsychoYP)
• Kom Kom
• My Darlina
• Murder (featuring Teni)
• Man On Duty
• Jojo
• My Girl

King Perryy songs are included in Boomplay music playlists. Search to stream and download King Perryy songs MP3/ single/ albums on the platform.
New Comments(
27

)