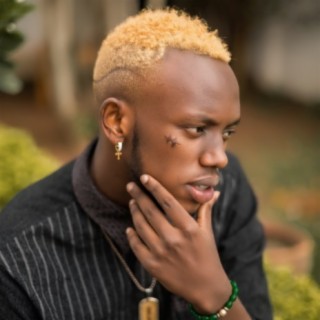 Chriss Eazy
Current #1,987

All Time #2,692

Christian Rukundo Nsengimana, also known as Chriss Eazy, is a hip-hop artist from Rwanda. The rapper is also into music video production and has produced quite a number of videos for some local artists. Many Chriss Eazy songs become very popular and trendy online with a great number of streaming and downloads on Boomplay.

CAREER AND ACHIEVEMENTS
Chriss Eazy launched a filmmaking company called 'Eazy Filmz' and started his music career in 2015. In 2016, he attended a competition dubbed "Talent Zone" and among the 342 rappers, he scooped first place. One of the rewards he received was a paid internship at a film school called IBTC Film. After the internship, Chriss Eazy did research online and learned more skills in making videos and films.

American rapper Kendrick Lamar inspired him a lot, especially the time he released his song "DNA". The song made a big change in Chriss Eazy's music career and even made a cover of that very song.

Follow Boomplay and keep up to date with the latest Chriss Eazy songs and information.

Chriss Eazy Songs
• Amashu
• Amashimwe
• Fasta
• Uziko Usetsa
• Ese Urabizi ?
• Yozefina
• Tegereza
• Fimbo
• The Climb

Chriss Eazy's songs are included in Boomplay music playlists. Search to stream and download Chriss Eazy songs MP3/ single/ albums on the platform....more

Country/Region : Rwanda
Songs

(0)

Albums

(0)

Playlists

(0)
Listen to Chriss Eazy's new songs including and many more. Enjoy Chriss Eazy's latest songs and explore the Chriss Eazy's new music albums. If you want to download Chriss Eazy songs MP3, use the Boomplay App to download the Chriss Eazy songs for free. Discover Chriss Eazy's latest songs, popular songs, trending songs all on Boomplay.
Christian Rukundo Nsengimana, also known as Chriss Eazy, is a hip-hop artist from Rwanda. The rapper is also into music video production and has produced quite a number of videos for some local artists. Many Chriss Eazy songs become very popular and trendy online with a great number of streaming and downloads on Boomplay.

CAREER AND ACHIEVEMENTS
Chriss Eazy launched a filmmaking company called 'Eazy Filmz' and started his music career in 2015. In 2016, he attended a competition dubbed "Talent Zone" and among the 342 rappers, he scooped first place. One of the rewards he received was a paid internship at a film school called IBTC Film. After the internship, Chriss Eazy did research online and learned more skills in making videos and films.

American rapper Kendrick Lamar inspired him a lot, especially the time he released his song "DNA". The song made a big change in Chriss Eazy's music career and even made a cover of that very song.

Follow Boomplay and keep up to date with the latest Chriss Eazy songs and information.

Chriss Eazy Songs
• Amashu
• Amashimwe
• Fasta
• Uziko Usetsa
• Ese Urabizi ?
• Yozefina
• Tegereza
• Fimbo
• The Climb

Chriss Eazy's songs are included in Boomplay music playlists. Search to stream and download Chriss Eazy songs MP3/ single/ albums on the platform.
New Comments(
16

)
FAQs about Chriss Eazy
Where is Chriss Eazy from?
He is from Rwanda.