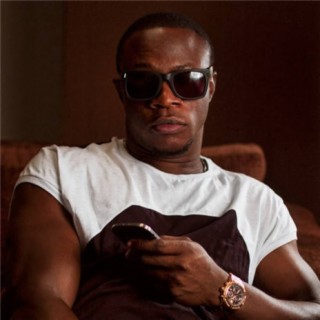 Chuddy K
Current #11.1k

All Time #6,304

Chukwudi Ken Agali professionally known as Chuddy K was born on the 15th Of July, 1984 to the family of Mr. & Mrs. Agali who hail from Utwue Ogume, Local Government Area of Delta State.

Chukwudi Ken Agali grew up in a Lagos suburb called Ajegunle where he attended his primary education at Queens care nursery / primary school, he later moved out of Ajegunle to Agboju amuwo near Festac Town, where he had his secondary education at Awori Ajeromi Grammar School and then moved to Upper College, Aiyetoro-Ijanikin where he wrote his WAEC examinations.

His life as a youth was not a pleasant one, which contributed to his moving around to get educated. He hustled on the streets of Lagos as a child whom his parents were divorced some few months after his birth and was left to stay with his dad at that tender age. He sold pure water and also did a bricklaying job, to raise money so he could buy his GCE form.

He also did some other odd jobs to see himself through school and life. He coined out a name for himself from his real name Chukwudi Ken and CHUDDY replaced Chukwudi while K stands for Ken and since, he's being addressed as CHUDDY K.

Many Chuddy K songs become very popular and trendy online with a great number of streaming and downloads on Boomplay.

Career
He started singing at a tender age of twelve back then in Ajegunle because he grew up appreciating the likes of Daddy Showkey and Daddy Fresh who started their careers around him as a kid in the ghetto called Iya Ojo, Aj city. As music started paving good ways for them, Chukwudi started having the aspirations of becoming a star like them.

He later became a teenage chorister in the church he was attending back then, he was upgraded to the lead vocalist in a short time due to his musical prowess. Chukwudi attended musical contest and concerts with the church choir (Victory Christian Church) but later left Ajegunle for Agboju where he met with a friend called Jerry who introduced him to some of his friends who just formed a gospel group called the SALVATION BOIZ.

He joined them after studying their ways and also due to Jerry's persuasions. His joining the group turned the group into a seven boys group which was formerly six. The group then was now made of Chukwudi (now known as CHUDDY K) & Wande (now known as Wande Coal) both of whom were the lead vocals of the group.

The remaining members were Akin, Dayo, Simon, Isaac & Jerry. SALVATION BOIZ group was strictly a Gospel Accapela group. They attended various church functions to perform, they were also performing on a regular basis at the Redemption camp of the Redeemed Christian Church of God and a host of other Churches.

The group later came to a pause when everyone of the members started gaining admission into various tertiary institutions, but that was not the end of music for Chukwudi and some other members of the group. Two years later, he moved to PPL, a settlement at Okokomaiko where he met another childhood friend called Remi and together with two other friends (Chukwuka & Nduka) formed another group called, SOULLIFTAZ.


They did some recordings together but things didn't go as they planned and he left the group. The urge to be a successful musician would not make him stop striving towards greatness.

Follow Boomplay and keep up-to-date with the latest Chuddy Ksongs and information.

On Friday October 9, 2015, Nigerian singer, Chukwudi Ken Agali popularly called Chuddy K got married to his lover, Racheal. The wedding was held in Lagos at the Ikoyi registry. The couple are blessed with beautiful kids.

Chuddy K Songs
• Slow Slow
• Go Down
• Rambo
• Ekelebe
• In My Heart
• Downtown
• Gaga Crazy
• Runtown

Chuddy K songs are included in Boomplay music playlists. Search to stream and download Chuddy K songs MP3/ single/ albums on the platform....more

Country/Region : Nigeria
Songs

(25)

Albums

(7)

Playlists

(2)
1

2

3

4

5

6

7

8

9

10

11

12

13

14

15

16

17

18

19

20

21

22

23

24

25
Listen to Chuddy K's new songs including "Gaga Crazy", "Slow Slow", "Gaga Crazy" and many more. Enjoy Chuddy K's latest songs and explore the Chuddy K's new music albums. If you want to download Chuddy K songs MP3, use the Boomplay App to download the Chuddy K songs for free. Discover Chuddy K's latest songs, popular songs, trending songs all on Boomplay.
Chukwudi Ken Agali professionally known as Chuddy K was born on the 15th Of July, 1984 to the family of Mr. & Mrs. Agali who hail from Utwue Ogume, Local Government Area of Delta State.

Chukwudi Ken Agali grew up in a Lagos suburb called Ajegunle where he attended his primary education at Queens care nursery / primary school, he later moved out of Ajegunle to Agboju amuwo near Festac Town, where he had his secondary education at Awori Ajeromi Grammar School and then moved to Upper College, Aiyetoro-Ijanikin where he wrote his WAEC examinations.

His life as a youth was not a pleasant one, which contributed to his moving around to get educated. He hustled on the streets of Lagos as a child whom his parents were divorced some few months after his birth and was left to stay with his dad at that tender age. He sold pure water and also did a bricklaying job, to raise money so he could buy his GCE form.

He also did some other odd jobs to see himself through school and life. He coined out a name for himself from his real name Chukwudi Ken and CHUDDY replaced Chukwudi while K stands for Ken and since, he's being addressed as CHUDDY K.

Many Chuddy K songs become very popular and trendy online with a great number of streaming and downloads on Boomplay.

Career
He started singing at a tender age of twelve back then in Ajegunle because he grew up appreciating the likes of Daddy Showkey and Daddy Fresh who started their careers around him as a kid in the ghetto called Iya Ojo, Aj city. As music started paving good ways for them, Chukwudi started having the aspirations of becoming a star like them.

He later became a teenage chorister in the church he was attending back then, he was upgraded to the lead vocalist in a short time due to his musical prowess. Chukwudi attended musical contest and concerts with the church choir (Victory Christian Church) but later left Ajegunle for Agboju where he met with a friend called Jerry who introduced him to some of his friends who just formed a gospel group called the SALVATION BOIZ.

He joined them after studying their ways and also due to Jerry's persuasions. His joining the group turned the group into a seven boys group which was formerly six. The group then was now made of Chukwudi (now known as CHUDDY K) & Wande (now known as Wande Coal) both of whom were the lead vocals of the group.

The remaining members were Akin, Dayo, Simon, Isaac & Jerry. SALVATION BOIZ group was strictly a Gospel Accapela group. They attended various church functions to perform, they were also performing on a regular basis at the Redemption camp of the Redeemed Christian Church of God and a host of other Churches.

The group later came to a pause when everyone of the members started gaining admission into various tertiary institutions, but that was not the end of music for Chukwudi and some other members of the group. Two years later, he moved to PPL, a settlement at Okokomaiko where he met another childhood friend called Remi and together with two other friends (Chukwuka & Nduka) formed another group called, SOULLIFTAZ.


They did some recordings together but things didn't go as they planned and he left the group. The urge to be a successful musician would not make him stop striving towards greatness.

Follow Boomplay and keep up-to-date with the latest Chuddy Ksongs and information.

On Friday October 9, 2015, Nigerian singer, Chukwudi Ken Agali popularly called Chuddy K got married to his lover, Racheal. The wedding was held in Lagos at the Ikoyi registry. The couple are blessed with beautiful kids.

Chuddy K Songs
• Slow Slow
• Go Down
• Rambo
• Ekelebe
• In My Heart
• Downtown
• Gaga Crazy
• Runtown

Chuddy K songs are included in Boomplay music playlists. Search to stream and download Chuddy K songs MP3/ single/ albums on the platform.
New Comments(
0

)

What do you think of this artist?