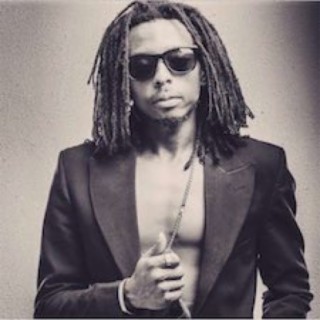 LeriQ
Current #93.6k

All Time #4,681

Eric Isaac Utere formally addressed as LeriQ is an award-winning Nigerian record producer and songwriter. Many of LeriQ songs become very popular and trendy online with a great number of streaming and downloads on Boomplay.

He is based in Lagos, Nigeria. Leriq came to the limelight after he produced the hit single, Like To Party sang by Afrobeats star, Burna Boy.

Career
LeriQ started producing music beats at the young age of 13. As he grew older, he mastered his craft and became one of the best recording producers in the industry.

He came to the limelight in 2012 after producing Burna Boy's hit single, Like To Party. He is also credited for producing Burna's debut album L.I.F.E (Leaving an Impact For Eternity). The album was released in 2013.

The genres of music that LeriQ produces beats for include R&B, Pop, Hip-hop, Afro-pop, Afrobeats.

In July 2015, LeriQ achieved a milestone in his career by signing a deal with Sony Music West Africa.

The music maestro released a producer's album in 2015. The album saw collaboration from A-list artists such as Burna Boy, Dammy Krane, Illbliss, Cassper Nyovest, 2Baba, Wande Coal, Timaya, and Seyi Shay.

He and Burna Boy collaborated together on an EP titled Redemption. The project was released in September 2016.

He is currently signed to Spaceship Records which is owned by Burna Boy.

Follow Boomplay and keep up to date with the latest LeriQ songs and information.

LeriQ Songs
• Like To Party
• Tonight
• Way Too Big
• Monsters You Made
• Pree Me
• Run My Race
• Boshe Nlo
• No Fit Vex
• Mary Jane
• Always Love
• Wish List
• Turn Up

Awards and Nominations
In 2013, he was nominated for the Producer Of The Year category at the Headies Award.
• In 2015, he received another nomination at the Headies Award for the single, Say You Love Me, featuring Wizkid.
• Nominatee for the 2020 AFRIMMA Music Producer Of The Year.
• The Producer Of The Year Award at the 2020 Galaxy Music Awards.
• In 2020, he was nominated for the Best Global Music category for the Grammy Award. This nomination came because of his collaboration with Burna Boy on his album, Twice As Tall.

LeriQ songs are included in Boomplay music playlists. Search to stream and download LeriQ songs MP3/ single/ albums on the platform....more

Country/Region : Nigeria
Listen to LeriQ's new songs including "No Wahalah ft. Teni & Skales", "Turn Up ft Burna and Phyno", "Comment Tu T'appelle ft Burna boy, Dammy Krane, Mojeed & Ozone" and many more. Enjoy LeriQ's latest songs and explore the LeriQ's new music albums. If you want to download LeriQ songs MP3, use the Boomplay App to download the LeriQ songs for free. Discover LeriQ's latest songs, popular songs, trending songs all on Boomplay.
Eric Isaac Utere formally addressed as LeriQ is an award-winning Nigerian record producer and songwriter. Many of LeriQ songs become very popular and trendy online with a great number of streaming and downloads on Boomplay.

He is based in Lagos, Nigeria. Leriq came to the limelight after he produced the hit single, Like To Party sang by Afrobeats star, Burna Boy.

Career
LeriQ started producing music beats at the young age of 13. As he grew older, he mastered his craft and became one of the best recording producers in the industry.

He came to the limelight in 2012 after producing Burna Boy's hit single, Like To Party. He is also credited for producing Burna's debut album L.I.F.E (Leaving an Impact For Eternity). The album was released in 2013.

The genres of music that LeriQ produces beats for include R&B, Pop, Hip-hop, Afro-pop, Afrobeats.

In July 2015, LeriQ achieved a milestone in his career by signing a deal with Sony Music West Africa.

The music maestro released a producer's album in 2015. The album saw collaboration from A-list artists such as Burna Boy, Dammy Krane, Illbliss, Cassper Nyovest, 2Baba, Wande Coal, Timaya, and Seyi Shay.

He and Burna Boy collaborated together on an EP titled Redemption. The project was released in September 2016.

He is currently signed to Spaceship Records which is owned by Burna Boy.

Follow Boomplay and keep up to date with the latest LeriQ songs and information.

LeriQ Songs
• Like To Party
• Tonight
• Way Too Big
• Monsters You Made
• Pree Me
• Run My Race
• Boshe Nlo
• No Fit Vex
• Mary Jane
• Always Love
• Wish List
• Turn Up

Awards and Nominations
In 2013, he was nominated for the Producer Of The Year category at the Headies Award.
• In 2015, he received another nomination at the Headies Award for the single, Say You Love Me, featuring Wizkid.
• Nominatee for the 2020 AFRIMMA Music Producer Of The Year.
• The Producer Of The Year Award at the 2020 Galaxy Music Awards.
• In 2020, he was nominated for the Best Global Music category for the Grammy Award. This nomination came because of his collaboration with Burna Boy on his album, Twice As Tall.

LeriQ songs are included in Boomplay music playlists. Search to stream and download LeriQ songs MP3/ single/ albums on the platform.
New Comments(
8

)
FAQs about LeriQ
Where is LeriQ from?
He is from Nigeria.
How to download songs of LeriQ?
You can download songs of LeriQ from Boomplay App for free.
Firstly, install Boomplay app on your mobile phone.
Secondly, navigate to the song you would like to download.
Thirdly, Tap on More > Download.