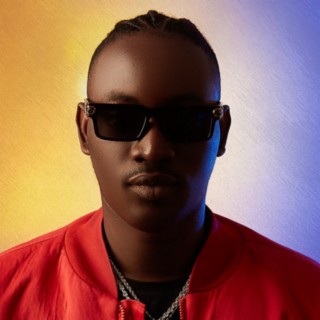 Dammy Krane
Current #2,206

All Time #2,295

Dammy Krane, named Oyindamola Johnson Emmanuel at birth, was born on December 12, 1992, in Lagos, Nigeria. His mother, Oluwakemi Oshodi, gave birth to him at a time when her father was a manager in the Fuji music industry and this significantly influenced her son's career in his later years.
Dammy Krane had his secondary education at Providence Heights, where he excelled as a dancer and performer. After finishing secondary school, he focused on making and producing music.
At the age of six, Dammy Krane started singing in the children's choir of the church he attends. He was a well-known dancer and performer in high school. Influenced by the works of his grandfather and his mother, the youngster gravitated towards the arts and immersed himself in dance and drama. His performances attracted a lot of people's attention in his teenage years.

After he graduated from secondary school, Dammy Krane made a conscious decision to pursue music. He started making music, and he performed on stages, particularly at higher institutions. In his performances, he was able to combine all musical styles.

He joined the 960 Music Group and later moved to Hypertek Records Label in 2012. He attributed his signing to Hypertek Records to a chance meeting with 2face Idibia at a birthday party and was asked to perform. The performance thrilled the music legend, who then signed him (Dammy Krane) to his record label.

He signed with Davido's record company, Davido Music Worldwide (DMW), in 2016. Then in 2017 he got his record company, Worldstar movement Record label, and signed his first artist, Idowest.

Dammy Krane is noted for his melodic voice, engaging lyrics and innovative genre of African alternative music. He is famous for his hit songs: My Dear and Amin. Musicians like 2face, Femi Kuti, King Sunny Ade, and Sauce Kid serve as inspirations for him....more

Country/Region : Nigeria
Listen to Dammy Krane's new songs including "Fujipiano", "IJGB", "Number One" and many more. Enjoy Dammy Krane's latest songs and explore the Dammy Krane's new music albums. If you want to download Dammy Krane songs MP3, use the Boomplay App to download the Dammy Krane songs for free. Discover Dammy Krane's latest songs, popular songs, trending songs all on Boomplay.
Dammy Krane, named Oyindamola Johnson Emmanuel at birth, was born on December 12, 1992, in Lagos, Nigeria. His mother, Oluwakemi Oshodi, gave birth to him at a time when her father was a manager in the Fuji music industry and this significantly influenced her son's career in his later years.
Dammy Krane had his secondary education at Providence Heights, where he excelled as a dancer and performer. After finishing secondary school, he focused on making and producing music.
At the age of six, Dammy Krane started singing in the children's choir of the church he attends. He was a well-known dancer and performer in high school. Influenced by the works of his grandfather and his mother, the youngster gravitated towards the arts and immersed himself in dance and drama. His performances attracted a lot of people's attention in his teenage years.

After he graduated from secondary school, Dammy Krane made a conscious decision to pursue music. He started making music, and he performed on stages, particularly at higher institutions. In his performances, he was able to combine all musical styles.

He joined the 960 Music Group and later moved to Hypertek Records Label in 2012. He attributed his signing to Hypertek Records to a chance meeting with 2face Idibia at a birthday party and was asked to perform. The performance thrilled the music legend, who then signed him (Dammy Krane) to his record label.

He signed with Davido's record company, Davido Music Worldwide (DMW), in 2016. Then in 2017 he got his record company, Worldstar movement Record label, and signed his first artist, Idowest.

Dammy Krane is noted for his melodic voice, engaging lyrics and innovative genre of African alternative music. He is famous for his hit songs: My Dear and Amin. Musicians like 2face, Femi Kuti, King Sunny Ade, and Sauce Kid serve as inspirations for him.
New Comments(
13

)
FAQs about Dammy Krane
Where is Dammy Krane from?
He is from Nigeria.
How to download songs of Dammy Krane?
You can download songs of Dammy Krane from Boomplay App for free.
Firstly, install Boomplay app on your mobile phone.
Secondly, navigate to the song you would like to download.
Thirdly, Tap on More > Download.