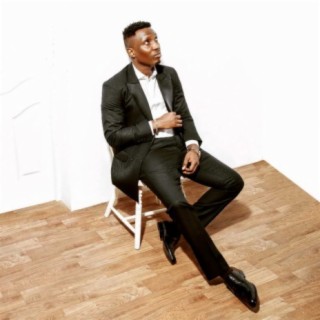 A-Q
Current #6,272

All Time #3,784

Gilbert Bani who rose to the limelight with the sensational name A-Q is a 35 years old popular Nigerian Rapper and Songwriter who was born on August 1, 1986. Many of A-Q songs become very popular and trendy online with a great number of streaming and downloads on Boomplay.

The Abia State indigene musical Artist A-Q became the talk of the town after his single "Agu Ji Ndi Men" got nominated in The Headies Awards as Best Rap Single in 2016.

Career
A-Q started off listening to popular songs and cramming their lyrics, he was able to sing most of the songs' lyrics from beginning till the end with no mistakes. Through that, he started writing his own lyrics and learning how to compose them, such as the musical venture of A-Q. In 2001, A-Q got his first record deal under Big Leaf Records, he was with Big Leaf Records for complete two years before deciding to move on and start his own in 2003. While doing it alone, He dropped a widely accepted single "(W)rap Nigeria which was produced by the very creative producer Kraftmatics. The record was released in 2004 with a music video.

A-Q additionally released an EP project "Listen and Understand" in 2005 accompanied with a smashing single "Things That We Do" which was received with an immediate International Online Distribution Deal. As if that was not just enough, come 2006, A-Q released a mixtape named "Maga Must Pay Vol 1." In the long run, A-Q called it a break in the music due to the pressure to complete his tertiary education, he went ahead to complete his education in the prestigious University Of Lagos (UNILAG) but while still in school, he created time to drop a single "Make Money" featuring Morachi and Xtrim produced by LayLow which was followed up by a video of an online Mixtape "Love and Money"

In 2012, the year A-Q graduated from Unilag, he flaunted his own record label "Hustle Inc," Under Hustle Inc, he released an EP "Make Your Best Rapper Look Stupid" but before then 2010 he's dropped "The Past, Present, and Future" EP. In 2018, he dropped an EP with Loose Kaynon's "Crown" who is a Chocolate City Rapper. In 2019, A-Q won Lyricist On The Roll with the project "Crown"

A-Q is currently working on his sophomore album titled G.I.L.B.E.R.T (Grace and Glory).

Follow Boomplay and keep up to date with the latest A-Q songs and information.

A-Q Songs
• Gang Gang
• Agu Ji Ndi Men
• Rose
• L.A.M.B Cypher with M.I Abaga, Loose Kaynon and Blaqbonez
• God's Work

A-Q songs are included in Boomplay music playlists. Search to stream and download A-Q songs MP3/ single/ albums on the platform....more

Country/Region : Nigeria
Songs

(66)

Albums

(18)

Playlists

(5)
1

2

3

4

5

6

7

8

9

10

11

12

13

14

15

16

17

18

19

20

21

22

23

24

25

26

27

28

29

30

31

32

33

34

35

36

37

38

39

40

41

42

43

44

45

46

47

48

49

50

51

52

53

54

55

56

57

58

59

60

61

62

63

64

65

66
Listen to A-Q's new songs including "Ni temi ft. Brymo", "Wọn dé ft. Brymo", "Do You Ever Miss Me ft. Brymo" and many more. Enjoy A-Q's latest songs and explore the A-Q's new music albums. If you want to download A-Q songs MP3, use the Boomplay App to download the A-Q songs for free. Discover A-Q's latest songs, popular songs, trending songs all on Boomplay.
Gilbert Bani who rose to the limelight with the sensational name A-Q is a 35 years old popular Nigerian Rapper and Songwriter who was born on August 1, 1986. Many of A-Q songs become very popular and trendy online with a great number of streaming and downloads on Boomplay.

The Abia State indigene musical Artist A-Q became the talk of the town after his single "Agu Ji Ndi Men" got nominated in The Headies Awards as Best Rap Single in 2016.

Career
A-Q started off listening to popular songs and cramming their lyrics, he was able to sing most of the songs' lyrics from beginning till the end with no mistakes. Through that, he started writing his own lyrics and learning how to compose them, such as the musical venture of A-Q. In 2001, A-Q got his first record deal under Big Leaf Records, he was with Big Leaf Records for complete two years before deciding to move on and start his own in 2003. While doing it alone, He dropped a widely accepted single "(W)rap Nigeria which was produced by the very creative producer Kraftmatics. The record was released in 2004 with a music video.

A-Q additionally released an EP project "Listen and Understand" in 2005 accompanied with a smashing single "Things That We Do" which was received with an immediate International Online Distribution Deal. As if that was not just enough, come 2006, A-Q released a mixtape named "Maga Must Pay Vol 1." In the long run, A-Q called it a break in the music due to the pressure to complete his tertiary education, he went ahead to complete his education in the prestigious University Of Lagos (UNILAG) but while still in school, he created time to drop a single "Make Money" featuring Morachi and Xtrim produced by LayLow which was followed up by a video of an online Mixtape "Love and Money"

In 2012, the year A-Q graduated from Unilag, he flaunted his own record label "Hustle Inc," Under Hustle Inc, he released an EP "Make Your Best Rapper Look Stupid" but before then 2010 he's dropped "The Past, Present, and Future" EP. In 2018, he dropped an EP with Loose Kaynon's "Crown" who is a Chocolate City Rapper. In 2019, A-Q won Lyricist On The Roll with the project "Crown"

A-Q is currently working on his sophomore album titled G.I.L.B.E.R.T (Grace and Glory).

Follow Boomplay and keep up to date with the latest A-Q songs and information.

A-Q Songs
• Gang Gang
• Agu Ji Ndi Men
• Rose
• L.A.M.B Cypher with M.I Abaga, Loose Kaynon and Blaqbonez
• God's Work

A-Q songs are included in Boomplay music playlists. Search to stream and download A-Q songs MP3/ single/ albums on the platform.
New Comments(
14

)