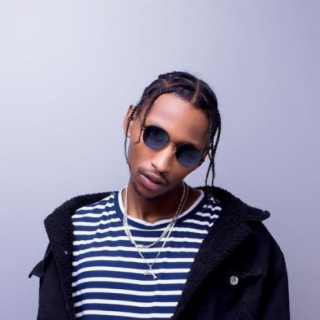 Barak Jacuzzi
Current #12k

All Time #7,741

Baraka Njoroge professionally known as Barak Jacuzzi is a Kenyan rapper, songwriter, media personality and corporate MC. Barak was rasied in America during his teenage years returning to Kenya after graduating high school to pursue a career in music. While in Kenya, Barak Jacuzzi studied broadcast journalism in the United States International University in Nairobi.

Barak gained more popularity in 2018 as a radio presenter in NRG Radio which is among the top radio stations in Kenya. Many of Barak Jacuzzi's songs become very popular and trendy online with a great number of streaming and downloads on Boomplay.

CAREER
Barak Jacuzzi first gained popularity as a contestant in the East African Rap Competition by Nokia, titled 'Nokia Don't Break the Beat Challenge' in 2012. Veteran Kenyan rapper, Octopizzo was impressed by Barak's talent and signed him to his record label where they collaborated on several songs includin Che Che, Tergat Gang, Gas and Bank. Working closely with Octopizzo helped Barak understand work ethic and other qualities to possess to make it in the industry.

Barak Jacuzzi has released a trilogy of albums titled 'The Juice Bar' with the first installment being released in 2017, Juice Bar 2 in 2018 and Juice Bar 3 in 2022. His other projects include the EPs Cocoa Season (2017) and Freshly (2021).

Follow Boomplay and keep up-to-date with the latest Barak Jacuzzi's songs and information

Barak's most popular songs include;
• Nairobi ft Boutross, Scar and Silverstone barz
• Sitaki Kubonga
• Coco Tings
• Twended Juu
• Double it ft Steph Kapela
• Friday Night
• Less stress
• Campaign
• Gas
• Come Over

ACHIEVEMENTS
Barak Jacuzzi has surpassed 670,000 streams on Boomplay and 900,000 views on Youtube.

Barak Jacuzzi's songs are included in Boomplay music playlists. Search to stream and Barak Jacuzzi's songs MP3/ single/ albums on the platform....more

Country/Region : Kenya
Listen to Barak Jacuzzi's new songs including "Nairobi ft. Boutross, Scar & Silverstone Barz", "Nairobi ft. Scar Mkadinali, Silverstone Barz & Boutross", "Kilo$ ft. Buruklyn Boyz" and many more. Enjoy Barak Jacuzzi's latest songs and explore the Barak Jacuzzi's new music albums. If you want to download Barak Jacuzzi songs MP3, use the Boomplay App to download the Barak Jacuzzi songs for free. Discover Barak Jacuzzi's latest songs, popular songs, trending songs all on Boomplay.
Baraka Njoroge professionally known as Barak Jacuzzi is a Kenyan rapper, songwriter, media personality and corporate MC. Barak was rasied in America during his teenage years returning to Kenya after graduating high school to pursue a career in music. While in Kenya, Barak Jacuzzi studied broadcast journalism in the United States International University in Nairobi.

Barak gained more popularity in 2018 as a radio presenter in NRG Radio which is among the top radio stations in Kenya. Many of Barak Jacuzzi's songs become very popular and trendy online with a great number of streaming and downloads on Boomplay.

CAREER
Barak Jacuzzi first gained popularity as a contestant in the East African Rap Competition by Nokia, titled 'Nokia Don't Break the Beat Challenge' in 2012. Veteran Kenyan rapper, Octopizzo was impressed by Barak's talent and signed him to his record label where they collaborated on several songs includin Che Che, Tergat Gang, Gas and Bank. Working closely with Octopizzo helped Barak understand work ethic and other qualities to possess to make it in the industry.

Barak Jacuzzi has released a trilogy of albums titled 'The Juice Bar' with the first installment being released in 2017, Juice Bar 2 in 2018 and Juice Bar 3 in 2022. His other projects include the EPs Cocoa Season (2017) and Freshly (2021).

Follow Boomplay and keep up-to-date with the latest Barak Jacuzzi's songs and information

Barak's most popular songs include;
• Nairobi ft Boutross, Scar and Silverstone barz
• Sitaki Kubonga
• Coco Tings
• Twended Juu
• Double it ft Steph Kapela
• Friday Night
• Less stress
• Campaign
• Gas
• Come Over

ACHIEVEMENTS
Barak Jacuzzi has surpassed 670,000 streams on Boomplay and 900,000 views on Youtube.

Barak Jacuzzi's songs are included in Boomplay music playlists. Search to stream and Barak Jacuzzi's songs MP3/ single/ albums on the platform.
New Comments(
11

)
FAQs about Barak Jacuzzi
Where is Barak Jacuzzi from?
He is from Kenya.
How to download songs of Barak Jacuzzi?
You can download songs of Barak Jacuzzi from Boomplay App for free.
Firstly, install Boomplay app on your mobile phone.
Secondly, navigate to the song you would like to download.
Thirdly, Tap on More > Download.