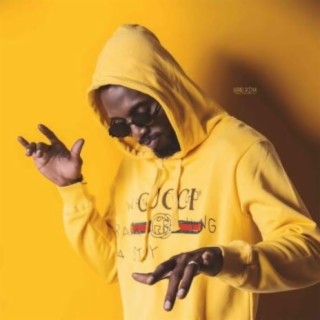 Serge Beynaud
Current #104

All Time #231

Serge Beynaud was born in the Ivory Coast on September 19, 1987. A studious, hard-working and brilliant student, he made his parents happy. Many of Serge Beynaud songs become very popular and trendy online with a great number of streaming and downloads on Boomplay.

Serge Beynaud discovered music around the age of 7. Driven by curiosity, the native of Yopougon tinkers on his father's computer. He learns quickly, very quickly and composes more and more coherent sounds, working, again and again, seeking excellence.

Career
A few years later, in 2007, pushed by the advice of his relatives and his mother who is his first support, Serge Beynaud begins to build his recording studio stone by stone. He quickly made a name for himself in the field of composition and sound arrangement. More and more artists are requesting these services. Ranging from developing artist to international star.

In 2009, he felt a lack, a void, he had the feeling that his career was going in circles, repeating itself… So one day, for fun, he decided to put his voice on one of these productions. It's a real bomb in the middle! The success is immediate! Beynomania was born!

Chaining the successes it is considered today as the musical phenomenon of the young people of French-speaking Africa. His 1st album entitled Only God was such a success that the stocks were emptied in a few weeks! Serge Beynaud then confirmed his accession to success by filling the 5000 places of the Palais de la Culture in Abidjan on September 15, 2012.

Then follows the tours, the singles, the concerts in Europe, in Africa, in the USA. Serge Beynaud continues to conquer new territories with increasingly loyal fans.

In June 2014 he released his 2nd named Talehi which met with the same success as its predecessor. His 3rd album, Accelerate, is rich in prestigious featuring and marks the artist's intention to once again push his limits.

Follow Boomplay and keep up-to-date with the latest Serge Beynaud songs and information.

Serge Beynaud Songs
• C'est dosé
• Kabableke
• Lifuende
• Zendaka
• Kota na koto
• Ye Dja
• Okéninkpin
• Petit mannequin
• Remanbélé
• Mawa naya
• Babatchai
• Loko loko
• Akrakabo

Serge Beynaud songs are included in Boomplay music playlists. Search to stream and download Serge Beynaud songs MP3/ single/ albums on the platform....more

Country : Cote d'Ivoire
Listen to Serge Beynaud's new songs including "Juste Un Geste", and many more. Enjoy Serge Beynaud's latest songs and explore the Serge Beynaud's new music albums. If you want to download Serge Beynaud songs MP3, use the Boomplay App to download the Serge Beynaud songs for free. Discover Serge Beynaud's latest songs, popular songs, trending songs all on Boomplay.
Serge Beynaud was born in the Ivory Coast on September 19, 1987. A studious, hard-working and brilliant student, he made his parents happy. Many of Serge Beynaud songs become very popular and trendy online with a great number of streaming and downloads on Boomplay.

Serge Beynaud discovered music around the age of 7. Driven by curiosity, the native of Yopougon tinkers on his father's computer. He learns quickly, very quickly and composes more and more coherent sounds, working, again and again, seeking excellence.

Career
A few years later, in 2007, pushed by the advice of his relatives and his mother who is his first support, Serge Beynaud begins to build his recording studio stone by stone. He quickly made a name for himself in the field of composition and sound arrangement. More and more artists are requesting these services. Ranging from developing artist to international star.

In 2009, he felt a lack, a void, he had the feeling that his career was going in circles, repeating itself… So one day, for fun, he decided to put his voice on one of these productions. It's a real bomb in the middle! The success is immediate! Beynomania was born!

Chaining the successes it is considered today as the musical phenomenon of the young people of French-speaking Africa. His 1st album entitled Only God was such a success that the stocks were emptied in a few weeks! Serge Beynaud then confirmed his accession to success by filling the 5000 places of the Palais de la Culture in Abidjan on September 15, 2012.

Then follows the tours, the singles, the concerts in Europe, in Africa, in the USA. Serge Beynaud continues to conquer new territories with increasingly loyal fans.

In June 2014 he released his 2nd named Talehi which met with the same success as its predecessor. His 3rd album, Accelerate, is rich in prestigious featuring and marks the artist's intention to once again push his limits.

Follow Boomplay and keep up-to-date with the latest Serge Beynaud songs and information.

Serge Beynaud Songs
• C'est dosé
• Kabableke
• Lifuende
• Zendaka
• Kota na koto
• Ye Dja
• Okéninkpin
• Petit mannequin
• Remanbélé
• Mawa naya
• Babatchai
• Loko loko
• Akrakabo

Serge Beynaud songs are included in Boomplay music playlists. Search to stream and download Serge Beynaud songs MP3/ single/ albums on the platform.
New Comments(
73

)