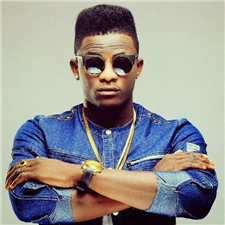 Selebobo
Current #99k+

All Time #2,445

The names are Oku Udoka Chigozie a.k.a, Selebobo. Born into a Christian, musical & artistic family, he's the seventh amongst 12 children and he is from Ukpo in Oranto village, Dunukofia L.G.A of Anambra State in Naija.

Not only is he only is he a staff and artiste of Pure Sound And Visual Technology, Selebobo is also an Audio Producer and Sound Engineer. Interestingly, he is the producer of most of his songs.Surprisingly, the complex but simple Selebobo is not just an artiste, but also an artist. Meeting him with a pencil opens a whole new world of difference about this up-coming icon. Impossibility is one thing he doesn't believe in and surely creativity lies in his blood. Thanks to the family line. He believes every song he writes to be a HIT. This down-to-earth and kind-hearted personality distastes provocation to the very least.

When it comes to Selebobo's stage performances,you don't want to blink at all.As a break dancer,he drew more inspiration from his group, "SHADOWS", that partook in the Malta Guinness Street Dance Africa Competition 2009.He believes that all his inspiration comes from God and well nurtured by his Father, Mr.Goddy Oku, a well known guitarist and musician of the 70's.He started recording at the age of 7 in his dad's studio- Godiac Studios, in Enugu and when he clocked 12, he went into producing with his little Yamaha Djx keyboard.

"KONJA",a new hit dance-hall single by Selebobo,that registers to the mind at first hearing is bombarding the air waves and has received a copious amount of praise....more

Boom ID : 101278106 Country : Nigeria Gender : Male
Songs

(0)

Albums

(0)

Playlists

(1)
Listen to Selebobo's new songs including and many more. Enjoy Selebobo's latest songs and explore the Selebobo's new music albums. If you want to download Selebobo songs MP3, use the Boomplay App to download the Selebobo songs for free. Discover Selebobo's latest songs, popular songs, trending songs all on Boomplay.
The names are Oku Udoka Chigozie a.k.a, Selebobo. Born into a Christian, musical & artistic family, he's the seventh amongst 12 children and he is from Ukpo in Oranto village, Dunukofia L.G.A of Anambra State in Naija.

Not only is he only is he a staff and artiste of Pure Sound And Visual Technology, Selebobo is also an Audio Producer and Sound Engineer. Interestingly, he is the producer of most of his songs.Surprisingly, the complex but simple Selebobo is not just an artiste, but also an artist. Meeting him with a pencil opens a whole new world of difference about this up-coming icon. Impossibility is one thing he doesn't believe in and surely creativity lies in his blood. Thanks to the family line. He believes every song he writes to be a HIT. This down-to-earth and kind-hearted personality distastes provocation to the very least.

When it comes to Selebobo's stage performances,you don't want to blink at all.As a break dancer,he drew more inspiration from his group, "SHADOWS", that partook in the Malta Guinness Street Dance Africa Competition 2009.He believes that all his inspiration comes from God and well nurtured by his Father, Mr.Goddy Oku, a well known guitarist and musician of the 70's.He started recording at the age of 7 in his dad's studio- Godiac Studios, in Enugu and when he clocked 12, he went into producing with his little Yamaha Djx keyboard.

"KONJA",a new hit dance-hall single by Selebobo,that registers to the mind at first hearing is bombarding the air waves and has received a copious amount of praise.