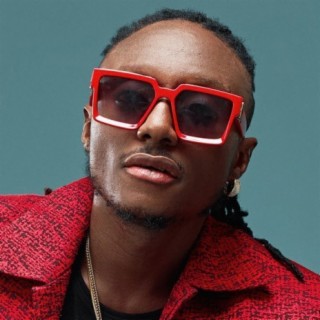 Terry G
Current #3,445

All Time #985

Gabriel Oche Amanyi (born March 17,1986), popularly known by his stage name Terry G, is a Nigerian rapper, singer, songwriter and record executive.

Terry G is the first child in a family of four children. Terry G was born in Benue State in the northern part of Nigeria, but grew up in Lagos State in the western part of Nigeria. He attended Starfield Educational Centre in Lagos State in the western part of Nigeria, but due to financial problem he could not further his education.

Career
Terry G was introduced to music by his mother, a choir mistress who encouraged him to join the Redeemed Christian Church of God, Praise Palace, Oko-Oba choir and his time as a chorister enabled Terry G to learn the basicstar, Faze, who provided back-up vocals and honing his music skills. In 2006, Terry G rose to fame after he was featured on Kemistry's hit single "Shake" a song which he produced by himself and which became the first sign of his versatility in music.

Terry G became popular after the release of his hit single "Pass Me Your Love" featuring AY.com and became a public figure after the release of his greatest hit single "Akpako Master" which ranked top at the MTV music chart. He is widely known for his eccentric dress-sense called swagger, his controversial lyrics and his awkward identity.

He has been described by The Punch Newspaper as "one of the world's weirdest singers". He has also been described by Vanguard Newspaper as a "Weird singer" and has been described by Channels TV as the "Craziest musician in Nigeria". In 2013, he released his fourth studio album titled "Book of Ginger" which he produced by himself in his studio....more

Country/Region : Nigeria
Songs

(134)

Albums

(28)

Playlists

(2)
1

2

3

4

5

6

7

8

9

10

11

12

13

14

15

16

17

18

19

20

21

22

23

24

25

26

27

28

29

30

31

32

33

34

35

36

37

38

39

40

41

42

43

44

45

46

47

48

49

50

51

52

53

54

55

56

57

58

59

60

61

62

63

64

65

66

67

68

69

70

71

72

73

74

75

76

77

78

79

80

81

82

83

84

85

86

87

88

89

90

91

92

93

94

95

96

97

98

99

100
Listen to Terry G's new songs including "Adura ft. Skiibii", "Free Madness", "Omo Dada" and many more. Enjoy Terry G's latest songs and explore the Terry G's new music albums. If you want to download Terry G songs MP3, use the Boomplay App to download the Terry G songs for free. Discover Terry G's latest songs, popular songs, trending songs all on Boomplay.
Gabriel Oche Amanyi (born March 17,1986), popularly known by his stage name Terry G, is a Nigerian rapper, singer, songwriter and record executive.

Terry G is the first child in a family of four children. Terry G was born in Benue State in the northern part of Nigeria, but grew up in Lagos State in the western part of Nigeria. He attended Starfield Educational Centre in Lagos State in the western part of Nigeria, but due to financial problem he could not further his education.

Career
Terry G was introduced to music by his mother, a choir mistress who encouraged him to join the Redeemed Christian Church of God, Praise Palace, Oko-Oba choir and his time as a chorister enabled Terry G to learn the basicstar, Faze, who provided back-up vocals and honing his music skills. In 2006, Terry G rose to fame after he was featured on Kemistry's hit single "Shake" a song which he produced by himself and which became the first sign of his versatility in music.

Terry G became popular after the release of his hit single "Pass Me Your Love" featuring AY.com and became a public figure after the release of his greatest hit single "Akpako Master" which ranked top at the MTV music chart. He is widely known for his eccentric dress-sense called swagger, his controversial lyrics and his awkward identity.

He has been described by The Punch Newspaper as "one of the world's weirdest singers". He has also been described by Vanguard Newspaper as a "Weird singer" and has been described by Channels TV as the "Craziest musician in Nigeria". In 2013, he released his fourth studio album titled "Book of Ginger" which he produced by himself in his studio.
New Comments(
556

)