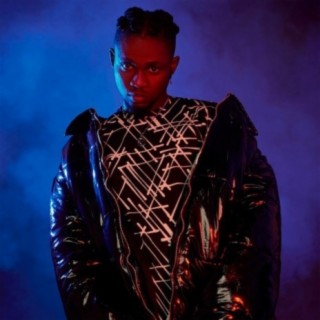 Omah Lay
Current #3

All Time #5

Stanley Omah Didia, who operates under the nom de plume Omah Lay, is a Nigerian singer and producer who emerged in 2020 with a dynamic Afro-fusion sound that draws from pop, R&B, hip-hop, and highlife.

Born in the southern city of Port Harcourt, Didia spent his formative years on a marine base where his father was stationed. Music was already in the budding star's blood -- his grandfather was a drummer for 70s Igbo highlife legend Celestine Ukwu -- and by his late teens, he had traded rapping in the streets of the marine base for music production. In 2019, after finding a modicum of success writing and producing for other artists, he released a pair of his own singles, "Do Not Disturb" and "Hello Brother," which caught the attention of KeyQaad. Upon inking a deal with the label, Didia relocated to Lagos, and in early 2020 he issued his debut, the sleeper hit "You." That track and four others appeared on his acclaimed debut EP, Get Layd, later that spring. He doubled-down on Get Layd's success with a second EP, What Have We Done, which arrived in winter and included the hits "Godly" and "My Bebe." His latest song is Understand, the song is doing well on YouTube with more than 10M views. Download your Fav songs from Omah Lay on Boomplay....more

Country/Region : Nigeria
Songs

(27)

Albums

(3)

Playlists

(66)
1

2

3

4

5

6

7

8

9

10

11

12

13

14

15

16

17

18

19

20

21

22

23

24

25

26

27
Listen to Omah Lay's new songs including "Holy Ghost", "reason", "it's yours" and many more. Enjoy Omah Lay's latest songs and explore the Omah Lay's new music albums. If you want to download Omah Lay songs MP3, use the Boomplay App to download the Omah Lay songs for free. Discover Omah Lay's latest songs, popular songs, trending songs all on Boomplay.
Stanley Omah Didia, who operates under the nom de plume Omah Lay, is a Nigerian singer and producer who emerged in 2020 with a dynamic Afro-fusion sound that draws from pop, R&B, hip-hop, and highlife.

Born in the southern city of Port Harcourt, Didia spent his formative years on a marine base where his father was stationed. Music was already in the budding star's blood -- his grandfather was a drummer for 70s Igbo highlife legend Celestine Ukwu -- and by his late teens, he had traded rapping in the streets of the marine base for music production. In 2019, after finding a modicum of success writing and producing for other artists, he released a pair of his own singles, "Do Not Disturb" and "Hello Brother," which caught the attention of KeyQaad. Upon inking a deal with the label, Didia relocated to Lagos, and in early 2020 he issued his debut, the sleeper hit "You." That track and four others appeared on his acclaimed debut EP, Get Layd, later that spring. He doubled-down on Get Layd's success with a second EP, What Have We Done, which arrived in winter and included the hits "Godly" and "My Bebe." His latest song is Understand, the song is doing well on YouTube with more than 10M views. Download your Fav songs from Omah Lay on Boomplay.
New Comments(
3,477

)
FAQs about Omah Lay
Where is Omah Lay from?
He is from Nigeria.
How to download songs of Omah Lay?
You can download songs of Omah Lay from Boomplay App for free.
Firstly, install Boomplay app on your mobile phone.
Secondly, navigate to the song you would like to download.
Thirdly, Tap on More > Download.